Churchie celebrates the ordination of women
The 30th anniversary of the ordination of women in the Anglican Church of Australia was celebrated at Churchie recently with a special visit from The Rev'd Jocelyn Pitt to the Preparatory School chapel services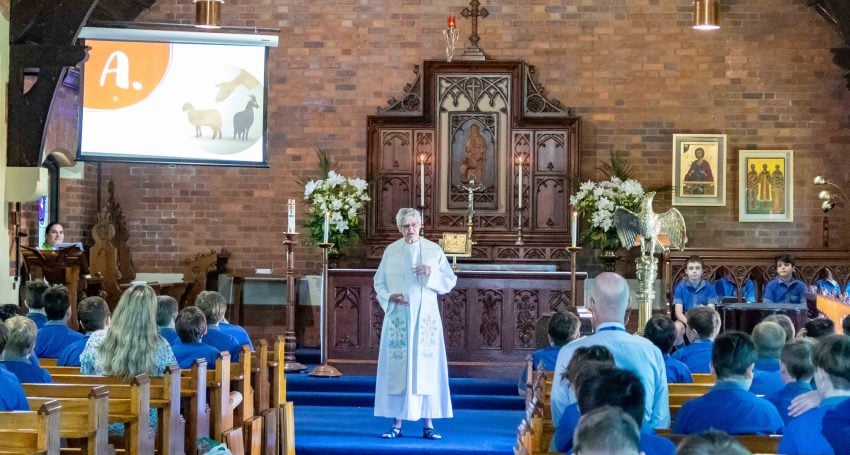 The 30th anniversary of the ordination of women in the Anglican Church of Australia was celebrated at Churchie recently with a special visit from The Rev'd Jocelyn Pitt to the Preparatory School chapel services.
The Rev'd Jocelyn commenced in the Prep School at Churchie in 1976 as a teacher, before becoming the first ordained woman to be a Chaplain at Churchie, where she served between 1993 and 2003.
Reflecting on her visit in the school's Canon Jones Memorial Chapel, The Rev'd Jocelyn said that she felt nostalgic and blessed.
"I really enjoyed being back at the Prep School and, although there had been many changes in the 20 years since I left, so many happy memories flooded back," The Rev'd Jocelyn said.
"I have always thought that those of us who work with children are truly blessed."
The Year 4 Churchie students who attended a chapel service said they were inspired by The Rev'd Jocelyn.
"Reverend Jocelyn told us a story that helped us to understand the Gospel reading about the Parable of the Sheep and Goats. She also told us about her years at Churchie Prep," Dimitri said.
"The word 'trailblazer' can be used to describe someone that takes a risk and is one of the first people to do it, so that others can follow them," David said.
"The learner profiles that a trailblazer carries are risk taker, communicator and thinker," Michael said.
Churchie's Senior Chaplain, The Rev'd Jessica Grant, is thankful for the path that The Rev'd Jocelyn has paved for women in the Anglican Church.
"It was a great privilege to welcome Reverend Jocelyn back to the Canon Jones Memorial Chapel at Churchie," The Reverend Jessica said.
"I am deeply aware of very powerful examples of wise and gracious women who have offered spiritual care to this community.
"Reverend Jocelyn's generation has been pioneers of a more faithful and inclusive church, and I give thanks for their courage and conviction.
"After all, most of us cannot be what we cannot see.
"I was only two years old when the Australian Church first ordained women to the diaconate and eight years old when women were ordained to the priesthood, so I grew up with the blessing of their long-awaited sacramental leadership.
"I am very grateful for their tireless work in paving the way for those of us who have followed.
"This school has been deeply blessed by Reverend Jocelyn's pastoral care and faithful example, and we give thanks for her ministry to us."
The school thanks The Rev'd Jocelyn Pitt for her visit and for being such a treasured part of our Churchie story.
Jump to next article