Cathedral children's ministry: keeping it simple, making it welcoming
"In our 9.30am Sunday services we have organised activities in the children's area, with a focus on building community and making church a place children want to be in. It's important for children and other young people to have a positive experience of church, so that later on in their lives if something goes awry they know that church is a safe and welcoming place they can go to," says The Rev'd Dr Ann Solari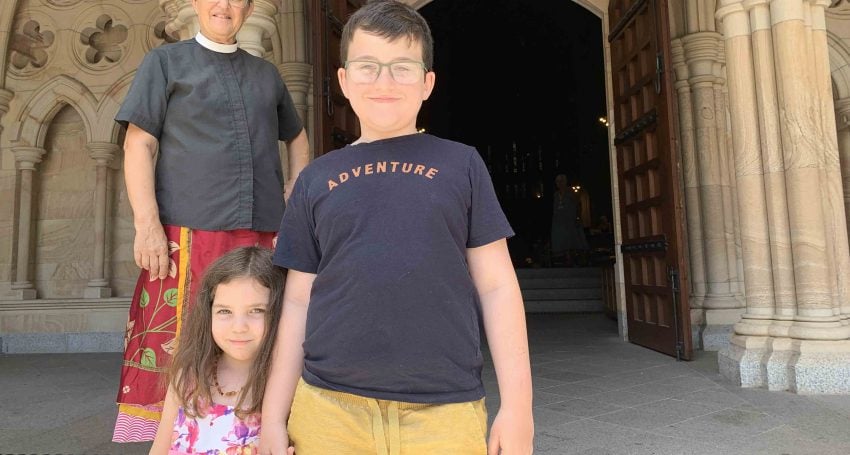 We have two streams of children's ministry at the Cathedral – one for the regular Cathedral community and one for school-aged students. We engage with children in schools, including early childhood, primary and secondary years. We tailor activities to the needs of the respective age group.
Cathedral community
Dedicated children's areas
We have a children's area set up in the Cathedral. The area has toys, a play pen, books, cushions and a large craft area (with a smaller area in the southern chapels). This space is available for any child to use whenever the Cathedral is open.
Sunday 9.30am service
In our 9.30am Sunday services we have supervised activities in the children's area, with a focus on building community and making church a place children want to be in. It's important for children and other young people to have a positive experience of church, so that later on in their lives if something goes awry they know that church is a safe and welcoming place they can go to.
We have a team of rostered leaders during the 9.30am service, including Helen Postle, The Rev'd Canon Julia van den Bos, our theological students and me. We also have volunteer helpers, with Terry and some of the parents assisting most weeks.
During the service, the leader and anyone helping them, remains in the children's area to be with the children to talk about the broader topic of the day (which is usually based on the Gospel reading or a liturgical season theme) and to help the children with whatever craft they wish to do. One of the craft options is a flexible prepared activity. The craft activities can either be individual based or group based. For example, we recently provided children with silver coloured paper and asked them how they wanted to make a star. At the beginning of Advent the children were given large cardboard boxes, which they are collectively building a stable with.
Importantly, children have several liturgical jobs during the service, including taking donated goods up during the offertory procession, including blankets and food. The children also carry the Gospel book out of the Cathedral – we pass the Word to the children and they carry the Word out of the Cathedral, thus taking Jesus with them. Some of the children are altar servers and things are set up so they can still participate in children's ministry.
We release a Facebook and YouTube video every Saturday morning. Each video ties in with our 9.30am Sunday service, explaining the theme and demonstrating the activity. The children's ministry team watches the video ahead of the service, so they know the theme and so the leader can plan the activity. The activities are intentionally simple so that parents and caregivers can do the activity at home with their children.
Parishes are welcome to use the Cathedral children's ministry videos as a resource or play them on an iPad or phone during their own services.
Special services
We have one special children's services that we hold several times a year. In the lead up to Easter, we run the liturgy twice, once on Palm Sunday and once on Good Friday. During the service we take children through the whole Easter story from Palm Sunday to Easter morning. We bring out a large cardboard donkey and children are encouraged to find hidden palm fronds (we don't make them too hard to find) for the Palm Sunday component. We do foot washing with a jug of water, large bowl and towel for the Holy Thursday component. We then lay flowers at the foot of the Good Friday cross. We visit the silent tomb of Holy Saturday and they choose a special rock to take away to remind them that God is always with us. And, then we celebrate Easter morning during the service with an Easter egg.
We also have special services for the Season of Creation (from the first day of Spring on 1 September to St Francis of Assisi's Feast Day on 4 October annually) and Christmas.
Pre-school to Year 3 students
We are involved in activities with cohorts of young school children, both onsite and offsite.
For example, our special services are offered to all schools as part of a school excursion. We also offer a combination of a Bible story with a craft session. We also invite students to join in a "Can you find me?" treasure hunt in the Cathedral where students work with a teacher or parent helper in small groups to find a list of items, including the font, the pulpit, the eagle lectern, choir stalls, cathedra, organ and votive candle stand. I love having kids in the Cathedral and seeing 40 votive candles lit by them.
Older students from Years 5 to 12
Any Cathedral staff, usually the Cathedral Dean or I, are also happy to visit any school in South East Queensland. During these visits we are usually asked to speak about a specific topic, such as homelessness, social justice issues and ethics. For example, I have been to Bald Hills several times to meet with St Paul's School students to talk about homelessness and the students give me scarves they have knitted or bags they have filled so I can pass these to Cathedral rough sleepers and Mission To Seafarers visitors.
Older school students also visit the Cathedral. Depending on the subject, students may meet with a Cathedral guide for a tour or with the Cathedral Dean, a Bishop or me. I will usually lead sessions centred on the theme of homelessness. The Dean or a Bishop will often give a talk on a social justice or theological theme.
An increasing number of student small groups are visiting for tours of the Cathedral building, including going up the spiral staircases into the roof space.
Top 10 tips for children's ministry:
Provide activities for the children you have rather than for the children you think you should have.
Listen to the children (because children spend a lot of their time at school listening to adults, it's good for them to have some control over the agenda).
Give the children freedom to adapt the craft activity so they own it.
Keep resources simple and economical, using recycled materials as much as possible and soliciting donations (e.g. textas and sticky tape) via the notices.
Take batteries out of toys to reduce noise during services.
Seek assistance by building a small team of leaders.
Roster leaders on, so leaders can participate with other adult congregation members during services at other times.
Provide a small snack for children if the service exceeds 50 minutes.
Don't re-invent the wheel, especially if your resources are limited – use existing online resources.
You don't have to have a Sunday School – a dedicated area for kids with toys and craft supplies will allow you to interact positively with children.
Jump to next article