Celebrating 25 years of Bishop Jeremy's priestly ministry
As a 25th anniversary of ordination to the priesthood surprise for Bishop Jeremy Greaves, seven people from across our Diocese share their favourite memories serving alongside him and identify what makes him such a great priest and leader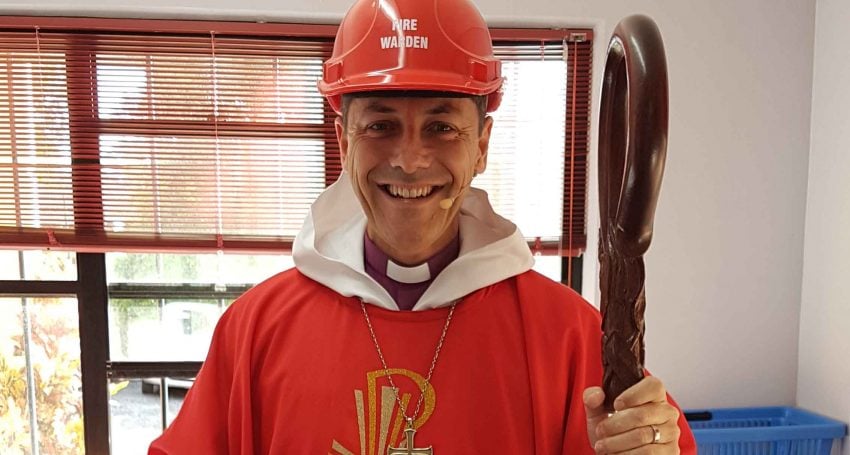 As a 25th anniversary of ordination to the priesthood surprise for Bishop Jeremy Greaves, seven people from across our Diocese share their favourite memories serving alongside him and identify what makes him such a great priest and leader, including Jim Smith, The Rev'd Daniel Jayaraj, Sherril Butterworth, The Rev'd Canon Bruce Boase, Dr Stephen Harrison, The Rev'd Deb Bird and The Rev'd Dr Ruth Mathieson.
The Rev'd Daniel Jayaraj – General Manager, Anglican Men's Society, Province of Queensland and Jim Smith – Chair, Anglican Men's Society, Province of Queensland
"I have filled him with the Spirit of God, with wisdom, with understanding, with knowledge and with all kinds of skills" (Exodus 31.3).
These are the words the Lord spoke to Moses about Bezaleel, who carried out the artistic works in the construction of the tabernacle, or "tent of meeting". We think these words can be attributed to Bishop Jeremy and the way in which he conducts his ministry, including as National Chair of the Anglican Men's Society.
Bishop Jeremy has many pastoral and administrative skills and a brilliant mind, which he uses to think "outside the box". He also courageously speaks up when it comes to Church matters.
We have consistently found Bishop Jeremy to be very much a man of the people, all people, especially those who are disadvantaged and living on the edges – locally and internationally. In 2020, for example, after visiting the Solomon Islands, Bishop Jeremy and his wife, Josie, raised over $5,600 so a church-run medical and birthing clinic could install water tanks for running water and sanitation.
Bishop Jeremy was at our meeting on the weekend. We had a National Council meeting and a Provincial Council meeting. He is very committed to the Anglican Men's Society. By his example, he is showing us how to think and work as though the whole world is our community.
Sherril Butterworth – Executive Director, Anglican Schools Commission
Bishop Jeremy is an authentic and courageous leader. Grounded in everything he does and says is his absolute conviction that every person is formed in God's image. He has been "interim" Chair of the Anglican Schools Commission for the last six years. During this time, his leadership has been demonstrated in both personal and public ways.
Several years ago, one of our team members lost a sibling quite unexpectedly. Bishop Jeremy immediately sent a large bunch of flowers and a card to her, assuring her that she and her family were in his prayers. His kindness and thoughtfulness meant so much to the whole Anglican Schools Commission team, as well as to the team member who was moved to tears by his gesture.
Bishop Jeremy has also created a safe and welcoming place for our students. In response to decisions made by a non-Anglican school last year, which caused angst and division nationally, he wrote an open letter to our Anglican school communities. In his letter, he upheld the God-given dignity and God's unconditional love of every person in our schools, also sharing that:
"Within the Anglican Church there is a wide spectrum of understanding about human sexuality and gender, and within a school community there may also be diversity of opinion. For some, this is a sensitive topic. However, this does not negate the absolute necessity to create an inclusive school environment that enables all people to feel safe and to flourish."
Bishop Jeremy is able to balance acknowledging differences of opinion while also creating safe spaces for the most vulnerable, including our school children in their most formative years.
He is a spectacular leader and I offer my sincerest congratulations for his 25th anniversary of ordination to the priesthood.
The Rev'd Canon Bruce Boase – Priest-in-Charge, The Parish of Green Hills and Wakka Wakka Elder
Every Christmas Bishop Jeremy mails a beautiful large card featuring a painting by an Alice Springs-based artist, Rod Moss. Rod's use of both paint and graphite gives the paintings a decidedly earthy feel. Rod generously gives Bishop Jeremy permission to use his paintings on his Christmas cards.
Bishop Jeremy obviously takes great care in writing these cards – the handwriting is neat and the message is uniquely personal, thoughtful and sincere. He must start writing these months ahead – I am told that he writes nearly 300 of them annually.
Bishop Jeremy's Christmas cards depict real-life scenes of Arrente people that tie in directly with the nativity. His cards help connect the receiver's Christmas experience with that of the First Peoples of these lands, which shows that he has sensitivity for our stories. Bishop Jeremy's Christmas card design choice makes the Gospel current, raw and real for all of us – the humble living situations of people in contemporary remote communities in our country's heart are connected with the historical Bethlehem inn.
It's because of gestures like this that so many people sense the Gospel in the man.
Dr Stephen Harrison – Director of Mission, Research and Advocacy, Anglicare Southern Queensland
When it was announced that Jeremy was the new Bishop for the Northern Region, I must confess I felt ambivalent. I wondered whether he would be able to help bring our Diocese and the wider Church and community together. What did I really know about him? In truth, very little.
It wasn't until I started working alongside him as Executive Director of the Parishes and other Mission Agencies Commission that I discovered the gem that Jeremy Greaves is, including his innate ability to draw together those with different views.
I was delighted by the books he thoughtfully gave to me that helped to expand my ideas about the mission of the Church and all it could be. And, I was frequently kept sane by the many honest conversations we shared early in the mornings at St Martin's House. In these conversations I always appreciated his ability to listen, his sense of humour and his gentle way of providing his opinion.
However, the thing I value above all else about Bishop Jeremy is his willingness to speak with courage, empathy, clarity and conviction to the wider Australian community when the internal squabbles of the national Church have spilled into the public arena. At these times when the Anglican Church appears to lack compassion, Jeremy's pastoral voice provides the welcomed counter. It has been his words, reasserting the love and compassion of Jesus, that make me glad to be Anglican.
The Rev'd Deb Bird – Priest-in-Charge, The Parish of Maleny and The Parish of Palmwoods
In 2016 I was placed at St Mark's Buderim, where Bishop Jeremy was rector and became my supervisor.
I have fond memories of that time. St Mark's was a place humming with interesting liturgy, good preaching and an openness to new ideas. Supervision meetings were full of my questions about how it all worked, but I soon discovered that one of the best ways to learn from Jeremy was to simply work with him.
Jeremy's enthusiasm for community is contagious and he led by example. He was always the first on the scene and the last to leave. He would never ask someone to do what he was unwilling to do himself, so I would catch him mopping floors nearly as often as I saw him in the sanctuary.
Jeremy worked hard to promote a culture of openness and inclusion and people responded to his sincerity. Members of the congregation and community alike turned up for challenging liturgy, guest speaker events and lively conversation. There were always different perspectives among us, but the safe-to-explore culture held them together. Whether they agreed or disagreed, everyone knew Jeremy was there for them and that there was a place for them at St Mark's.
Perhaps the first piece of advice Bishop Jeremy ever gave me was, "the pastoral imperative comes first". He applied this person-centred approach to pastoral concerns and church planning alike. It was a gift that made a collection of people feel like family and made this community an encouraging environment in which I could learn, explore and stumble my way through formation.
These lessons from my first year of formation have profoundly shaped my own ministry and now as Bishop for the Northern Region, Bishop Jeremy remains a pastoral and encouraging presence. I continue to rely on his wisdom borne of (now) 25 years of priestly ministry to challenge me as a priest, and guide my way in caring for parish community.
The Rev'd Dr Ruth Mathieson – Executive Director, Ministry Education Commission and Principal, St Francis College
I first met Jeremy through young Anglican events and committees in the Diocese of Adelaide in the early 1990s. We became ordination candidates in that Diocese, studying at St Barnabas College together.
In those days the College was located at Belair in the Adelaide Hills, and candidates were expected to live in. Lectures were held at Flinders University, St Francis Xavier (Catholic) Seminary in Rostrevor, and Parkin-Wesley (Uniting) College at Wayville, as well as at St Barnabas.
To allow for travel time, Morning Prayer was at 7.15 am and Eucharist at 7.30 am on weekdays. From their second year, students joined staff on the preaching roster for the daily Eucharists. By then Jeremy's skill as a preacher was evident. I remember sermons that were powerful theological reflections on his adventures cycling around Europe. Some of these sermons encouraged me to learn more about saints and mystics, such as one on 12th century abbot and mystic St Bernard of Clairvaux. And, there was more than one sermon inviting us to learn lessons from Winne-the-Pooh.
One Red Nose Day, which was a significant national fundraiser for Sudden Infant Death Syndrome (SIDS) Research at the time, we arrived in chapel to find a huge red nose, designed to be fixed to a car's bumper, attached to the large Christus Rex sculpture behind the altar (now located at St Peter's Cathedral). Rumour has it that Jeremy was responsible for that surprise, which served as a reminder about what the day was about.
Editor's note: Thank you to all our Regional Bishops, including Bishop Cam Venables who celebrated 25 years of priestly ministry in 2020 and Bishop John Roundhill whose 30th will be commemorated in anglican focus next year (please start searching your PC and phone archives for historic shots of Bishop John and send them through to focus@anglicanchurchsq.org.au).
Jump to next article