Q&A with formation student, singer-songwriter, mother and Worimi woman, Lydia Fairhall
Meet Lydia Fairhall and find out about her formation goals for 2023, her personal faith journey, the best piece of advice she has ever received, what she would write on a billboard and what she does in her free time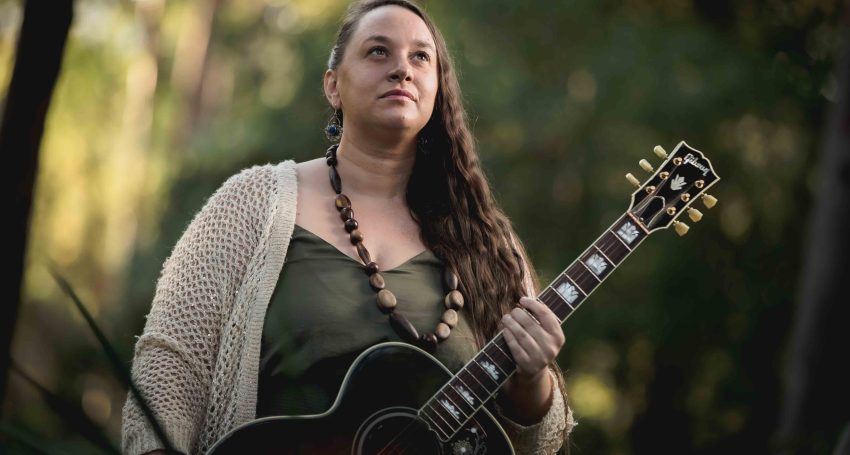 How long have you been involved in the Anglican Church and in what roles?
I have been involved in the Anglican Church for about eight years since the baptism of my daughter, and for most of that time I have been involved as a parishioner. The last few years, as I have discerned a vocation to ordained ministry, have been a time of trying as many different parish roles as possible.
How does your faith inspire you and shape your outlook, life choices and character?
I turn to God a thousand times a day for guidance and illumination – for both the seemingly small decisions and duties and the monumental ones as well! My faith underpins everything that I think and do.
What advice do you have for people discerning a vocation to ordained ministry?
My advice is to hold the calling with light hands and simultaneously cherish it deep within. Also, have patience and trust the process. It is rewarding and challenging, and our Vocations Director does an incredible job of guiding everyone through the rigour that is required.
What do you love best about studying theology at St Francis College? 
We are so blessed to have so many incredible faculty members who go above and beyond, both in sharing their wealth of knowledge and also ensuring that the whole St Francis experience is nurturing and liberating, and built on a foundation of inclusivity. The beautiful grounds and the Chapel also add a richness and sense of peace that students deeply appreciate.
What are your formation student goals for the next 12 months?
To build my confidence in a way that strengthens my ability to be of service to others and uphold the foundations of the Anglican Church.
What is your favourite scripture and why?
The Beatitudes (Matthew 5.1-12). If we just read that passage alone and did our best implementing the beautiful wisdom and grace inherent within it, it would be enough to live a simple life of peace, in loving service to humanity.
What person of faith inspires you the most and why?
This changes for me all of the time as I explore different theological perspectives. However, The Rev'd Dr Martin Luther King Jr's ability to simultaneously shine a mirror onto society and tell hard truths, whilst activating and inspiring people, all within the context of his faith, and at a particularly dark time always moves me.
Can you tell us a little about your personal faith journey?
My personal faith journey has been intertwined with Aboriginal spirituality. Every time I found myself experiencing suffering and loss, I sought a deeper truth. This led me to Jesus, the Bible and prayer at a young age. My yearning for God and wholeness just got stronger and stronger and more persistent.
What is the kindest gesture you have ever received or witnessed?
I was home alone with my newborn baby, and a friend brought a watermelon and a vinyl copy of Tracy Chapman's album Crossroads, and then sent me out into the backyard in the sun to listen and eat by myself for an hour. Forever grateful!
What are the primary strengths of the Church and what is the best way to make the most of these for the benefit of our communities?
In a world of rapidly increasing globalisation, consumerism and depersonalisation the role of local community becomes even more important. Nurturing community in the context of faith and grace, with God first in our thoughts, and then each other, and then self, is a potent and unique offering.
What is the best piece of advice you have ever received and who gave you this advice?
My spiritual teacher always says to me, "Take the lesser seat". He embodies this advice meticulously.
What do you do in your free time to recharge and relax?
Lots of ocean swims, naps and singing around camp fires.
If you found yourself on a deserted island, what three things would you choose to have with you?
A guitar, a Bible and a ferro rod.
If you could have a billboard with any text on it, what would it say?
"Ask, and it shall be given you; seek, and ye shall find; knock, and it shall be opened unto you." (Matthew 7.7)
What book have you given away most as a gift and why?
The self-published book Reinventing Organizations by Fredric Laloux. I work with a company called Small Giants and our focus is nurturing conscious leadership in what we call the next economy. I have used this book over and over again when helping businesses and individuals move away from risk adverse, extractive practices towards wholeness, evolutionary purpose and self-management.
If you are having a bad day, what do you do to cheer yourself up?
I used to try and distract myself and now I do the opposite. I find a quiet place, and go within to a deep state of prayer. One of two things happen – the "bad" part of the day passes, or the wisdom of it is illuminated.
Editor's note 15/02/2023: Text updated with additional questions. 
Jump to next article