Former refugee Bishop Daniel Abot supports Bill, calling for the evacuation of refugees warehoused offshore for 10 years
"The 150 people still held in Papua New Guinea and on Nauru did not have to spend 10 years there – successive Federal Governments have arbitrarily held them there. I respect all 150 of these people for their incredible courage and resilience. And, I pray for their speedy evacuation. The sooner they are evacuated and brought here, the sooner they will be able to begin recovering, both mentally and physically," says Bishop Daniel Abot in his Senate inquiry submission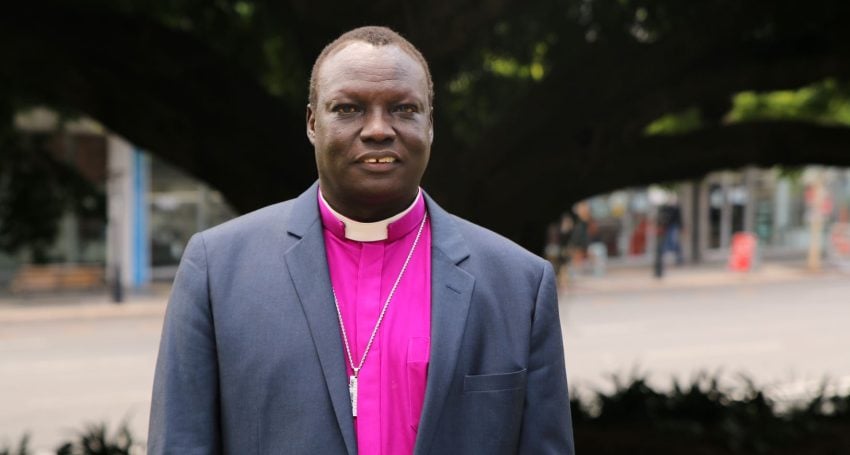 Last week the Migration Amendment (Evacuation to Safety) Bill 2023 was referred to the Senate Legal and Constitutional Affairs Legislation Committee. If passed, this Bill will evacuate all 150 refugees who have been held offshore in Papua New Guinea and on Nauru for 10 years. The Bill outlines a straightforward and constructive way in which these remaining people can be brought here and supported while they continue to wait for a durable third-country solution. Australia has spent over $9.5 billion dollars in the last 10 years warehousing people on remote islands – while out of sight, they have remained in the hearts of Christians nationally.
22 February 2023
Committee Secretary
Legal and Constitutional Affairs Legislation Committee
Department of the Senate
PO Box 6100
Parliament House
Australia Canberra ACT
Dear Committee Secretary,
Re: Inquiry into the Migration Amendment (Evacuation to Safety) Bill 2023
I welcome the opportunity to contribute to the Committee's inquiry into the Migration Amendment (Evacuation to Safety) Bill 2023 ("the Bill").
I, with the support of the Diocesan Administrator and Regional Bishops of the Anglican Church Southern Queensland, fully support the Bill, which compels the Commonwealth Government to offer transfer to Australia to all persons subject to offshore processing still in Papua New Guinea or on Nauru within one month of the Bill's commencement.
My personal experience seeking freedom and safety compels me to write this submission.
During the civil war in Sudan in 1986, I fled my village home as a 12-year-old boy. I was one of thousands of the so-called "Lost Boys of Sudan". I walked a thousand miles in the desert from my village in Duk to Ethiopia, where I spent the next six years. More than 20,000 boys walked across the desert as unaccompanied minors. We fled to escape the persecution of the Khartoum government who wanted to abduct boys to prevent them joining the rebel groups once they became older.
In 1991 the United Nations moved us on foot, initially to Pochalla on the Ethiopian-Sudanese border, which took three weeks. Due to helicopter bombings and attacks from soldiers, after a few months, the United Nations said that we (15,000) children had to walk across the Kothngor Desert to Kakuma Refugee Camp in Kenya. I spent the next nine years there.
I met my wife, Rachel, in the Kakuma Refugee Camp. I became a priest in 2003 in Kenya and then moved with Rachel to Queensland after our claim for refugee status was processed by the United Nations. I soon began studying and working for Anglicare Southern Queensland, assisting newly arrived refugees.
I now work as an Ethnic Congregations Specialist for the Anglican Church Southern Queensland, serving Sudanese and South Sudanese community members locally and nationally. I have been warmly welcomed by the community of Toowoomba where I live with Rachel and our family. We have seven wonderful children.
During our desert journeys, many of us "Lost Boys" died from starvation or dehydration. I survived cholera and tropical diseases, but many of my young friends did not because we lacked adequate medical care. Many boys died from bombs or gunfire or from being eaten by wild animals. Others died because they could not get up due to hopelessness. Others died by suicide.
One of the hardest parts of being in a refugee camp for so long is the ongoing sense of "limbo". It is very difficult to maintain good mental health when you are unable to plan for the future. It is very difficult to maintain hope when you feel forgotten or non-existent.
So my heart breaks for those still stuck in limbo in Papua New Guinea and on Nauru, especially when I read about those who have become non-verbal or immobile due to hopelessness, because I have witnessed such suffering firsthand.
It is also very difficult to maintain physical health when you are in limbo, especially when you are unable to afford nutritious food, vaccinations or medicines, sleep well, safely exercise or access adequate medical care. I have also experienced this firsthand.
Both mental and physical health are harmed when people are tortured, sexually assaulted or physically assaulted, and it is also very detrimental seeing others harmed in such ways. The Commonwealth Government's leaked incident reports (more than 2,000 of the so-called "Nauru Files") detail such offshore crimes.
From personal experience, I can tell you that it is immaterial how people seek safety. I found safety after three long desert journeys and 15 years in refugee camps. Others seek safety by sea or by airplane. However, our plight is the same. Our right to live in safety, freedom and peace is the same. Our need to rebuild our lives is the same.
The 150 people still held in Papua New Guinea and on Nauru did not have to spend 10 years there – successive Federal Governments have arbitrarily held them there. I respect all 150 of these people for their incredible courage and resilience. And, I pray for their speedy evacuation. The sooner they are evacuated and brought here, the sooner they will be able to begin recovering, both mentally and physically.
People have fled their homelands to live in peace and freedom for millennia. As a Christian, I have read in the Gospel of Matthew (Chapter 2) about how even Mary and Joseph fled Bethlehem for Egypt to protect their son, Jesus, from persecution.
I am grateful for the generosity, warmth and kindness Rachel and I received when we came here. The many good people I have met in my new Queensland homeland want refugees to be treated with respect and compassion. They want to see the remaining refugees in Papua New Guinea and on Nauru evacuated so their medical (and other basic) needs can be met while they await an appropriate third-party resettlement solution. Good, honourable people want to see these 150 people being treated the way they would want to be treated.
This Bill must pass because the evacuation of those remaining in Papua New Guinea and on Nauru is urgently required.
After 10 years of being indefinitely and arbitrarily held offshore, these people are in urgent need of medical care and for their most basic needs to be met.
It is the responsibility of the Commonwealth Government to care for these people, so they can recover mentally and physically – just like those who have previously been evacuated from Papua New Guinea and Nauru.
I thank those who have put this Bill forward and I appeal to the ALP that they will act in accordance with their stated policy by ensuring the Bill is passed. I also ask that Independents and the Coalition exercise common sense and compassion and help pass the Bill.
Yours sincerely,
The Right Rev'd Daniel Abot (Ethnic Congregations Specialist)
With the support of,
The Right Rev'd Cameron Venables (Bishop for the Western Region and Diocesan Administrator)
The Right Rev'd Jeremy Greaves (Bishop for the Northern Region)
The Right Rev'd John Roundhill (Bishop for the Southern Region)
Editor's note 28/02/2023: Please email your Senator by 7 March 2023 or use this easy online tool to urge Parliament to pass this Bill. 
Jump to next article