What's it like to monitor human rights in Hebron? Alex Brock gives an eyewitness account
An international development practitioner from Ireland, who recently returned from a deployment with the World Council of Churches Ecumenical Accompaniment Programme in Palestine and Israel, provides this eyewitness account of what it's like to monitor human rights in Hebron, in the southern part of the West Bank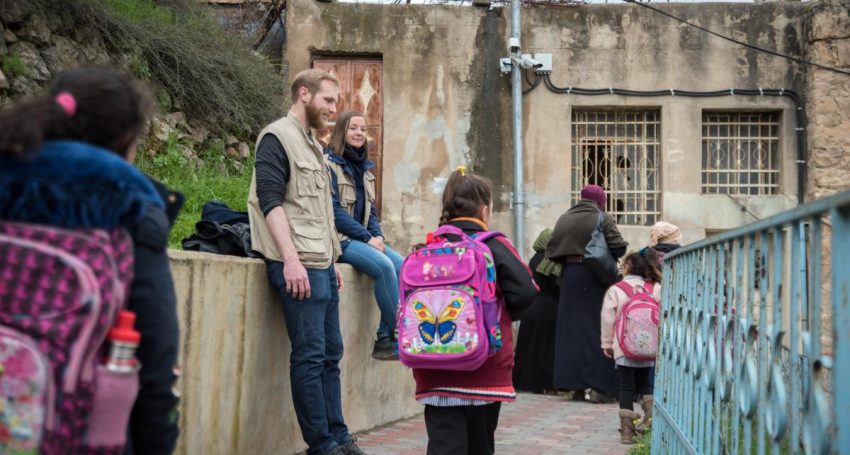 Alexander Brock, an international development practitioner from Ireland, recently returned from a deployment with the World Council of Churches Ecumenical Accompaniment Programme in Palestine and Israel. On 1 March, he gave an eyewitness account of what it's like to monitor human rights in Hebron, in the southern part of the West Bank. He was part of a group of 27 ecumenical accompaniers from all over the world.
Alex Brock began by emphasizing that he was giving an eyewitness testimony. "I don't mean to speak on behalf of Palestinians or Israelis or anyone else," he said, adding that his most vivid memories involve "the people we met and organizations we worked with."
He explained why it's important for ecumenical accompaniers to provide a protective presence in and around Palestinian towns and cities in which people are violating the human rights of others.
"It makes the potential for being caught higher and it makes the outcome of that more severe," Brock explained. "It's is a model that has been used in Latin America and other counties."
Ultimately, one goal of accompaniers—particularly when they return to speak in their home contexts—is to advocate for the end of the military occupation of Palestine.
But while in Hebron, Brock and others were present to accommodate children's access to education, and adults' access to their livelihood—their land or their shops. Brock showed a map of Hebron that depicted more than 100 hundred checkpoints set up by the Israeli military, and many areas completely inaccessible by Palestinians.
"They lost their livelihoods and were forced out to the other side," he said. "To this day, there are streets where Palestinians can't walk down."
Some families still live in shops that have been shut down, Brock noted, and children have to walk through the checkpoints to get to schools. "They have to go through two or three of these military installations," he explained. "Every day, their name is on a list. It can become a game to the Israeli soldiers, whether they let them through, for how long they keep them waiting."
Another very common sight—meaning on a weekly basis—was Israeli settlers and military personnel together coming into the Palestinian side of the city, and shutting down the city to give a tour. "You'd have between 30 or 40 settlers or other Israelis, and they'd be flanked by up to 60 military personnel in full combat gear," said Brock. "People can't walk by, shops have to close, and the daily life just stops."
Brock recalled meeting a man, Hamad, just outside Hebron. "Hamad invited us to interview him, with the remnants of his house—demolished a couple of days previously—by the Israeli military," said Brock. "This is a policy—this is happening all across the West Bank and is increasing, particularly in Jerusalem, where in certain provinces 70 percent of homes have demolition orders on them."
Hamad and his family had just started to move into the house when the bulldozers came. "They fired tear gas. They demolished his home in 40 minutes, then they went back," said Brock. "He just didn't know why he had been chosen."
Since 2020, there has been a sharp rise in such demolitions, noted Brock. "Of course the Israeli government  would say those homes didn't have permits," he said.
The role of the ecumenical accompanier, Brock noted, is to monitor, not necessarily to intervene—though an important role of an accompanier is to connect with organizations that can and do intervene.
"We will never understand the lived experience of Palestinians or Israelis but we can come back and say, 'this is what we've seen,' " explained Brock. "Have we made a difference?"
In some ways, that remains to be seen, said Brock. "I think we need to be very, very aware of the limitations of our impact," he said. "Where a great impact can happen is now—when we return and we can speak to people. Hopefully this will start conversations that will build, add to the momentum, and ultimately bring political pressure."
Learn more about WCC's Ecumenical Accompaniment Programme in Palestine and Israel
First published on the World Council of Churches website on 3 March 2023.
Jump to next article