Q&A with St John's College UQ student and St Andrew's, South Brisbane parishioner, Vicky Pascon
Meet Vicky Pascon and find out why she converted to Anglicanism, what she would write on a billboard, her goals for this year and about her faith journey and favourite hymn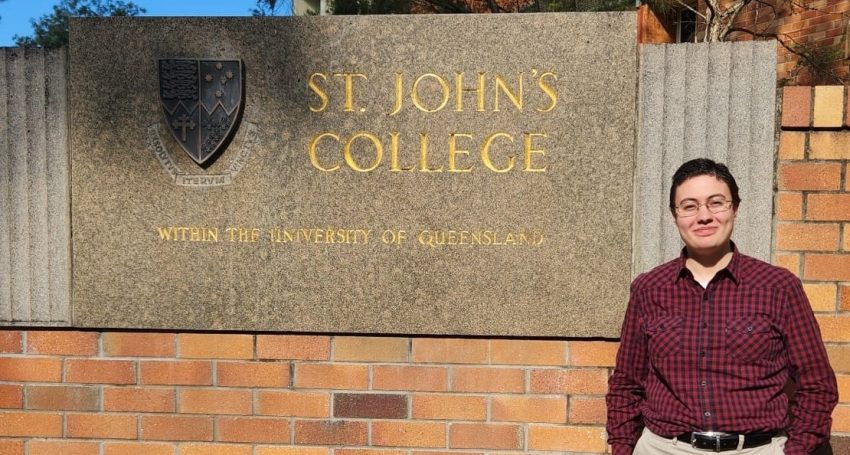 Where do you currently live and where do you worship?
I live at St John's College within The University of Queensland and worship at St Andrew's Anglican Church, South Brisbane. I am studying the Bachelor of Arts (Psychology) at the University of Queensland. My family is from Brazil.
How long have you been involved in the Anglican Church and in what roles?
I have been involved with the Anglican Church since late 2018. I volunteer at St Andrew's as a choir singer and welcomer for the 10.30 am service.
What are your plans and goals for the next 12 months?
I plan on getting more involved in my parish. I want to take on more roles to help as much as I can. I will soon be volunteering as an offering collector and I am looking forward to singing two Sundays a month instead of one.
How does your faith inspire you and shape your outlook, life choices and character?
I believe that if there is something that needs to be done and I can do it, then it is my responsibility to do so. My faith makes me take action whenever it is in my power to do so. But it also makes me kind and considerate because it leads me to fully listen to people.
Can you tell us a little about your personal faith journey?
My parents are Roman Catholic, so I grew up attending church every weekend. I got in contact with the Anglican Church when I moved to Oxford in late 2018. I simply fell in love with it in a way I never did with the Roman Catholic Church. I was received into the Anglican Church of Australia in February this year.
What is your favourite church song and why?
'In the bleak midwinter', by Gustav Holst, because the part, "If I were a wise man, I would do my part", is what I try to do every second of every day.
What person of faith inspires you the most and why?
My grandpa, Fabio, inspires me the most. He told me that every person has a different view of God and all I need is my own. It doesn't have to match the Church's in every way, but just enough for you to be a part of it.
What is the kindest gesture you have ever received or witnessed?
The kindest gesture I have ever received was when Jan (Stenton) asked her brother-in-law to fix my scooter. I never expected or asked for this help, but they did it anyway.
What is the best piece of advice you have ever received and who gave you this advice?
The best advice I've ever gotten was: "You don't have to change. No matter what the world does or wants, you don't have to change.' That was from the book Cloud Atlas by David Mitchell.
If you could have a billboard with any text on it, what would it say and why?
It would say "Keep going". This is my favourite quote, "If you're going through hell, keep going." The quote is attributed to Winston Churchill.
What book have you given away most as a gift and why?
Cloud Atlas, by David Mitchell, because everyone can find exactly what they need inside it.
What is your karaoke go-to song?
'We Are Young' by fun., a US-based pop-rock band.
If you are having a bad day, what do you do to cheer yourself up?
I enjoy a 30-second dance party.
What is the most surprising thing that happened to you recently?
I found myself having fun writing a statistics essay.
If you could only eat one thing for the rest of your life, what would that be?
Biltong.
What's your unanswerable question – the question you are always asking yourself?
Did I do enough?
Jump to next article