What is your favourite Gospel of Matthew passage and why? | Mamuor Kunpeter, Nicole Anderson, Michael Calder and Elizabeth Donald-McConnell
Four members of our Diocesan community tell us about their favourite passage from the Gospel of Matthew, including The Rev'd Mamuor Kunpeter, The Rev'd Nicole Anderson, The Rev'd Michael Calder and The Rev'd Elizabeth Donald-McConnell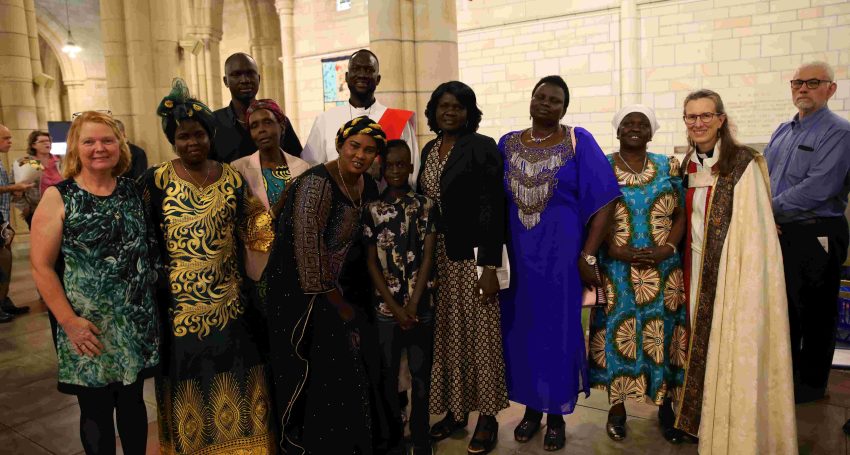 The Rev'd Mamuor Kunpeter — Curate, The Parish of Hervey Bay
My favourite passage from the Gospel of Matthew is from Matthew 10.8: 
"You received without payment; give without payment." 
This is my favourite verse because it reminds me that whatever work God calls us to do, we need to be proud and passionate about it. We need to do what we do for God, and not for ourselves.  
In our Diocese we have a number of wonderful volunteers who serve without payment — they understand what this verse means. They keep the work of God going and they touch people's lives. They expect no reward.  
For example, here in Hervey Bay we have a team of pastoral care volunteers who work tirelessly visiting sick or injured people in hospital. They go to people's homes to spend time with lonely elderly people and sometimes cook or clean for them.  
We also have a group of women parishioners who volunteer after services by providing morning teas. Our parishioners tend to the gardens in their free time — mowing the lawns, trimming bushes and weeding gardens. Here at the Bay when we come together for events, generous parishioners also assist with gatherings, such as setting up marquees, putting out the chairs and organising kids' activities at picnics. Some of our parishioners also visit Fiji to build houses for people who need them, paying for their own flights and accommodation.  
We also have a number of clergy in our Diocese who respond to emergency calls on their days off, as well as many retired clergy who continue to serve.  
Jesus is a loving God who loves us unconditionally. Jesus loves us and asks us to come as we are. So whatever we do, we need to do it with Jesus' heart.  
The Rev'd Nicole Anderson — Priest-in-Charge, The Parish of Carindale 
One of my favourite passages of Matthew's gospel is the Sermon on the Mount, and specifically The Beatitudes (Mathew 5.1-12). 
I love the way The Beatitudes offer us ways to reach deeply into our own hearts to find that true happiness and joy, as well as give us a clear instruction on how human beings are to live and be in our everyday lives. They present in a focused way how God intends happiness and liberty for all, especially people who are vulnerable, disadvantaged, frail or living in poverty.  
The Beatitudes also give us a way to understand the Kingdom of God, a kingdom that is not a piece of land, but participation with our ever-living God in the here and now. Mostly I love this passage so much because it oozes inclusivity — a God for everyone, a way to behave for everyone, a way to be in the world (and not of the world) for everyone. The first four beatitudes address the condition of the heart, or a way to be, followed by five ways to act in community and the world. They are a real tangible code for a faithful life. 
The Beatitudes tell us that Jesus of Nazareth was an inclusive and compassionate person with a heart for the "little ones" and a keen teacher of a way to live these Kingdom values. 
The Rev'd Michael Calder — Priest-in-Charge, The Parish of Wishart
My favourite verse in Matthew would have to be Matthew 20.28 because it explains Jesus' purpose for coming onto the earth: 
" '…just as the Son of Man came not to be served but to serve, and to give his life a ransom for many.' " 
He is the King of the universe. All of creation was made through him. He is the one who really deserves all the service because he is God in flesh! And yet, he didn't come to be served by us or to be waited on by us, instead taking the place of a servant.   
He came as the one who truly served us completely and utterly. He deserved a throne of gold, but was enthroned on a cross. He deserved a crown of jewels, but was given a crown of thorns. In this he was doing the most victorious thing of all — destroying our record of sin, and reconciling us back to God.  
The great news of the Kingdom and the King isn't that we have to "do stuff" for God to be accepted, but that he has done it all for us! The way that we can access this is through repentance and faith. We are called to turn away from living for ourselves and have remorse for what we have done and ask for forgiveness, which is completely and utterly assured and guaranteed.  
Then after we come to repent, we are called to follow him in his footsteps. We are to be completely humble, gentle, gracious, patient, kind, and servant hearted, just as he first was for us.  
Jesus didn't come to be served but to serve us. That's why it's my favourite verse! 
The Rev'd Elizabeth Donald-McConnell — Priest-in-Charge, The Parish of Centenary Suburbs
I don't know that this is the one favourite passage from Matthew, but 'Peter's Declaration about Jesus' (Matthew 16.13-20) is one that I love. 
Jesus and the disciples are at Caesarea Philippi and Jesus asks the disciples, "Who do people say that the Son of Man is?" Simon answers, "You are the Messiah, the Son of the living God." Following this, Jesus names Simon, "Peter", which means "Petros" or "Rock". He says, "…you are Peter, and on this rock I will build my church…"  
Caesarea Philippi is called Banias today. It is located at the foot of Mount Hermon and has been a place of worship for millennia. The grotto was dedicated to Pan, the Greek god of shepherds and the wilderness, during Hellenisation and before that to Ba'al-Hermon. Herod the Great built a temple in thanks for receiving it from Caesar Augustus. When Herod the Great's son Philip inherited, he renamed it Caesarea-Philippi and built a city there, he renamed it Caesarea-Philippi and built a city there. It grew as a place of worship to many gods and was Philip's capital city.  
So, when Jesus names Simon, Rock, and tells him "on this rock I will build my church", it is at juxtaposition of the place in which they are standing. Jesus builds his church on the rock of a flawed human; a man who frequently gets it wrong, even denying he knows Jesus in his hour of need. That is the kind of rock that God chose to build church upon, and that fills me with hope.  
This tells me that Jesus is the kind of Messiah who chooses loving unreliability over cold permanency.  
Jump to next article