From green trees to silver screens: how Tony Rinaudo's incredible story made it to the movies with the help of an Academy Award-winning director
With the recent release of his documentary The Forest Maker, acclaimed Anglican agronomist Tony Rinaudo spoke with anglican focus about the making of the film, his experience changing lives in Africa through farmer-managed natural regeneration and his message about how we can contribute to a better planet as National Tree Day and Schools Tree Day approach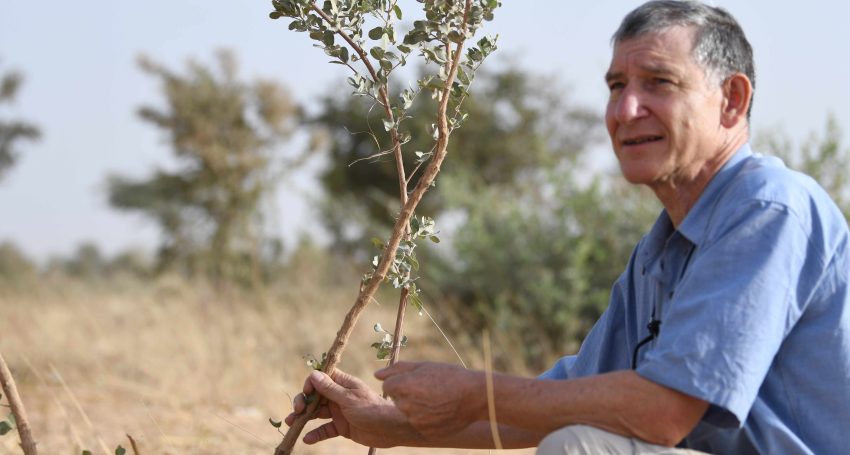 As Australia turns its attention to tree planting and nature care as part of National Tree Day and Schools Tree Day in late July, serious discussions about transformative environmental initiatives are only complete with mentioning Tony Rinaudo's name.
As Australia's preeminent figure in tree regeneration and land restoration, the acclaimed agronomist popularly dubbed the "Forest Maker" is familiar to anglican focus readers. With the recent release of the documentary The Forest Maker, Tony Rinaudo AM spoke with us about how the film came about, his experiences working with celebrated German filmmaker Volker Schlöndorff and his National Tree Day message.
Transforming lives one tree at a time
As a key pioneer in developing farmer-managed natural regeneration (FMNR) – a low-cost land and vegetation restoration method – Rinaudo's work has been central to changing the destinies of millions of people in Africa who are benefitting from FMNR.
While millions of hectares and hundreds of millions of trees have been regenerated and regrown in west Africa thanks to Rinaudo over the past few decades, FMNR has spread to nearly 30 countries around the world, helping local communities with their food security, economic development and environmental resilience.
With over four decades working in Africa, one of the biggest changes Rinaudo has seen during his time on the African continent is in the individual lives of locals who can look to the future with optimism thanks to FMNR's ability to breathe new life into formerly arid lands.
"As impressive and encouraging this physical change is, the biggest change I see is the restoration of hope," Rinaudo said.
"People who had lost hope, who saw themselves as failures and had no way out of the downward spiral of poverty and despair now have hope through restoring their land and seeing life breathed back into the landscape.
"Through now being able to provide for their families, peoples' sense of self-worth, their pride and their dignity have been restored.
"They feel liberated – this simple approach, FMNR – a solution literally at their feet, enables and empowers them to create the future they want for themselves and their children!
"One chief put it this way: 'This gift of FMNR is from the almighty God, and wherever you bring it, you bring life and joy!'"
The central role faith has played in Rinaudo's life and work has been well documented, and during our interview the question arose about whether his faith had been severely challenged.
"I had been working in Niger for two-and-a-half years and had begun to make friends in the villages," Rinaudo said.
"In 1983 the rains failed, and the people I'd come to know and love were suffering.
"I tried very hard to get money, grain and permission to help them, but all doors seemed slammed shut.
"The pressure was very great. Seeing people suffering in this way precipitated a crisis of faith, and I asked myself: 'Does God Care? Does God answer prayer? Does God use very ordinary people to help in impossible situations like this?'
"One morning while trying to eat my cereal as a lump was forming in my throat and tears welled up, my eyes fell on the open Bible next to me.
"I read, 'Fear not and be not dismayed by this great multitude, for the battle is not yours but mine says the Lord.'
"A great peace came over me. I didn't know what, or when or how, but I knew God was about to do something very decisive."
And something very decisive did subsequently happen: permission was provided after a change in government personnel, such that churches and individuals could begin donating money. Grain was then able to be purchased and distributed to around 35,000 people.
"The food aid was delivered in the form of a food-for-work program that gave communities in 100 villages exposure to the practice of FMNR for a long enough period for it to begin to be adopted as a standard practice," Rinaudo said.
"It was a crisis in which everything could have been lost, but through answered prayer, it became a catalyst for change that continues to spread around the world to this day.
"Yes, God cares. Yes, God answers prayer. And Yes, God uses very ordinary people to do extraordinary things."
Australian agronomy meets German cinema
A recipient of numerous international awards, including the 2018 Right Livelihood Award (known as the "Alternate Nobel Prize") for "demonstrating on a large scale how drylands can be greened at minimal costs, improving the livelihoods of millions of people," and the Niger Government's Commandeur du Merit, Agricole, which is the highest decoration Niger bestows on expatriates, Rinaudo is an internationally-recognised expert who speaks at international leadership forums and conferences.
As an author, speaker and principal advisor for World Vision Australia, Rinaudo's story has been transmitted via many platforms, but it took encountering renowned German filmmaker Volker Schlöndorff over dinner in Berlin for his story to make the silver screen.
"After I received the Right Livelihood Award in 2018, World Vision Germany hosted a party in my honor in an Italian restaurant in Berlin," Rinaudo said.
"Volker Schlöndorff was one of the invited guests, and after my talk he came up to me and said, 'Tony, this is an amazing story. Surely you have thousands of followers around the world, replicating what you've done?'
"I told him that 'while progress had been made, it wasn't that simple, and no, I didn't have thousands of followers. It has been a long slow process getting others on board.'
"There and then, Volker said, 'Well, let's do something about it.'"
Making The Forest Maker
Volker Schlöndorff himself is internationally-recognised as one of Europe's major filmmakers and an icon of the New German Cinema movement alongside Rainer Werner Fassbinder, Wim Wenders and Alexander Kluge.
Schlöndorff's 1979 film The Tin Drum won the Cannes Film Festival's coveted Palme d'Or and the Academy Award for Best Foreign Language Film; The Lost Honour of Katharina Blum (co-directed with Margarethe von Trotta) is considered a key title in the New German Cinema movement; and, his later career in Hollywood saw him work with stars such as Dustin Hoffman, Jeremy Irons, Faye Dunaway, Robert Duvall and Fanny Ardant.
While Schlöndorff has dabbled in documentary cinema before (notably as a contributor to omnibus documentary films such as Germany in Autumn and The Candidate), The Forest Maker is somewhat of a departure from traditional modes of documentary filmmaking, with the director recently noting in an interview that the film is more of a cinematic essay, perhaps closer in spirit to Chris Marker than your typical mainstream documentary fare.
Prior to filming, Rinaudo wasn't familiar with Schlöndorff or his work, but they soon developed a close bond and as filming progressed their friendship blossomed.
"I had never heard of Volker or his famous films before, but I found him to be an amazing human being," Rinaudo said.
"He undertook this project at the age of 80, and I'm sure he was as curious and put as much energy into the enterprise as he would have done as a younger man.
"His capacity to learn from and to mix with both 'lowly' people and 'royalty' and treat all with the same esteem is something to emulate.
"In time he became quite knowledgeable on issues of agroforestry, soils, climate, poverty and more, and so I admire him very much.
"We became very good friends, enjoying each other's company and even jogged together in the mornings."
After their introductory meeting in Berlin, six weeks later the pair reconnected in Africa as filming commenced. With a small camera crew of three people maximum (the director, camera operator and sound technician), it was an intimate, unobtrusive production style that allowed Rinaudo to go about his work and be himself.
"Volker more or less just followed me around, filming while I did my normal work, engaging with people, teaching, visiting field sites," Rinaudo recalled on the shooting process.
"Volker's style helped me relax and just be myself; it was as if they weren't there most of the time."
For Rinaudo, one particularly memorable moment of filming with Schlöndorff took place in India when the stature of the filmmaker by his side was brought into sharp focus.
"In India, Volker filmed me delivering a workshop in a village setting and after two days we returned to Calcutta on an overnight train," Rinaudo recalled.
"I had foolishly left some food in my backpack and in the morning discovered that rats had eaten a hole in it and taken the food.
"We emerged from this sometimes noisy, less than clean train a little worse for wear, to be whisked away into a waiting Limo!
"It was the Kolkata International Film Festival and Volker was the guest of honour.
"We transitioned from the simplicity and struggle of village life to receiving the full Tinseltown treatment!"
Spreading the message
The finished film screened at numerous international film festivals and, for Australian audiences, is now screening on SBS's On Demand platform.
Upon seeing himself on the big screen Rinaudo was very happy with the results and the documentary's impact has greatly assisted in promoting his message further afield.
"Just as Volker predicted, the film is having a very significant impact on audiences and is opening doors for me to speak to policy makers, the EU, donors, other NGOs and communities of faith," he said.
"Watching the film, I was particularly moved by the personal stories of people impacted by land degradation, and was warmed by the re-union scenes in which I met people I knew and worked for over nearly two decades."
Schools Tree Day and National Tree Day
Closer to home, with Schools Tree Day and National Tree Day approaching on the last Friday and Sunday in July respectively, caring for the environment and tree planting will be in the national spotlight.
When asked what message he has for anglican focus readers as the nation marks Schools Tree Day and National Tree Day, Rinaudo acknowledges that people's ability to get involved will differ, so considering the bigger picture and how everyday actions harm the environment is critical.
"As much as I would like to say everybody should either plant trees or support restoration projects, not everyone is in a position to do so," Rinaudo reflected.
"Hence, the bigger message is that as Christians we have a duty to care for God's creation – we care for it because it belongs to, and is important to, the one whom we call Lord.
"Caring for creation is an act of love for our God. So I would call for self-examination: Do the products I buy and consume, does my investment portfolio, do my travel and career choices inflict minimum harm possible on the environment? And if not, what am I going to do about it?
"For those interested in supporting reforestation initiatives, it's important to know that not all tree restoration schemes are equal, so it's important to be informed before giving or participating.
"Know what works and what doesn't, and what is actually good for the environment versus what is just cosmetic.
"Once you are satisfied that your involvement will make a worthwhile contribution – give to that cause unreservedly."
The Forest Maker is now available to watch on SBS On Demand.
Tony Rinaudo's book The Forest Underground is available in hardcover/paperback and audiobook formats.
For more information on Schools Tree Day and National Tree Day, visit the National Tree Day website.
You can find out more about Tony Rinaudo's work online.
Jump to next article