Q&A with former police detective, dad, kite surfer and ACSQ Director of Professional Standards, Rob Bates
Meet Rob Bates and find out about his current activities, what person of faith inspires him the most and the kindest gesture he has ever witnessed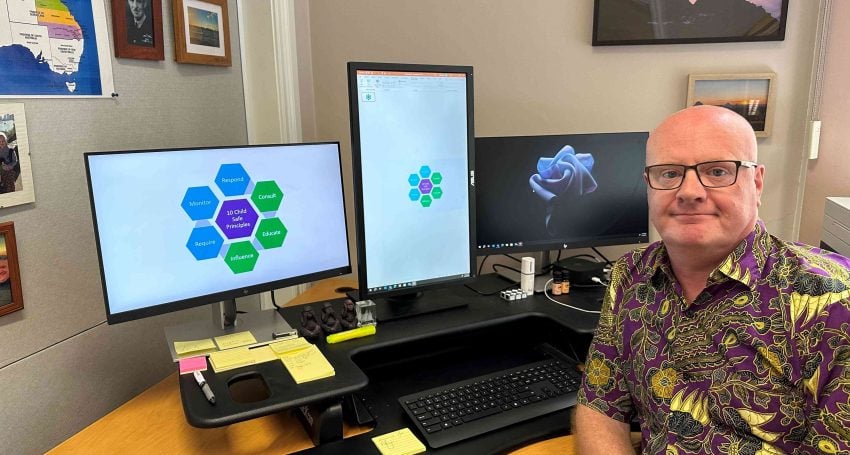 How long have you been involved in the Anglican Church and in what roles?
I have been working for the Anglican Church Southern Queensland since June in the role of Director of Professional Standards. My role is responsible for professional standards matters, which includes adult and child safeguarding. The 10 National Principles for Child Safe Organisations underpin our operational framework.
What projects or activities are you currently working on?
There are three major projects we are working on, including legacy matters, enhancing the application of the 10 National Principles for Child Safe Organisations and preparation for the Queensland's Government's Reportable Conduct Scheme.
The 10 National Principles for Child Safe Organisations are:
Child safety and wellbeing is embedded in organisational leadership, governance and culture.
Children and young people are informed about their rights, participate in decisions affecting them and are taken seriously.
Families and communities are informed and involved in promoting child safety and wellbeing.
Equity is upheld and diverse needs respected in policy and practice.
People working with children and young people are suitable and supported to reflect child safety and wellbeing values in practice.
Processes to respond to complaints and concerns are child focused.
Staff and volunteers are equipped with the knowledge, skills and awareness to keep children and young people safe through ongoing education and training.
Physical and online environments promote safety and wellbeing while minimising the opportunity for children and young people to be harmed.
Implementation of the national child safe principles is regularly reviewed and improved.
Policies and procedures document how the organisation is safe for children and young people.
What has been a significant moment or time in your role so far?
Listening to a survivor's account and working with the survivor to improve processes and achieve a good outcome for them.
What are your plans and goals for the next 12 months?
The main plan is to continue to implement the National Principles; implement a system for the Reportable Conduct Scheme; enhance and improve the auditing process; and, review policies and procedures.
What person of faith inspires you the most and why?
Archbishop Desmond Tutu because of the work he did bringing healing in South Africa.
Why is Reconciliation between Aboriginal and Torres Strait Islander peoples and non-Indigenous Australians important?
I think it comes down to listening with intention to what has happened in the past in order to move forwards together.
Why are the Uluru Statement From the Heart reforms, including the Voice to Parliament, important to you?
They are important to me because they are a means by which Aboriginal and Torres Strait Islander peoples can be heard. The Voice is an important next step in the Church's ongoing journey towards Reconciliation.
What are the primary strengths of the Church and what is the best way to make the most of these for the benefit of our communities?
The primary strength of the Church, as I see it, is that it's there to help and assist those in need where there are gaps. At night when I leave the Cathedral Precinct office and I see rough sleepers getting their blankets, I have a chat to them. These conversations remind me about why Church is important.
What is the kindest gesture you have ever witnessed?
Bishop Jeremy Greaves accompanied a survivor when the survivor tied a ribbon to the "Loud Fence" (a memorial fence where survivors and their loved ones can tie a ribbon to express their voice) outside the cathedral. This meant a lot to the survivor and to me.
What is the best piece of advice you have ever received and who gave you this advice?
A Detective Inspector in the UK told me when I first started overseeing homicide investigations that it is a privilege to hear people's stories and be able to help them in a critical time in their life.
What do you do in your free time to recharge and relax?
I do a lot of walking in nature and I also like to kite surf with my son.
If you found yourself on a deserted island, what three things would you choose to have with you?
A solar rechargeable kindle, something to play music on (I especially like listening to Gregorian chants) and Lego.
If you could have a billboard with any text on it, what would it say and why?
"There comes a point where we need to stop just pulling people our of the river. We need to go upstream and find out why they are falling in." (Archbishop Desmond Tutu)
What book do you recommend the most and why?
Sevens Heaven by Ben Ryan. It's a biographical book about the beautiful chaos of the Fijian Olympic dream. It has wonderful leadership insights.
Where do you do your best thinking?
By the beach — anywhere outdoors.
What's your best childhood memory?
Going to the beach with my parents in Wales at a place called Abersoch. There were blue and red tractors by the beach driven by men who looked like singers from The Doors. I wanted to drive tractors like them.
What is your karaoke go-to song?
"Angels" by Robbie Williams.
If you are having a bad day, what do you do to cheer yourself up?
Go and get some Toblerone chocolate.
What makes you nostalgic and why?
Hearing choral music or bells in church. It reminds me of being a chorister and a bell ringer.
What is your secret skill?
The ability to take in information and process it and cut to what's important.
What day would you like to re-live and why?
My daughter's school graduation because I could see how much fun she was having.
If you could only eat one thing for the rest of your life, what would that be?
Mango chicken curry.
What item should you throw out, but can't bear to part with?
I have an old piece of furniture — a bureau — that was made by one of my uncles when he was an apprentice around 1915. It's hideous, but it has great sentimental value.
What's your unanswerable question — the question you are always asking yourself?
How can I improve my work?
Editor's note: If you have any concerns/questions or would like the Office of Professional Standards team to attend any events to engage and meet with your people, please contact the Office of Professional Standards office on 1800 242 544 or at professionalstandards@anglicanchurchsq.org.au.
Jump to next article