"We come here full of hope and ready to start a new life": former refugee Bishop Daniel Abot
"Overall I am lucky — I work with great people and feel loved in my team and in the wider Church. But I talk to many people in my community who are rejected at work because of their skin colour and accent, and it hurts them deeply. This has even happened to my gentle, softly spoken wife, Rachel," says Bishop Daniel Abot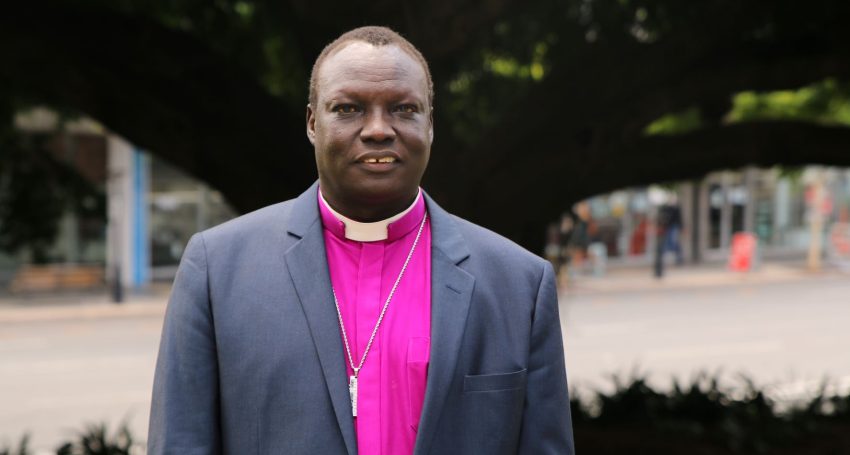 A large part of my role as Ethnic Congregations Specialist and Bishop involves pastoral care of Sudanese and South Sudanese community members. This is all about providing emotional and spiritual care for people who are going through grave personal challenges.
Many of the people that I pastorally care for are former refugees, like myself. Because of this they often have significant trauma in their background. When refugees come to Australia, seeking safety from conflict or political persecution, we come here full of hope and ready to start a new life. But things that happen in everyday life can be triggering for us.
For example, our hope can be de-railed by prejudice and stereotypes. Overall I am lucky — I work with great people and feel loved in my team and in the wider Church. But I talk to many people in my community who are rejected at work because of their skin colour and accent, and it hurts them deeply. This has even happened to my gentle, softly spoken wife, Rachel. She has told me stories about how people she has met through work have refused her assistance, even turning her away at the door, saying "I don't want you. I want an Australian." Rachel became an Australian citizen over 15 years ago, so their rejection wasn't about her citizenship status. People need to feel safe at work and part of a team.
The Sudanese and South Sudanese diaspora are also currently overwhelmed by phone calls and text messages from people who are homeless, starving or dying as a result of the ongoing civil war in Sudan and the subsequent impacts on South Sudan, including peoples' access to food, water and fuel. There is incredible pressure for Sudanese and South Sudanese Australians to provide emotional and financial support to their families and friends in both Sudan and South Sudan.
I also have a cousin in a refugee camp. She is a widow with six children and she recently miscarried. She is traumatised as a result. Rachel and I are supporting her emotionally and financially. Many of us from Sudan and South Sudan are supporting desperate family members in several refugee camps in an ongoing way.
Such situations can be triggering for me because I was in the same camp for nine years. I have a degree in counselling so fortunately I can identify these triggers. I feel for those who don't have this ability or any support.
The main victims in the current crisis in Sudan and South Sudan, like in any conflict or natural disaster, are women and children.
So I ask anglican focus readers to pray for the people in Sudan and South Sudan, especially women and children. I also ask readers to meet Sudanese and South Sudanese people in Australia – or people from any diaspora in Australia – where they are at, showing compassion and an open heart.
Jump to next article