Season of Creation sermon: "Today we give thanks for our animals"
"Francis challenged the idea that the world and all living things were just commodities to be exploited. He saw them as inheritors, along with us of the kingdom of heaven. It's not always easy to see the same kinship with nature that Francis saw, especially when you're being pursued along the footpath by an aggressive magpie," says The Rev'd Robert Paget from St Paul's, Samford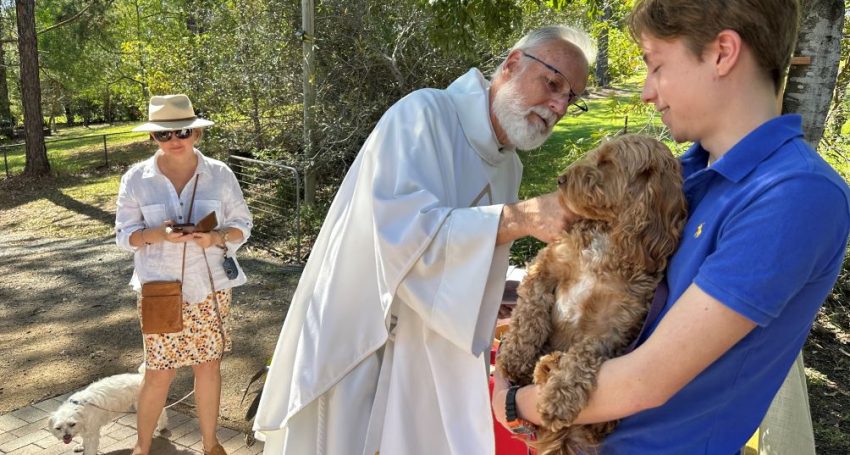 This Season of Creation draws to a close today, well in fact, Wednesday, but we are transferring the feast of St Francis to today because, well, it's more convenient to do so.
Over the past four weeks we've considered our relationship with forests, the land, the outback/wilderness and rivers. Today our focus is drawn to St Francis of Assisi. And that, of course, brings animals in focus.
Francis was born in 1182, as the son of a wealthy cloth merchant. His early years were frivolous, but an experience of sickness and another of military service were instrumental in leading him to reflect on the purpose of life.
One day, in the church of San Damiano, he seemed to hear Christ saying to him, "Francis, repair my falling house." He took the words literally, and sold a bale of silk from his father's warehouse to pay for repairs to the church of San Damiano. His father was, to say the least, unimpressed, and there was a public confrontation in which his father disinherited and disowned him, and he in turn renounced his father's wealth. One account says that he not only handed his father his purse, but also took off his expensive clothes, laid them at his father's feet, and walked away naked. He declared himself "wedded to Lady Poverty".
Francis is most noted for his abandonment of his life of privilege, and his was indeed a life of privilege. He is also known for his work with people who were poor and his love of nature.
At the time, the general attitude toward the natural order was that it was simply a resource to be tamed, controlled and used. It was a world where the natural order was considered chaotic and in need of order.
Francis' attitude was quite different. He understood that all of creation was made by God and the focus of the salvation won by Christ along with human beings. So, not only did Christ die for you and me, but for the beasts of the field, the birds of the air, the family pet, brother sun and sister moon, as well. All creatures were seen as his brothers and sisters. His Order weren't known as Franciscan but Friars Minor, which translates to "Little Brothers". They were the little brothers of all things, never taking pride of place but deferring those around them, taking the humbler position.
Salvation is not just for human beings, but for all of God's creation.
Words have a huge impact. Take the word "world".
"In the world, but not of the world". This expression gives us the idea that the world is somehow separated from God. Paul at times seems to stress that. We refer to, the world, the flesh and the devil….The original axis of evil.
And yet in John's gospel we have one of the best-known passages. If you know no other bible reference, chances are that you know this one. God so loved the world (John 3.16).
Francis challenged the idea that the world and all living things were just commodities to be exploited. He saw them as inheritors, along with us of the kingdom of heaven. It's not always easy to see the same kinship with nature that Francis saw, especially when you're being pursued along the footpath by an aggressive magpie. Or when you see a carpet snake making a bee-line for one of your chickens — I've been there.
Then again there are human beings we find difficult to love, but nevertheless the command to love your neighbour doesn't stipulate that we need only love the lovable.
There is an attitude we see in Francis of Assisi that runs counter to expectation, the expectation of society in general. As a society we tend to favour the outgoing, logical, decisive types, the types that get on well with everyone, those that always at the front of the crowd.
Francis chose a different way. He saw in Jesus a gentler, humbler approach and tried to extend that to everyone and everything he met. And yes, that gentler humbler approach was extended not only to the people around him, but to everything around him.
All too often we can treat those around us as just "other", the world around us as something to be shunned, distanced, as we pursue a more spiritual existence. Jesus calls us, not to detach ourselves from the world around us, but to be a force for good within it.
Like Jesus, Francis sought a different way.
Today we give thanks for our animals, animals of field and air. The powerful owl, elusive, but an emblem of our valley. We give thanks for the animals that provide us with the food we need, the animals that guide, provide assistance or companionship to those in need.
We are only just beginning to discover the benefits of dogs that wander around children's wards in hospitals or in nursing homes, even in the corridors of military headquarters. And then there are the working animals in various protective roles. Not to forget our pets, those animals with which we share our homes. We give thanks for every single one of them and the bonds we form with them.
Editor's note: Everyone is invited to join in the St Francis Festival, a free fun community event at St Francis College (233 Milton Rd, Milton) on 14 October 2023 between 10am and 3pm. The event will include workshops, food, stalls, kids' activities, music and pet blessings. Find out more by visiting the St Francis College website.
Jump to next article