Canterbury College soaking up The Sudsy Challenge
Canterbury College teachers and students reflect on their experiences fundraising for The Sudsy Challenge, an initiative of Orange Sky Australia who positively connect people experiencing homelessness through free mobile laundry services and genuine conversations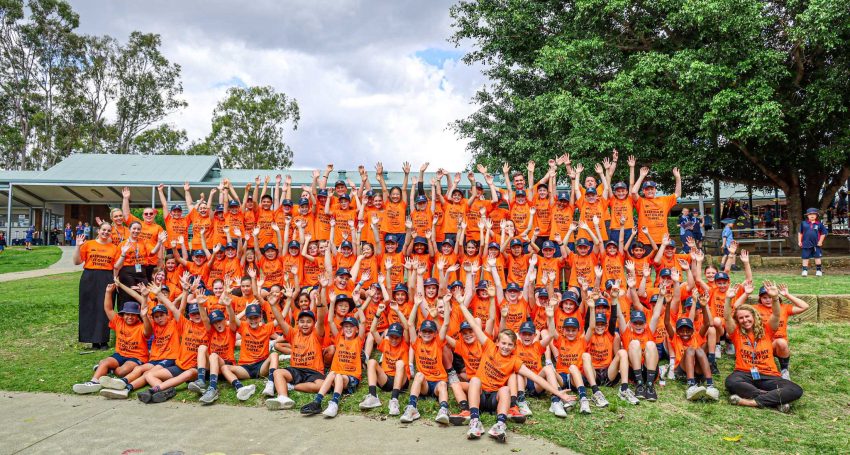 Over the past three years Canterbury College has been raising funds for Orange Sky Australia and their Sudsy Challenge to help the organisation positively connect with communities through genuine conversations and mobile laundry and shower services. The Sudsy Challenge is a fundraising initiative with participants raising funds by wearing the same outfit for three days in support of people experiencing homelessness, and this year Canterbury College raised over $30,000 and made an appearance on the Today show to promote their fundraising.
Joelene Anderson — Teacher and Coordinator, Community and Leadership, Canterbury College
I was aware the Secondary School had previously taken part in the Orange Sky Australia initiative and thought it would be excellent for our Years 5 and 6 students to participate. I contacted Mr Chris Nield, the event coordinator for the College, to express my interest and then set up the "Super Suds" team for all our Years 5 and 6 staff and students. We then started promoting the initiative and organising ways for people to support us in raising money.
It is lovely to be able to promote such a worthy cause within our College and community — so I felt a sense of pride in doing so. The fundraising that has taken place has been inspiring, and I feel incredibly grateful for the fantastic work our students and their families and friends have undertaken to help Orange Sky get the funds they need to support people in need. It has been fascinating and gratifying.
Promoting the challenge and then watching our fundraising increase to vast numbers has been a highlight so far. We celebrated that with the students and observed the excitement and togetherness it created as we continued to set goals and achieve them as a team. Many team members have fundraised enough to earn their official Sudsy t-shirt, so we will create a sea of bright orange, which will continue to promote the Orange Sky organisation.
It is important to be involved in initiatives like this to educate our students and their families about others out there who are doing it tough, needing our help and support. We need to teach our children about empathy (for others) and gratitude (for everything and everyone they have in their lives), and to show ways they can help support others, make changes and make a difference, and in effect, change people's lives.
Chilli — Year 5 student, Canterbury College
Mrs Anderson from Canterbury College spoke to all Years 5 and 6 students about the Orange Sky Sudsy Challenge. The Year 6 students assisted us with our sign-in details and the process about how to donate. When I heard all the information, I felt I needed to get involved straight away, and I even told my parents I would like to work with Orange Sky and drive around in the van helping people when I am older.
Being part of this helped me understand how people feel when they have no home and the daily challenges they face to survive. This made me feel sad inside that people have to experience this situation, but I was also happy to know that I could help and make a difference in people's lives.
Having so many of my family and friends contribute to this worthy cause was special. I was so surprised when I saw how much money people had donated to The Sudsy Challenge in such a short time. I felt so proud to be involved in such a great cause for people experiencing homelessness.
The school and students need to be involved because we can make a difference in someone's life. It makes me feel grateful for the opportunities I have been given, and I realise what it means to be loved and cared for. Canterbury is such a great community that I am proud to be part of, and the money we have all worked together to raise is worth all the hard work we have put in.
Isabella — Year 6 student, Canterbury College
I got involved with the Sudsy Challenge through my school, Canterbury College. My teacher, Mrs Anderson, was the primary influence on me because she set us up, explained what this event was about, and then continually encouraged us to help raise more money. She made it fun, too, by keeping us updated with the fundraising amount and what this would mean for Orange Sky and the people they were helping. Seeing us at the top of the leaderboard was also fun.
Participating in The Sudsy Challenge has made me realise that not everyone can have the same opportunities as me, like getting a good education, eating three meals a day, having a roof over their head every night, and much more.
Participating has also made me realise that life is not fair sometimes and that we should take every opportunity to do fun things and challenge ourselves because you never know what life will throw at you.
The highlight of being involved in The Sudsy Challenge was raising funds and awareness for people experiencing homelessness or those who live in poverty. One of the main highlights is the sense of accomplishment that comes from knowing you have positively impacted someone's life. Whether that is fundraising for someone to have a hot shower, covering an Orange Sky shift, or even experiencing what it feels like to stay in the same clothes for three days.
It is essential for schools and students, especially younger students, to get involved and learn about homelessness and poverty and charities like Orange Sky so that they can learn to build empathy. Whether it be that they see someone sleeping on a park bench or someone sitting and asking people for money or someone just sitting there, if they learn about awareness for homelessness, they can buy that person a meal, give them some money, or even buy them some fresh clothes.
Zarayah — Year 6 student, Canterbury College
I got engaged by My teacher (Mrs Anderson) signing the Years 5 and 6s up to join The Sudsy Challenge to help raise money for people in need and become a part of the Canterbury College Super Suds!
Participating in this has shown me that only a few people can afford the cost of living now. But also, even though I get a shower every night, some people do not even get that. It also shows that we can make a difference by coming together as a community with a small or large donation. It may only change one person's life, but that is better than not helping anyone.
The highlight of being involved with The Sudsy Challenge is knowing that 884 people can get their clothes washed and not feel like they do not smell or look good. But they also feel safe by speaking to someone they can trust; they may not be in their position, but they still get some company and someone to talk to.
It is important for the school and students to get involved in initiatives like this to teach kids who are lucky to shower every night and get their clothes washed – that not all paths we take in life are the best; they may not be the ones we dreamt of, but we are lucky that there are charities like this to help support the community.
Glen Walker — Teacher and Head of Kime House, Canterbury College
When I became the Head of Kime House, several students had previously been involved in The Sudsy Challenge. Kime feels connected to Orange Sky Australia, as our House colour is orange, and through our House values of inclusivity, courage and resilience.
The Sudsy Challenge has made me more aware of the challenges faced by those people experiencing homelessness. It has also shown me the remarkable willingness of people to help others in greater need.
A highlight has been seeing how the Canterbury College community has come together to raise awareness of what Orange Sky Australia does for people experiencing homelessness and know that our money will go towards essential laundry facilities and equipment so that more people can access them.
Schools play an integral role in our community and Canterbury believes that service to our community is one of our key pillars. Young people should learn how to become active in their community service, and initiatives like The Sudsy Challenge are essential in providing service opportunities.
Jenny — Year 12 student and Vice-Captain of Kime House – Community, Canterbury College
Canterbury has participated in The Sudsy Challenge for a few years, which was how I originally learned about the initiative. I was amazed at how fast the school hopped onto The Sudsy Challenge, helping our community in need. So, approaching this year's end of winter, I was excited to get on board with Canterbury's growing involvement in Sudsy.
Participating in this initiative reminded me of the homelessness situation in our community.
However, seeing Orange Sky's impact in supporting people experiencing homelessness made me realise that there are always practical ways we can help. With support, these services will continue to strive. It opened me to new perspectives and outlooks on our world and gave me hope to answer our people's needs.
Through Canterbury's strong involvement this year, as we steadily approached our $30,000 donation goal, and we made it onto the Today show! It was an exciting way to spread the word about Orange Sky's Sudsy Challenge and get our students to do some fun laundry-related challenges.
Schools and students must get involved in these initiatives because they broaden the perspectives of younger minds on current issues faced within our local community and provide students with ways to make practical changes and impact. With more support in schools, more significant changes can happen towards helping the disadvantaged people in our community.
Lilly — Year 11 student, Canterbury College
Four years ago, I first heard about Orange Sky Laundry (now Orange Sky Australia) and the work they do for those doing it tough in our community. I was too young to volunteer then, so I learnt about The Sudsy Challenge. This is a chance to make a significant impact and help change others' lives whilst fostering an environment of positive change within our college community.
Participating in this initiative allowed me to give back to the community and learn a lot about the person I was and who I wanted to be. Having a strong sense of compassion for others, it was simple for me to give back. However, I have yet to truly realise the impact of engaging in meaningful conversation and how we can so easily take for granted having someone to talk to about the highs and lows of daily life. It has taught me the importance of giving to others and the power of kindness.
For me, as an ambassador for The Sudsy Challenge at Canterbury, the most significant highlight has been watching our Sudsy Team grow each year. Hearing students' interest and excitement being a part of something bigger than themselves fills me with immense pride. In our forever-growing community of kindness, I hope this initiative will continue to be an enormous success, with students past, present, and future aspiring to start conversations surrounding homelessness and doing their part to get involved.
Orange Sky's services are invaluable, providing much-needed showers and access to clean clothes for those doing it tough in our community. The Sudsy Challenge continues to provide staff and students with an excellent opportunity to give back to the community without expecting rewards, but knowing the positive difference you are making in somebody's life.
Jump to next article