Pathways 4 Mission: "Go with what you have, being intentional"
"What is most appealing about the Pathways 4 Mission programme is its simplicity. You are able to do it within the context of your congregation's ministry, and without reinventing the wheel. You just learn how to use the wheel more effectively," says The Rev'd Steve Wockner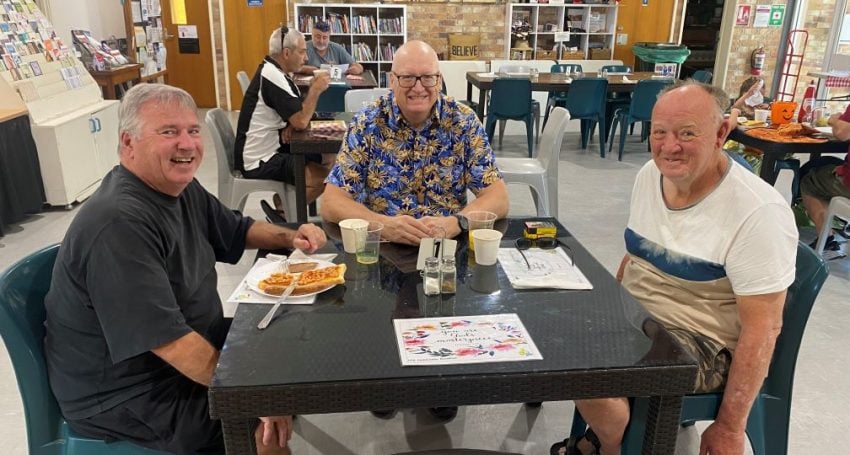 Along with a number of priests from our Diocese, I have participated in the Pathways 4 Mission programme this year. The programme is about assisting different kinds of churches to be more missionally effective in the context of the local church.
I have gained a number of beneficial insights from the Pathways 4 Mission programme. Of these, my favourite is that "farming is the key metaphor that informs the Pathways process." Ken Morgan, the programme's founder and Head of Parish Mission Resourcing for the Anglican Diocese of Melbourne, bases this key metaphor on the teaching of Jesus' Parable of the Growing Seed in Mark 4.26-29:
" 'He also said, 'The kingdom of God is as if someone would scatter seed on the ground, and would sleep and rise night and day, and the seed would sprout and grow, he does not know how. The earth produces of itself, first the stalk, then the head, then the full grain in the head. But when the grain is ripe, at once he goes in with his sickle, because the harvest has come.' "
The main point of this parable is that the soil produces the grain without any effort on our part. The farmer cannot make the seed die and sprout into a plant. It works the way God planned it. But the farmer is not an idle participant in the growing process. The farmer prepares the soil, waters the crop, takes care of it and finally harvests it when it ripens. A Pathways church is a farm where we work with the Holy Spirit who sprouts the seed of faith to eventually produce a crop of disciples.
How a person becomes a disciple and grows as one is somewhat of a mystery to us. It is a working of God by the Holy Spirit. But this does not absolve us from our responsibility in the process. We cannot just toss the seed up in the air and let it land wherever, thinking: "Come what may". As farmers, it is our responsibility to understand what makes the seed of faith grow and how that seed interacts with the surroundings. We are co-labourers with God in the spiritual harvest.
This insight became special to me during a conversation with one of our Churchwardens. In a discussion about Ken Morgan book, Pathways: Local Mission for All Kinds of Churches, this insight seemed to pop out as the central one of many in the Pathways process — it was definitely the central insight for our parish's context. This was then confirmed when a number of people from our church attended a day-long Pathways 4 Mission seminar with Ken Morgan.
Following this seminar, Ken became my coach, and then when we had finished the course, which was sponsored by the Pathways 4 Mission, Ken became my supervisor. Since then, this Biblical metaphor has come up regularly in conversation.
There are seven Pathways 4 Mission stages, from being someone who doesn't know Jesus to being a mission leader:
Potential Contact
In Touch
Belonging
Embracing the Gospel
Following Jesus
Serving in Ministry
Leading Ministry.
Ken recommends that you initially select one or two pathways that you are already engaged in or implementing while thinking about these stages. This is one of the geniuses of the Pathways 4 Mission programme — you do not have to re-invent the wheel. Go with what you have, being intentional. At our church, we decided make our Tuesday breakfast for those in need our first pathway. We have between 20-30 people attending weekly for a hot breakfast. We had been running it for about two and a half years when we decided to make it our pathway.
While we have been learning the Pathways process and developing the breakfast pathway, we have focused on "belonging" building — a sense of community between our guests and those who serve each week. Relationships are the essence of the discipleship process. We have seen promises of fruit from this. For example, one male guest came to a couple of our Man Cave (men only) dinner meetings; another is coming as a guest speaker to the same group to tell us about his time as a Buddhist monk; a mother and her six-year-old daughter occasionally come to services and Sunday Kids Club; and, another woman occasionally attends our church's craft group.
Our next step entails "Embracing the Gospel". We are planning to put on a hot breakfast this Christmas Eve followed by a very informal service of Bible readings and carols. In the New Year, we will continue with a series of six evening meal events where we will show and discuss a selection of The Chosen YouTube videos.
Pathways is about farming. The crop is growing while the farmer both sleeps and does the day-to-day chores. While we are to co-labour, we recognise that the real work belongs to the Holy Spirit. Viewing what we do as a farming process, we understand that as we are learning, the crop maybe only be small. In fact, that is another beauty of the Pathways process. Pathways 4 Mission is not built around exponential success, but about small incremental growth. Just as a seed grows slowly into a plant, so the Pathways process is about long-term mission results. Therefore, you do not have to sweat or feel guilty or burdened about mission. It is part of what you do. You need only be focussed.
I admit that what we are planning is experimental for us. However, we are hoping and praying that it will bear fruit because one thing the people who attend our Tuesday hot breakfasts need is the healing, helping and compassionate love of the Lord Jesus Christ. For many, life is hard. Sadly, some try to find help in the wrong places. We are hoping that by what we offer, the Lord may, by the Holy Spirit's embrace, draw them close to Him who will never fail nor forsake them.
I would certainly recommend the Pathways 4 Mission programme to other Anglican Church leaders. You can be who you are within the comprehensive Anglicanism context. Whether you are Anglo-Catholic, Evangelical, Progressive, Charismatic or whatever, you can be who you are. You don't have to become someone or something else. You can be your genuine self, expressing your unique charism.
What is most appealing about the Pathways 4 Mission programme is its simplicity. You are able to do it within the context of your congregation's ministry, and without reinventing the wheel. You just learn how to use the wheel more effectively. Another pleasing aspect of this programme is that it recognises that becoming a Church in mission is a paradigm shift for many and so it may take time to bear fruit. Ken's use of Jesus' parable of the farmer tending the crop and the crop growing slowly is encouraging and helpful when there are so many quick-fix mission programmes around today — programmes that tend to make you feel guilty if you don't get immediate results. Pathways 4 Mission especially suits the DNA of the mainline Church.
Ken Morgan also offers his services in supervision. While it is expensive, it is a worthwhile investment in your Church's mission. Ken also offers seminars and other learning opportunities and resources. You can actually meet and develop a relationship with the man behind the programme. Be prepared to work and to be accountable though. Take it from one who knows!
Jump to next article