Defence Sunday — remembering with thankfulness and hope
"As a veteran and chaplain, I ask that on Defence Sunday people remember with thanks the sacrifice of those who served, suffered and died for us and their families; to commit to helping those wounded in body, mind and spirit; and, to pray for those who still serve in our name," says Principal Chaplain, The Ven. Rob Sutherland CSC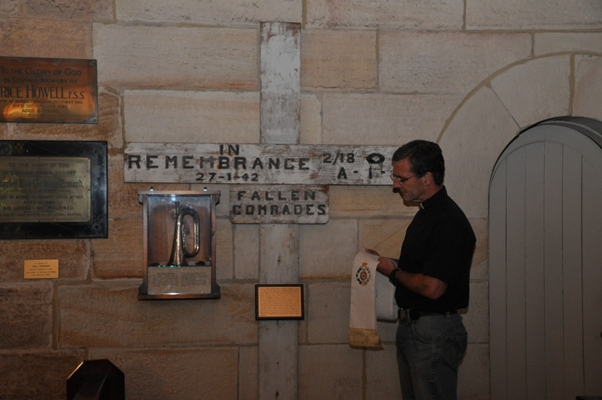 " 'No one has greater love than this, to lay down one's life for one's friends,' " says the Lord (John 15.13).
Defence Sunday is the closest Sunday to 11 November, Remembrance Day. On Defence Sunday, our Lectionary invites us to use the Prayer for the Defence Forces of Australia (APBA p.204, prayer 10), although it is also appropriate to use the Sentence, Prayer and Readings for Anzac Day (APBA p.629).
Some churches, like mine, will also invite people to lay rosemary, to observe a minute's silence and to play "The Last Post" (which may be downloaded from the Anzac Portal website or played on Spotify).
Anzac Day commemorates and remembers Australians and New Zealanders going to and serving in wars — their valour, courage and service. It commemorates and remembers the sacrifices made by sailors, soldiers and aviators and their families.
On Defence Sunday and Remembrance Day we remember the cost of war, the love of those who were prepared to lay down their lives for us, and the hope for a future without war.
As a veteran and chaplain, I ask that on Defence Sunday people remember with thanks the sacrifice of those who served, suffered and died for us and their families; to commit to helping those wounded in body, mind and spirit; and, to pray for those who still serve in our name.
On this Defence Sunday, I encourage anglican focus readers to listen to this Defence Sunday video message from Bishop Grant Dibden, the Anglican Bishop to the Australian Defence Force, as he shares about the critical work of Defence Chaplains.
Editor's notes: Principal Chaplain, The Ven. Rob Sutherland, CSC joined the Army in 1974 as an Infantry Officer. He has since served for 25 years as an Army chaplain. Rob currently leads the Veterans' Chaplaincy Pilot Program for the Department of Veterans' Affairs, is an Archdeacon to the Primate and leads Warrior Welcome Home, a program to help veterans and families recovering from the effects of war and Defence service.
Immediate support is available for those who may be distressed by phoning Lifeline 13 11 14; for Veterans and Families from Open Arms 1800 011 046 and in a crisis call 000.
Jump to next article