Sunday Devotion: 27 January 2019, Third Sunday after Epiphany
Scripture fulfilled in Jesus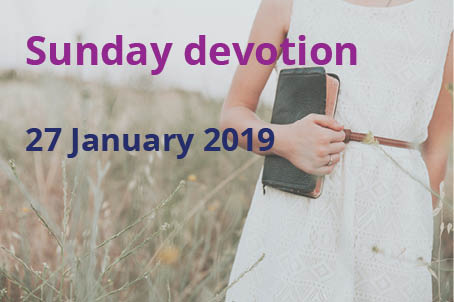 Main readings: Nehemiah 8.1-3, 5-6, 8-10; Ps 19; 1 Corinthians 12.12-31; Luke 4.14-21
Supplementary readings: Ps 130; Luke 4.38-44; Genesis 9.7-19; Ps 119.165-176; Galatians 2.11-21
"Today this scripture has been fulfilled in your hearing." (Luke 4:21)
News about Jesus had spread all over town. People had been praising him, but things soon change. Whilst a football team might have a 'hometown' advantage, for Jesus, being a local would be a major belief blocker.
Whilst there's nothing out of the ordinary for Jesus, a Jewish man, going to the synagogue, what happens next is extraordinary. As he reads from the scroll handed to him (Isaiah), he does something radical. He takes the words of Scripture and applies them to himself! These words, borrowing the concept of 'Jubilee' (i.e. when slaves were released and debts cancelled), pointed to an anticipated future in which Israel would be restored. Jesus is saying that TODAY, that hope has been fulfilled in him! But as we come to see in Luke, it wouldn't merely be from political oppression, but release from sin and death. How? Because not only was Jesus the Son of God, but also because he would die and rise so that all can be saved.
At first people are amazed, but soon they're furious. Their unwillingness to see Jesus for who he really is would stop them from welcoming him into their lives.
We can have all sorts of presuppositions about Jesus; we readily try to contain him and keep him at a safe distance. But, unless we are willing to see him for who he truly is, we'll never know how good the Good News really is.
Jump to next article