Trinity Commons launched
The Trinity Commons hub for 'Building Community Together' through programs and events, education and research, was recently launched at Holy Trinity Parish, Fortitude Valley by the parish, Anglicare and the University of Queensland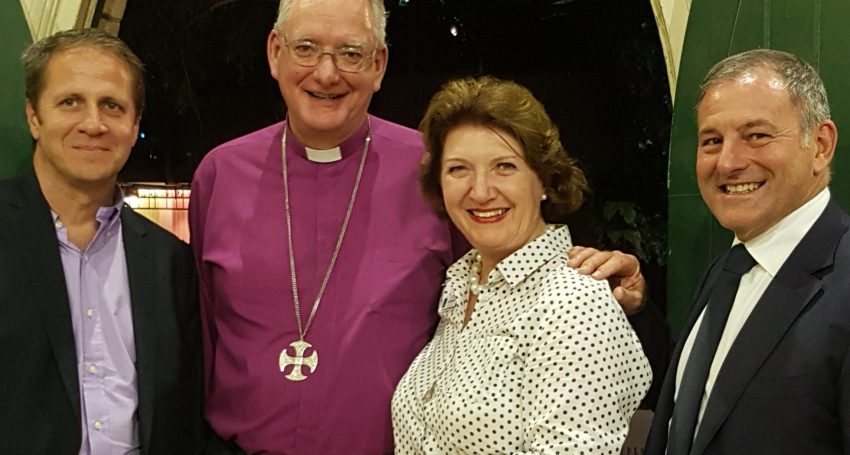 The Trinity Commons hub for 'Building Community Together' through programs and events, education and research, was recently launched at Holy Trinity Parish, Fortitude Valley by the parish, Anglicare Southern Queensland and the University of Queensland.
Professor Heather Zwicker, from the University of Queensland, summed up the Trinity Commons journey so far in a few succinct words at the official launch earlier this month.
"Great things come from imagination and collaboration," said Prof Zwicker said.
"And in the words of legendary Australian songwriters Kev Carmody and Paul Kelly: "From Little Things, Big Things Grow."
Certainly for the 60 or so people who came along to celebrate the official launch and blessing of Trinity Commons, there was a sense of being part of something special.
Trinity Commons is a new expression of urban community wellbeing. Its vision is a thriving inner-city hub of social innovation, service delivery, research and education, with a connected and inclusive community at the core. Through their co-designed community, research and education activities, Trinity Commons aims to promote socially just systems and inclusive spaces.
Gaja Kerry Charlton offered a warm and thought-provoking Welcome to Country that acknowledged both the traditional custodians of the land, and those who seek to learn from their wisdom.
Trinity Commons Chair and Holy Trinity Parish councillor, Gary Bruce, set the scene by tracing Trinity Commons' history and progress so far.
His story was interspersed with wonderful performances by the Trinity Choir and the Trinity Tots playgroup music director, Simone Brown, showing some of the breadth of communal activity encouraged and supported by the Trinity Commons project.
Bishop of the Northern Region, The Right Rev'd Jeremy Greaves, spoke of the essence of 'the Commons', with his comments echoed by Anglicare SQ Executive Director, Karen Crouch.
"People need to feel that they belong, and are a valued part of a community, in order to thrive as individuals. And when individuals flourish, so do communities," Ms Crouch said.
"Strong communities support and include the whole diverse range of humans that live in them."
This is part of what we understand as 'the commons' – a concept made reality by community members who share values.
In his address and final prayer, Archbishop Phillip Aspinall spoke of the uncertain, but exciting, journey that we are undertaking as part of Trinity Commons, and those shared values, spiritual and secular, that will guide our progress.
"Exactly what Trinity Commons will become, no one quite knows," Archbishop Aspinall said.
"And it might never actually be entirely settled.
"By its very nature and originating vision Trinity Commons is a fluid, changing, evolving, organic thing, adapting and responding to the ever-changing city – but always embodying the principles and values of the gospel: sanctuary, safety, welcome and hospitality, education, service to the local community especially to assist those in special need, and collaborating with all who share the passion for human flourishing."
Jump to next article