Q&A with The Rev'd Canon Linda and The Rev'd Ian McWilliam
Meet clergy spouses Linda and Ian McWilliam, Director of Mission for Anglicare SQ and Honorary Assistant Priest respectively, and find out how they met, what careers they were pursuing before they became priests, and about how their faiths shape their character and life choices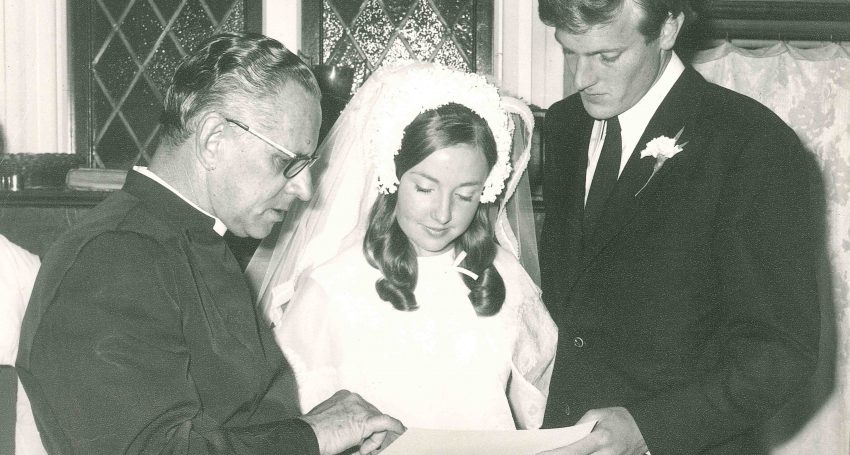 Story Timeline
Priest and Priest Spouse: Ministry Together
The Rev'd Ian and The Rev'd Canon Linda McWilliam have been priests in our Diocese for nearly 20 years. They are active in their priestly roles, ministering to those who need it most, and in their roles as parents and grandparents.
Can you tell us a little about your journey as a married couple together?
Linda: Ian and I met at a small local shopping centre. Ian was the local newsagent and I was a dental nurse. We got married in 1971 at St Alban's Anglican Church at Wilston. We have four adult children and seven beautiful grandchildren.
Where do you currently live and where do you worship?
Linda: When Ian retired from Sandgate Northpoint in 2009, we bought our own family home at Aspley. We worship at the local parishes of Aspley-Albany Creek and Chermside.
How long have you been involved in the Anglican Church and in what roles?
Linda: I am a cradle Anglican, confirmed at 10 years of age, ordained priest in 2000 and served as a full-time Palliative Care Chaplain at The Wesley Hospital, as well assisting in an honorary capacity in the parishes of Stafford, Cleveland and Sandgate Northpoint. For the last nine years I have served as Chaplaincy Coordinator and Director of Mission for Anglicare Southern Queensland.
Ian: I have been an Anglican since 1987. I was ordained as a permanent Deacon in 1994 and was priested along with Linda in 2000. I have served as a permanent Deacon in Stafford, Assistance Curate in Cleveland and Rector in Sandgate Northpoint.
What are your current roles, and what do your roles involve?
Linda: The overall purpose of the Director of Mission is to model servant leadership and be a spiritual, missional and advocacy leader within Anglicare Southern Queensland. The role involves the management and support of the chaplaincy team, as well as coordinating opportunities for mutual mission in local parishes and Anglican schools.
Ian: I retired from full-time ministry in 2009 and have served in various locum positions in a variety of parishes since then. Aspley-Albany Creek is the parish in which I assist with services as an Honorary Assistant and I serve as Chaplain in an honorary capacity for the Clergy Spouse Fellowship. Recently, I have had some serious health problems which have prevented me from serving in my usual manner in parish activity.
What projects and activities are you currently working on?
Linda: The Anglicare Parish Ambassador Program creates a pathway for parishes and Anglicare Southern Queensland to work together as part of our common mission to support those most in need in the community. Adopting a whole-of-church approach, the program offers a way to provide greater exposure and understanding of parish activities and Anglicare services within parishes, the wider church and the local community.
Ian: At present I am spending some time writing a book of daily reflections, which is based on life experiences.
What have been the highlights and best memories of your roles so far?
Linda: I have so many memories of beautiful people whom I had the privilege of journeying with during my time at the Wesley Hospital. This ministry helped me to understand that we never know the extent of our own gifting until we begin to allow ourselves to explore, grow and change. Often our giftedness lies undeveloped and neglected. It may require courage and discipline to really discover who we are and what we are capable of, but it is certainly worth it.
Ian: One year, during my time at Sandgate Northpoint, the parish had 14 young people who were confirmed. It was such a special moment in time to nurture and support these young people through the process of exploring their faith and life in community.    
What have been the key challenges of your roles so far?
Linda: Dealing with end-of-life issues and the grief that accompanies that journey for all involved can be challenging. All ministry has the constant challenge of finding the appropriate work-life balance. Juggling ministry, self-care and family life is a constant challenge.
Ian: I totally agree with Linda. When we are so passionate about ministry, and providing support for those in our care, it is often hard to find the time to care for one's self. I am finally finding that I can take time to relax, read and enjoy the new place in life that I find myself in now.
What advice do you have for couples who are both clergy persons?
Linda: Follow your heart's desire and allow the Holy Spirit to call you and lead you into the places where it is right to go. I have always been open to God's call on my life. I felt called to the ordained ministry in 1994, which was a great surprise to me. I was very shy and quiet in those days. This took me on a journey that I could never have imagined or planned. I often wonder what my life would have been like if I hadn't followed the call.
Ian: Celebrate your differences and embrace the qualities that you both bring to ministry. Celebrating the differences provides the opportunity for each person within the relationship to secure, without conflict, what he or she wants and needs to grow and change.
What are your plans and goals for the next 12 months?
Linda: Change has been a constant in both my vocational and private life. As I reflect over many years of change, I can clearly see I need to be patient about what the future holds for me. It's about having courage and hope for the future, whatever that may be.
Ian: I look forward to reading lots of novels, spending time doing jigsaw puzzles, building my large model ship, trying to stay well and enjoying time with Linda and my wonderful family. Prayer and quiet times are pivotal.
Can you tell us a little about your personal faith journeys?
Linda: I spent some time away from the Church when I got married, however having children took me back, as I knew that I wanted them to be baptised. Wonderful neighbours who were faithful Christians really inspired me and I had a desire to be more like them. During this time, I discovered so much more about my faith, and my love for God grew stronger and stronger.
Ian: At 16 years of age, I was encouraged by the youth group leader to study at Kings College on the craft of sermon construction. I then left home to join the Bank of NSW and worked in the country for many years. Faith was on the back shelf. Linda took the children to church every Sunday and when my eldest son was 15 he asked, "Why do I have to go to church and dad doesn't?" I got dressed and went to church that morning and never looked back.
How does your faith inspire you and shape your outlook, life choices and character?
Linda: My faith inspires me to love God and love my neighbour. For me this is the natural response to the love that I receive from God. I am grateful for all that I have and want others to share in this love. It is the centre of my life. It holds me and others together in community.
Ian: Faith is humbling and has helped me to stay grounded and allows me to fully appreciate everything. My faith allows me to walk in someone else's shoes and gain a different perspective of reality. I feel valued and loved for who I am, not what I can do.
What is your favourite scripture and why?
Linda: Jeremiah: 1.4-8. 'Now the word of the Lord came to me saying, "Before I formed you in the womb I knew you, and before you were born I consecrated you; I appointed you a prophet to the nations." Then I said, "Ah, Lord God! Truly I do not know how to speak, for I am only a boy." But the Lord said to me, "Do not say, 'I am only a boy'; for you shall go to all to whom I send you, and you shall speak whatever I command you.  Do not be afraid of them, for I am with you to deliver you, says the Lord."
This verse spoke to me about having courage and being bold.
Ian:  Joshua: 1.9 'I hereby command you: Be strong and courageous; do not be frightened or dismayed, for the Lord your God is with you wherever you go.' Linda and I were given this verse when we responded to an altar call during a weekend workshop on servant ministry. It was the only verse that Linda had highlighted in her Bible in the Old Testament.
What person of faith inspires you the most and why?
Linda:  Susan Anthony – a Quaker and women's rights activist who believed that men and women should study, live and work as equals. She believed women should commit themselves equally to the eradication of cruelty and injustice in the world.
Ian:  St Paul – I identify with his sudden conversion and his passion for the Gospel.
What are the primary strengths of the Church and what is the best way to make the most of these for the benefit of our communities?
Linda and Ian:  We have such a rich heritage and a tradition to be proud of. Despite the fact that the world appears to be secular, Christianity is still the most dominant religion in Australia and within Australian culture there is an increasing interest in spirituality. Spirituality is a journey that includes encounter and relationship with others and forces beyond the scope of everyday life. Pastoral care has its roots in the Church's history and historically the care of souls was the domain of the clergy. The fundamental model for pastoral care is found in the image of the shepherd in the Old Testament. In Ezekiel 34.12 God says, 'I will seek out my sheep, I will rescue them.' The image of God as shepherd is used as a powerful metaphor to depict the relationship between the shepherd and sheep. Not a relationship of authority, but of mutual belonging. For us, the Anglican Church is a community of grace.
What are the primary challenges currently encountered by the Church and what is the best way to overcome these for the benefit of our communities?
Linda & Ian: Our traditions and ways of being church are unfamiliar to many of the young people in our communities. Family life is busy with sport and many other distractions that take place on Sunday. People still need and want to belong to a community. We can no longer rely on people coming to us. The church needs to find ways of being able to engage with communities in different ways and approaches so as to model the love of God as servant leadership.
What do you do in your free time to recharge and relax?
Linda: In my free time I love most of all to spend time with my family. Those relationships are so precious, and as I grow older I am more conscious of the need to devote quality time sharing meals and enjoying time with them.
Ian: I enjoy reading, going for a short walk, listening to music and spending time with family.
What is your favourite book and why?
Linda: I have many favourites, too many to mention. I love reading about the early kings and queens of England, particularly Henry VIII, the vikings and the Plantagenets.
Ian: Mutiny on the Bounty. I enjoy stories of sailing ships, and this adventure highlights the fate of wrong choices.
What is your favourite movie and why?
Linda: Gifted – Is a movie about Frank, a single man raising his spirited young niece, Mary. Plans for a normal school life for Mary are foiled when the seven-year-old's mathematical abilities come to the attention of Mary's grandmother, whose plans for her granddaughter threaten to separate Frank and Mary. Mary reminds me so much of Heidi, my youngest grandchild. I was spellbound.
Ian: Titanic. Highlights the tragedy of human error and the struggle for survival.
What is your favourite travel destination and why?
Linda: The Isle of Pines in New Caledonia. It is known for its large beaches of incredibly pure white sand with extraordinarily clear turquoise waters home to remarkable marine flora. I have been there twice already and will return again in December with Ian and family.
Ian: Pitcairn Island. Most of the island's population is descended from the eight mutineers who settled on the island in 1789 after Christian mutinied against William Bligh, the Bounty's captain. They brought six Polynesian men and twelve women from Tahiti with them. It is a special place and the waters are the bluest waters you have ever seen. Linda and I were lucky enough to land on the island recently on an adventure cruise that was making an inaugural stop at Pitcairn.
Jump to next article