Q&A with former commando The Rev'd Charlie Lacey and former art consultant Tisa Lacey
Meet spouses Charlie and Tisa Lacey and find out about their conversions, upbringings, travels, family life and what they hope to learn and contribute as St Andrew's, Springfield Resource Church leaders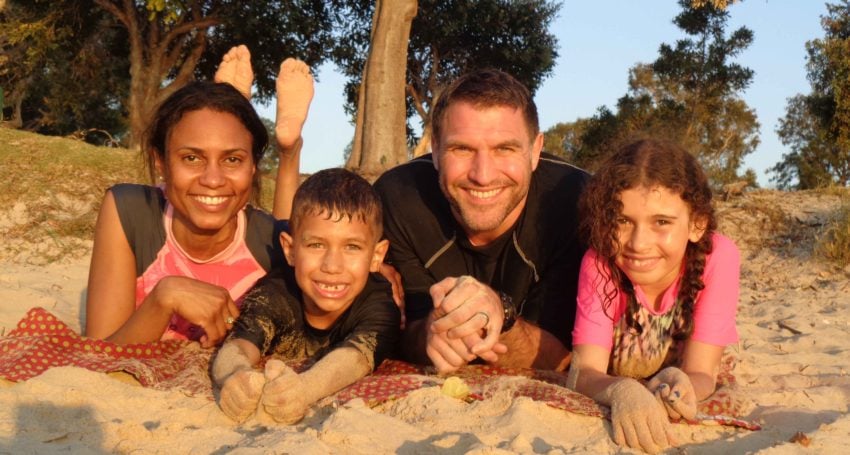 Story Timeline
Priest and Priest Spouse: Ministry Together
The Rev'd Charlie, who grew up in the UK, and Tisa, who grew up in Jamaica, moved to Australia in 2016. They have two children, Isabelle and Caleb.
Where do you currently live and where do you worship?
Charlie and Tisa: We live in the Brisbane suburb of Springfield Lakes and we worship at St Andrews, Springfield.
How long have you been involved in the Anglican Church and in what roles?
Charlie: We have been involved since 2005 when we started attending Holy Trinity, Brompton (HTB) in London. In 2007 I started working for the church on the Alpha program and specifically Alpha For Forces, which is Alpha for people in the defence forces, as I used to be a Royal Marines Commando. Alpha started at Holy Trinity, Brompton. I stayed in that role for a while and then started training for ordination in 2010. I was ordained in 2013 at St Paul's Cathedral. I am currently the Priest-in-Charge of St Andrew's, Springfield, arriving in 2016.
Tisa: Similar to Charlie, I started worshipping at HTB in 2005. I worked as an art consultant in London but in preparation for our move, I began working for St Ann's, Tottenham part-time in 2014, assisting with events, graphic design and marketing. I carried out this role a couple of days a week for two years before we moved to Australia with our two young children Isabelle and Caleb. Once we got here, I spent the first year assisting with marketing activities for the church to get us up and running and after that I worked part-time at Trinity College Queensland for a year. Since then I have been working as the St Andrew's parish administrator.
What is your current role and what does your role involve?
Charlie: I see preaching, presiding, pastoring and prayer as my core business as a parish priest. Jesus sent people out in pairs and I couldn't do my role without Tisa's support – it is definitely a team effort.
Tisa: I work as parish administrator part-time, but as my background is in the arts I also assist with marketing and support Charlie.
What projects and activities are you currently working on?
Charlie: There has obviously been a huge change with COVID-19's necessary restrictions. Our focus has been on keeping people growing in their faith and keeping people connected so that there is that feeling that we are a family and that's how we see the church – as a family. We are also building connections with Springfield Anglican College and working on the new website. At Pentecost, people said parts of the 'Lord's Prayer' in different languages, as well as contributed testimonies and photos for a multi-national montage.
Tisa: In terms of projects, I support whatever is in the pipeline for the church. Both from an administration and marketing perspective. For example, if there are special services or events, I am involved in supporting the events and ensuring that people have the opportunity to participate as the church aims to operate as a family.
What have been the highlights of your roles so far?
Charlie: Among the highlights for me are when I have baptised families. I baptised two adults and their baby. Another time I baptised a father and his two sons. We also had a wedding, which was really special as the whole church got involved to make it a special day.
Tisa: The highlights for me are Easter and Christmas. They are just so special. On Palm Sunday we have a service by the lake, Maundy Thursday shared meal and foot washing, and Easter Sunday is a great time of celebration. For Christmas, the musicians and kids come together after working hard on a combined nativity, told in a rhyme, and carols performances. 60 people were involved in putting the last Christmas event on and people from the wider community came.
What have been the key challenges of your roles so far and how have you worked through these?
Charlie and Tisa: The biggest challenge is that it can sometimes be all-consuming. We work from home where the parish office is based. As things have progressed, parishioners have increasingly stepped up to contribute their gifts and time. On Saturdays, which is Charlie's day off, we spend time as a family by going to the beach or hiking in the national parks and we find this routine life-giving.
St Andrew's, Springfield is one of eight ACSQ churches participating in the Resource Churches Pilot Project – what does your church hope to learn throughout this project?
Charlie: I think that there is a lot I can learn personally about management, planning and strategy. I think there are other Resource Church leaders who are especially skilled and experienced in these areas whom I can learn from.
Tisa: I am keen to employ some of the tools that other Resource Churches use, including systems and software, as well as share ideas.
What are some of the ways St Andrew's, Springfield is planning on resourcing and supporting other parishes in the short and long terms?
Charlie: At the moment, we are being responsive to churches when they request assistance. One area which we can assist churches in is church planting, including how to move from one phase to another, especially in the early stages of a church plant, as well as supporting other parishes whose congregations, like ours, are multi-ethnic or would like to be.
Tisa: As we are a church plant, we are willing to share resources that come out of some of our initiatives, including regular initiatives such as the Christmas carols event (for example, sharing slides and scripts when requested) and ad hoc events, such as quiz nights.
What has been your parish community's response to St Andrew's being a part of the Pilot Project?
Charlie and Tisa: The response has been largely positive. Our community understands that this is an opportunity for both our church and other parishes. Our congregation gets that and is quite excited by it and feels as though they are part of something special.
St Andrew's, Springfield has responded in unique ways to keep church flourishing in the COVID-19 environment – what are some of these ways?
Charlie: We have put everything online in the form of a YouTube playlist, together with a guide to our online resources. For Kids' Church we have a weekly activity sheet and have encouraged our children's ministry coordinator, Emma Williams, to use the medium of video to demonstrate and communicate key elements, as well as source interactive resources for children. We wanted to be mindful that parents have been home schooling and so we wanted to 'do church' in a way that wouldn't put our volunteers under additional pressure.
Tisa: The service is recorded in a flexible format that allows each congregation member to use the resources in a way that suits them. Since the COVID-19 restrictions have been put in place, we have changed the look of our weekly communications. We used to have a notice sheet, but this has been changed to video recordings containing bite-sized content to connect people and prepare them for Sunday worship. Also, during this period, the Parish Council has created a pastoral care network to ensure that each congregation member receives some form of communication each week. We have also encouraged people to send us photos of their faith activities at home, which we post on Facebook, to help keep that sense of connection.
What are your plans and goals for the next 12 months?
Charlie and Tisa: Over the course of this year we are formulating what we are calling 'Vision 2025' so everyone is clear what the vision and direction of the church are.
Can you tell us a little about your personal faith journeys?
Charlie: My mum became a Christian when I was about 10 and I noticed an obvious change in her character for the better – she used to talk about Jesus in a way that made sense and I made a commitment to follow Christ at that young age. In my later teens, I found myself torn between my faith and a lifestyle that was incompatible with the faith I professed. I joined the marines when I was 20 and my life developed along two parallel tracks – there was my professional life, which was largely positive as I had a good group of mates and we were travelling around the world doing all kinds of exciting things. I served operationally in Afghanistan, Iraq and Northern Ireland. The other track was my personal life. I was a heavy drinker and was in and out of relationships and was unsettled. I found myself periodically in trouble with the police and even did a short stint in a military prison. I eventually left the Royal Marines with the intention of travelling around the world and about that time split up with a person whom I was in a serious relationship with and then tried to take my own life and was discovered unconscious. After that I travelled around the world and it was during that time that I accepted that something had gone badly wrong with my life. Whilst I was travelling, I felt like I was in a kind of spiritual tug of war. I would try to connect with God, for example, up in the Andes Mountains, but when I returned to the cities and the bright lights and all that went with them, I returned to familiar and destructive patterns of behaviour. Eventually when I was in Hong Kong, after a heavy night out, I realised that something needed to change and so I got down on my knees and gave my life to Jesus anew. At that point, I even imagined that my life would be boring from then on, which of course it isn't, but I surrendered myself to Jesus all the same. I felt a wave of love and forgiveness wash over me. Because I was travelling from Hong Kong to the UK overland, I started exchanging emails with a Christian woman that I met online, which was helpful at that time of my life. I eventually met that woman for lunch when I returned to London. Her name is Tisa and she is now my wife. After we got married, we started attending church together in London. A few years later, I felt the call towards ordination.
Tisa: My father became a Christian when I was 10 and that began the transformation of our family who were not yet Christians. My father's passion and desire to reveal the scriptures to us led to our attending church, him reading the Bible to us and regular family devotions. I committed my life to Christ within the same year, whilst attending a youth camp. I remember being in a large group of children when there was an altar call for those who wanted to commit their lives to Christ. Suddenly it felt as if it were just me (alone) praying to God and knowing that he was now Lord of my life. This was the beginning of my Christian journey, with a strong group of Christian friends.
Whilst at college in Jamaica I participated in a travel and work programme which took me to the US, Canada and finally the UK. I continued my studies and worked in the UK for six years until I met Charlie online. As his life at the time was far beyond my comprehension I never once thought that I would meet him as he travelled across Asia, but we did meet and here we are 15 years later.
How does your faith inspire you and shape your outlook, life choices and character?
Charlie: When you come to faith, some things can change instantly, some things change over a period of time, and there are some things we will battle with our whole lives. I am a very different person to the one I was 15 years ago. Having a relationship with Christ will always change you. Knowing Christ has made me realise that my life has a purpose and that God has a plan for me – and his plan is so much more exciting than anything I would have devised myself.
Tisa: When I became a Christian, I understood that I belonged to Christ's kingdom, something more substantial than anything the world has to offer. This has always shaped my perspective and life choices and been an inspiration in challenging times.
What is your favourite scripture and why?
Charlie: There are lots, but I love Hebrews 6.19: "We have this hope as an anchor for the soul, firm and secure…" For so much of my life I felt like I was being blown around and not knowing who I was and what I was about. This scripture speaks to me, as it's a good verse for someone with a turbulent past.
Tisa: Proverbs 3.5-6: "Trust in the Lord with all your heart and lean not on your own understanding; in all your ways submit to him, and he will make your paths straight." I know that God is in control when I submit all to him, even if things do not go in the direction that I would like. He sees the bigger picture!
What person of faith inspires you the most and why?
Charlie: I'd say my mother. I think God used my mum more than anyone to bring me to faith in the first place. I saw the change faith made to my mum and I see the passion and zeal that she has for the Lord. She belongs to a tiny church in a tiny village in Devon, but the church is growing with young families. She really wants people to know Jesus.
Tisa: Charlie – witnessing his journey and growth. Knowing how God has changed his life dramatically and our journey together to this point. Charlie's perseverance and commitment even against the odds have been a true witness to how powerfully God works in all our lives today.
What are the primary strengths of the Church and what is the best way to make the most of these for the benefit of our communities?
Charlie and Tisa: The primary strength has to be that the message of the Gospel is true. There is a God who wants us to know Him and has made Himself known through the person of Jesus Christ. There is nothing more appealing or exciting than that. We are called to be radically different and we are moving into a time where that difference is becoming increasingly marked. We need to resist blending in with the prevailing culture.
What are the primary challenges currently encountered by the Church and what is the best way to overcome these for the benefit of our communities?
Charlie: I think the biggest challenge is that the Church is increasingly being seen as irrelevant. The question of relevance has to do with two key things, one of which is external and one of which is internal. The external is the idea that Christianity and science are incompatible. The internal factor is that, particularly in the western world, there are large swathes of the church that are capitulating to the culture. If people are going to church and all they hear is what the wider culture tells them, they don't need to go to church.
Tisa: I would agree with Charlie and add that having lived in Australia and the UK, both affluent countries by the world's standard, people tend to be self-reliant and have no need for God. This is, of course, a misconception, as we all need God. However, people tend to look to their own resources before seeking God.
What is the kindest gesture you have ever received or witnessed?
Charlie: In Tottenham, where I did my curacy, there was an elderly man named John. He came to Christ later in life and was a rough diamond. Every time I saw him, he had a question for me. He had had such a tough life and it was great to see him always moving forward in his faith. Before we came to Australia, he presented us with one of his paintings – the cross with light emanating from it, which seemed to be pushing away the darkness. Below it, he wrote 'Jesus, the light in the darkness'. The painting hangs in our hallway. It was moving because it described exactly what had happened (and was happening) in his life and mine.
Tisa: I worked for an Art Consultancy in London and my boss, who wasn't a Christian, felt I was an employee she wanted to keep. As I was an international student at the time, she proceeded to apply for my work permit following a long list of rules and guidelines. Six months later and under the paid advice of an Immigration Officer, the application was rejected and the officer had gone on holiday without letting us know in advance. I received the notice via email two days before Christmas that I had one month left in the country. With that in mind I prepared myself mentally for the move whilst those close to me prayed for a change of circumstances. The country opened up again after the holiday season on 2 January and without me knowing, my boss called Immigration and argued the case for hours based on us fulfilling the criteria and employing someone recommended by them who was not available to appeal the decision. After a few hours she won the argument, called me and told me that I should be back at work the next day! This was such a heartfelt gesture which led to 11 years working together and a life-long friendship.
What is the best piece of advice you have ever received and who gave you this advice?
Charlie: There is a number. The best piece of advice I was ever given was when I was questioning my mum about faith and she said that I could always pray to God and say, "Lord, if you are there, then I want to know you." You don't need to be sure that God is there to pray. Another great piece of advice I have received was from a man named Sandy Miller, who was formerly the rector of HTB, who said "when you are preaching never underestimate their intelligence and never overestimate their knowledge."
Tisa: My mother – "Education provides untold opportunities." Jamaica has economic challenges and my mother always encouraged my sisters and me to get a good education. Subsequently, this took me to three different countries on a college work experience programme. It was this that helped me to make the decision to continue my studies in the UK.
What do you do in your free time to recharge and relax?
Charlie: I get out in nature, especially bushwalking.
Tisa: Spending time with the family outdoors.
What book have you given away most as a gift and why?
Charlie: Probably Mere Christianity by CS Lewis because he is a great apologist and he makes belief in Christianity seem so rational.
Tisa: The Bible.
Where do you do your best thinking?
Charlie: When I am walking.
Tisa: In bed at night, when it's quiet.
What's your best childhood memory?
Charlie: I have a lot of good childhood memories, but I think a Guy Fawkes night when we made a huge bonfire in the garden and had fireworks. I was five years old at the time.
Tisa: At the age of 11, my family and I went on a two-month road trip. We flew to Miami from Jamaica, took the Greyhound (coach) to New York, drove to Canada and repeated the journey again in reverse. It was a great adventure with lots of stories, including a police officer pulling us over on the highway because my father was driving far too slowly!
If you are having a bad day, what do you do to cheer yourself up?
Charlie: The best thing for me is to hit the gym or go for a run. I can go for a run and come back in a completely different frame of mind.
Tisa: Solitude – mental space to think things through and recharge.
What is the funniest thing that has happened to you recently?
Charlie: Because of the current restrictions, I couldn't go to the barber so Tisa cut my hair for me. Unfortunately, she had a minor lapse of concentration and shaved my head without a grader on the clippers, giving me a huge bald patch on the side of my head, near the front. I was due to do filming for church the next day. We ended up gluing some of the cut hair onto the bald patch with a glue stick. The amazing thing was, it worked perfectly and you couldn't tell that I'd been scalped.
Tisa: I can't think of one at the moment, as I would never allow Charlie to cut my hair!
What makes you nostalgic and why?
Charlie: Thinking about Christmas at my parents' house in Devon. When the kids were small, we would go there and my mum would go massively overboard with the cooking and my dad would go massively overboard with the lights and decorations. My kids loved being there. Adjoining my parents' house was a post office that sold lots of sweets, so as far as my kids were concerned their grandparents had a sweet shop in their house.
Tisa: Family life as a child in Jamaica. Remembering the things we did together, the challenges and fun times which helped to build the foundation of the person I am today.
What day would you like to re-live and why?
Charlie: I would say the day after our wedding day. The wedding day itself, as lovely as it was, was not a relaxing day. The day after, we were in Jamaica knowing we had our whole honeymoon and our whole lives ahead of us.
Tisa: Day(s) – most definitely our wedding day (best day ever!) and meeting our children for the first time when they were born (minus the labour).
Jump to next article