Expert advice on communications, fundraising and grants for parishes
The Brisbane Diocese recently launched a new initiative with a one-day workshop on fundraising, philanthropy, grant writing, social enterprise, and community and political engagement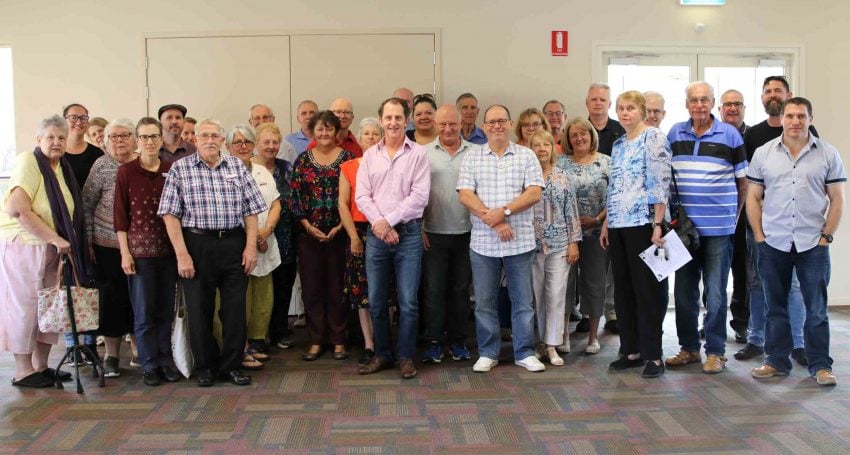 Parish representatives recently had a unique opportunity to boost their knowledge and skills around key areas of interest including fundraising, philanthropy, grant writing, social enterprise and community engagement at a parish workshop.
40 people attended the five-hour workshop on Saturday 28 September at Hendra-Clayfield Ministry Centre, with industry experts recruited to share the benefit of decades of experience in areas seen as vitally important to the future viability of parishes.
In a workshop-first for the Diocese, organised through the Parishes and Other Mission Agencies Commission and the General Manager's Office (facilitated by Policy and Advocacy Advisor Ian Eckersley) all aspects of philanthropy, fundraising, the writing and submission of grants and community engagement were covered.
Archbishop Phillip Aspinall opened and blessed the event and inspired the audience by citing the story of Dorothy Day, who founded the Catholic Worker Movement in New York during the Great Depression, who tackled "the impossible" and whose movement has since flourished to the point of establishing 200 Catholic Worker Houses around the United States, as well as internationally.
Everald Compton, one of Australia's foremost fundraising and philanthropy experts with 42 years' industry experience in 26 countries around the world (including the completion of St John's Cathedral in Brisbane) provided plenty of words of wisdom.
He said that stewardship of money that was donated through fundraising and philanthropy was critical because the engagement and gifting of money involved people's spiritual lives.
Mr Compton suggested that "people usually give to people, rather than causes" and that the motivation was often by a personal relationship and the respect and integrity of those associated with the parish. He said it was always important to get your capital and running costs right, especially on major projects.
Daniel McDiarmid (who studied at St Francis College for two years when he was in his early 20s) said philanthropy in parishes should include effective offertory giving (parish needs, community, and personal need to give); occasional campaigns for capital works; continuing bequest promotion; encouragement of support for Diocesan and national ministries; and, one-off responses to local needs.
He said effective fundraising should include a need/opportunity and a vision; the willingness of parish leaders to be donors and supporters themselves; a strategy to identify others who might care; the confidence and ability to ask effectively; a follow-up that ensured it included a thank you as well as a commitment to report progress and impact to donors; and, the confidence to not be afraid to "ask again" at a later date.
Dominque Henry, an expert in grant writing and applications, said that grant applicants need to understand how the fund-seeking landscape worked in order for their applications to be successful.
Ms Henry said that it was critical for applicants to meet the organisational eligibility criteria and grant objectives; ensure that the grant aligned with their organisation's mission; adequately explain their proposals; show how their given project would meet needs; and demonstrate success measurement processes.
Fr Daniel Hobbs, parish priest at St Paul's, Manly shared his wisdom and significant experience with social enterprises which he said should be linked to the Five Marks of Mission – put simply 'people using business as a force of good' and viewing social enterprise as the means to an end.
He said the question should not be, "Do we generate revenue?", but rather parishes should ask, "How do we generate revenue and what do we do with the revenue?"
Gold Coast North Parish administrator Rod Mengel used his parishes' three op shops as a case study in how to run a successful community enterprise. A fourth op shop is due to be opened on 12 October at Ormeau.
Advocacy and Policy Advisor, and former ABC veteran broadcaster, Ian Eckersley closed the workshop with a 45-minute session around media and public relations and community and political advocacy.
He stressed that parishes should feel free to ring for media or communications advice, especially around any adverse media or community issues.
With elections due next year for local government (on 28 March) and Queensland (on 31 October), he also encouraged parishes, especially those with community outreach services, to get to know their local political candidates and explore ideas around potential collaboration or projects of mutual benefit.
You can access most of the content from the workshop including video and presentations at the faithful + effective website.
Editor's note: Thank you to Ian Eckersley for initiating, planning and coordinating this valuable workshop.
Jump to next article