Being the hands and feet of Jesus
"As the Church, we are to be the hands and the feet of Jesus on earth. We are called to reach out and to touch the lives of the untouchables in our society, those who feel excluded from the company of others, and those who are forced to live alone or in poverty," says The Rev'd Canon Linda McWilliam in this Anti-poverty Week homily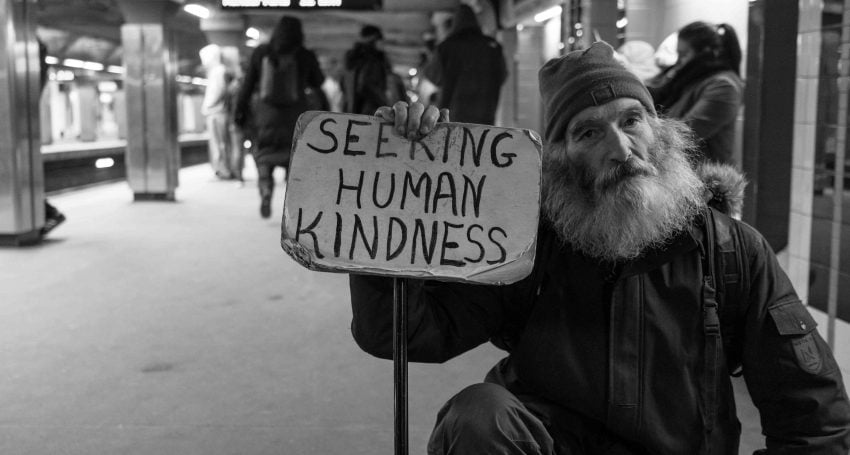 Jesus was passing through a village in Samaria when he encountered a group of 10 men who suffered from leprosy. In Jesus' day lepers were considered to be completely 'untouchable' by mainstream society. They were excluded from the company of others and were forced to live alone or in leprous communities.
The men cried out for Jesus to have mercy on them. Jesus heard their cries and he instructed the men to show themselves to the local priests so that they could be ceremonially cleansed. This extensive ritual of cleansing needed to happen before they could be accepted back into the religious community and worship. As they went on their way, they were healed and we presume that they did seek out the local priests as they were instructed.
According to Luke one leper, when he saw he was healed, turned back praising God with a loud voice. He fell down on his face and thanked Jesus. Luke tells us he was a Samaritan. The implication here is that the other nine were Jews and this demonstrates the increasing rejection of Jesus by the people of Israel and Luke is highlighting how the path of salvation is open to all who call upon the Lord. Jesus asked, "Were not all ten made clean? But the other nine, where are they? Was none of them found to return and give praise to God except this foreigner?" (Luke 17.17-18)
Then he said to the one who had returned, "Get up and go on your way; your faith has made you well." (Luke 17.19) The phrase "Your faith has made you well," means that their faith (or their confidence in Jesus) had been the means of their restoration. The power of Christ was what effected the cure, but his power was applied in connection with the leper's faith. Everyone who is saved must believe, but it is the power of Christ that saves, not the power of faith.
So, this foreigner receives not only healing, but also salvation. The Good News is, that God delights in showing mercy to all those who cry out to him for mercy. The other nine lepers got what they wanted from God. Their bodies were healed. But they never returned to Jesus to give thanks and receive salvation of their souls.
It is easy to be hard on those nine who failed to properly show gratitude to Jesus. When we consider this miracle and the failure of those nine lepers to return and thank Jesus, perhaps we need to take a step back and ask ourselves: have we at times failed to show proper gratitude to Jesus for all the blessings that he has provided so abundantly for us.
Many people are blind to the blessings that God showers on them daily. They awake to see the sun shining, hear the birds chirping and see beautiful flowers and trees.
But they don't give a moment's thought to the many blessings that God has given them to enjoy. Most of us have much to be grateful for in this life, but sometimes life's constant demands, struggles, and worries can cause us to forget to just pause and give thanks for all that God has done for us, and continues to do for us in our lives.
Christian pastor, author and speaker John Ortberg says that:
"Gratitude is the ability to experience life as a gift. It opens us up to wonder, delight, and humility. It makes our hearts generous. It liberates us from the prison of self-preoccupation. Without gratitude, our lives degenerate into envy, dissatisfaction, and complaints, taking what we have for granted and always wanting more." (When the Game Is Over, It All Goes Back in the Box, Zondervan, 2009).
Gratitude reminds us that God is the giver of all good gifts. We were never intended to be fully self-sufficient in this life. A grateful heart reminds us that ultimately God is our Provider – that all blessings and gifts are graciously given to us by God.
As the Church, we are to be the hands and the feet of Jesus on earth. We are called to reach out and to touch the lives of the untouchables in our society, those who feel excluded from the company of others, and those who are forced to live alone or in poverty.
This coming week is Anti-poverty Week and there is a Raise the Rate campaign led by the Australian Council of Social Services (ACOSS), and supported by Anglicare Australia. This campaign is seeking to push the government to increase Newstart and associated allowances by $75 a week. This could be one of the most effective way to reduce poverty in Australia.
Around a million Australians are reliant on these payments, which have not been increased in real terms for more than 25 years. Newstart, at around $40 a day, traps many people in poverty, and many employers say it acts as a brake on job search. We can improve our social security system to lift people out of poverty and unemployment – to truly give them a new start.
Did you know that in Australia, there are more than three million people living below the poverty line? That includes 739,000 children. Many of those affected are living in deep poverty – on average $135 a week below the poverty line. Poverty is about a lack of money – both income for now and savings or wealth. But it is also about not having a lot of other necessities, such as affordable housing or access to good education or health services.
While many Australians juggle payments of bills, people living in poverty have to make difficult choices – such as skipping a meal or not heating or cooling their home. The cycle of poverty and disadvantage once begun can be difficult to break and diminishes the individual and the society in which it occurs.
May we, like the leper who came back and thanked Jesus, be grateful for all that we have. We should join him in glorifying God at the feet of Jesus with thankful hearts. We should pray for the people who are campaigning for change to economic policies that fail to be sufficient and pray for people helping in our social services. Gracious God help us see your plan for creation, and correct us when we judge others and close our hearts to people in need.
May God bless us with tears to shed for those who suffer, so that we will reach out our hands to comfort them and change their pain to joy. Amen.
This in Anti-poverty Week homily was given by The Rev'd Canon Linda McWilliam at All Saint's Church, Chermside on Sunday 13 October 2019.
Jump to next article