Former trailblazing model and new ACSQ RAP Coordinator receives prestigious Australia Day Honours award
Sandra King OAM has never worked for recognition, but her Australia Day Honours award is a testament to her hard work and love for the community. As an Aboriginal woman growing up in the 60s and 70s, Sandra's journey was harder than most; however, her experiences and success have enabled her to become an integral part of our Diocese in its mission for unity with our Aboriginal and Torres Strait Islander communities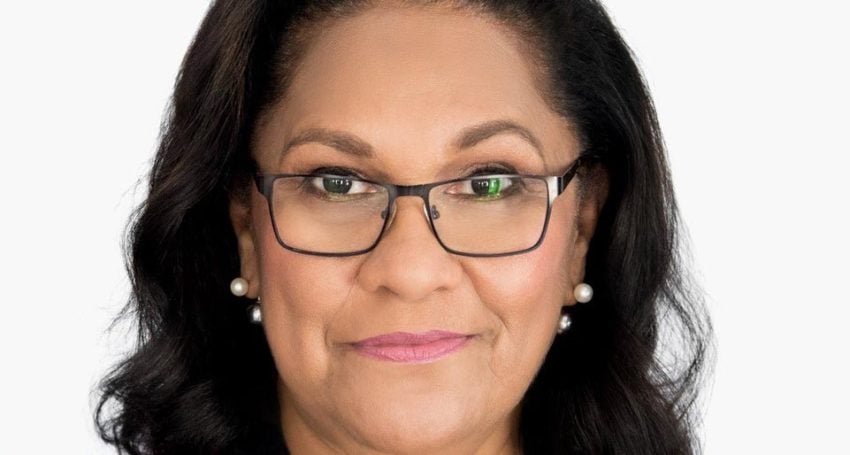 The reality of receiving an Australia Day Honours award is still sinking in for Sandra King OAM who says she burst out crying when she heard that her work was being honoured.
"To be nominated…its huge…I do things because I believe in what I do, you don't do it for recognition – never have I done it for recognition," she said.
Wiping away tears, she starts to laugh a little as she confesses that she does not even celebrate Australia Day and was 'in two minds' when she heard she was nominated for an award.
Humbled, honoured and still slightly conflicted, Sandra decided to accept the OAM (Order of Australia, General Division) for service to the Indigenous community.
Sandra, who is a Quandamooka (Stradbroke Island) and Bundjalung (Tweed Heads) woman, believes she might be the first person in her family to receive a national award, and the last person to believe it is real.
"I had to talk to a close friend about it and she said you've been nominated because they recognise what you've done – we all know what you do, we all know what you're like and if anybody deserves it, it's you," said Sandra.
"I don't know how many times I've read that email and said to myself: 'Is that really me?'
"I'm overwhelmed and very proud! I'm a part of the oldest surviving culture in the world, and I feel extremely privileged to have that."
Sandra is best known for being a trailblazing Aboriginal model, from starting her journey at the age of 14 to gracing the cover of fashion and lifestyle magazines to being featured in countless fashion spreads in newspapers and even catalogues in the 1970s.
Her catwalk career later transformed into the creation of her own management company. Her evolution as manager, mentor, motivational speaker and event organiser for hundreds of young models and aspiring young women (mostly Aboriginal and Torres Strait Islander) who wanted to break through an array of glass ceilings, eventually venturing into careers they did not think were possible.
"As a young child, I started to take notice that there were no black faces on TV… there was nobody like me," she said.
"And then a show came on called Julia, starring American actress Diahann Carroll. She was an African American single parent and she had her own TV series…a black woman having her own TV series in America! That was the only black person that I could relate to – there was mum and there was Julia."
However, Sandra did not love Julia just because she was a strong woman and the first woman of colour on American (and Australian) television who was not in a 'servant' role. She touched Sandra's spirit because she looked like a young girl in faraway Brisbane – she looked like her.
Like Diahann Carroll, Sandra dreamed of gracing the silver screen, but was held back by a speech impediment that made it difficult for her to follow a script. Yet she was determined to break free from her social shackles as a young Aboriginal woman and recalls the lightbulb moment that set her on the twisting and turning path to a successful modelling career.
"Mum worked for a well-to-do family in Kenmore. The wife used to give Mum her fashion magazines, so Mum brought Vogue magazines and Women's Weekly home," she said.
"As I was flicking through them, I would practise doing the hairstyles and practise the poses in front of the mirror. Then I realised this is a career I can have where I can perform on stage – on the catwalk. I can perform in front of the camera, but I don't have to speak. So that was my career, only for that reason."
As an impressionable young woman, Sandra hit a roadblock when she succumbed to peer pressure and started drinking excessively at the age of 15. However, she was able to turn this into a life-defining moment in which she broke out of a vicious cycle.
"Drunk and waiting for my friends one night, a fashionably-dressed couple walked past me. I looked at the bottle of beer in my hand and I realised I wasn't going to achieve my dreams if I continued drinking," she said.
"I poured the beer out and smashed the bottle against a tree – since then I haven't looked back. That was a life-changing moment and we have to guide and allow our young ones to break that same cycle."
In 1975, a close friend told Sandra about an audition for a Myer commercial and that is when Sandra got her big break to audition for a commercial with Myer.
"It was huge, especially for an Aboriginal girl! Back then there were only Myer and David Jones as the major fashion outlets, that's all there was. After that, I was booked for newspaper spreads and fashion parades for Myer and then Sportsgirl came into it and Sportsgirl started booking me constantly to do their fashion parades," she said.
Attributing much of her early success to the strong female role models in her life – her mother, model agent Mrs Billie North and her manager Sandra Robbins – the former self-proclaimed tomboy took to the runway with elegance and confidence beyond her years.
"It just takes a few people to believe in you and that's all it is…being around positive people. Joan of Arc and Florence Nightingale were my heroes when I was in school because they were women who did amazing things. On a personal level, I'm inspired by all my aunties."
Despite her beauty and confidence exuding on the runway, Sandra become an actress – hiding the fact that she was a very body-conscious young woman.
"Even though the 'Black is Beautiful' campaign hit the world, I didn't feel beautiful being Aboriginal. I never felt attractive. I never felt beautiful," Sandra said.
"You just wanted to be like all the other girls and have that blonde straight hair and have it blowing in the wind, and of course the media loved the blonde-haired girls, you know…when you're the 'black' one in the modelling agency – you're going to struggle, no matter what.
"I look back at my photos now and realise – yes, I was 'okay'. Although there were many times on fashion shoots or parades that I always felt like the ugly one."
As her career flourished, without knowing it, Sandra became a 'Julia' to other young Aboriginal girls who, like her, rarely saw themselves reflected in magazines or fashion parades.
"I didn't realise it back then that I was inspiring others, I had no idea – you're just trying to achieve a dream and you don't think about the positive impact on others," she said.
The motivation for starting her own management company – and associated fundraising luncheons and calendars under the name 'Black, Bold and Beautiful' – was to pass on to the next generation the benefits of not only her knowledge and personal experience, but also to share her achievements and struggles with women who wanted to be successful.
When it comes to racism – and she has experienced much prejudice over the decades – she is optimistic that the world is changing, albeit at what she calls, a "snail's pace".
In 2020, Sandra is trying to become an agent of change in a different sector – in her new role as Reconciliation Action Plan Coordinator with the Anglican Church Southern Queensland.
Her role involves educating clergy, staff and parishioners across the Diocese about cultural and historical issues, challenging people's perceptions and broadening their views on Aboriginal and Torres Strait Islander peoples – where we are today and how we can unite and move forward together.
Sandra believes the Anglican Church is tackling a complex healing process with beauty and grace – and more importantly, with a willingness to embrace change.
"There's a lot of heartache and a lot of trauma that involves the church and the Aboriginal people, it's not necessarily just this church – it's all churches going back in history and their role in running missions and with the Stolen Generations," Sandra said.
"But to move forward we all have to heal and I have always had my faith, so I feel that it is very important now to move forward and try to heal each other and speak truth.
"The church has opened up to listen to ways in mending and healing the past, what has happened here – they're open to listening to Aboriginal and Torres Strait Islander peoples and that says a lot.
"To me I see that the Diocese is really well and truly on the right path. And that's why I'm pretty excited about this role and about the whole Diocese."
Jump to next article