Calling out scapegoating and creating flourishing conditions
"So, my prayer for this year, as I practise peacemaking, is that I will be more effective at calling out scapegoating, better at challenging notions of redemptive violence and actively seek Jesus' Third Way – I no longer want to regret not handling conflict situations as well as I could," says the Anglican Schools Commission's Mission and Education Advisor Vanessa Gamack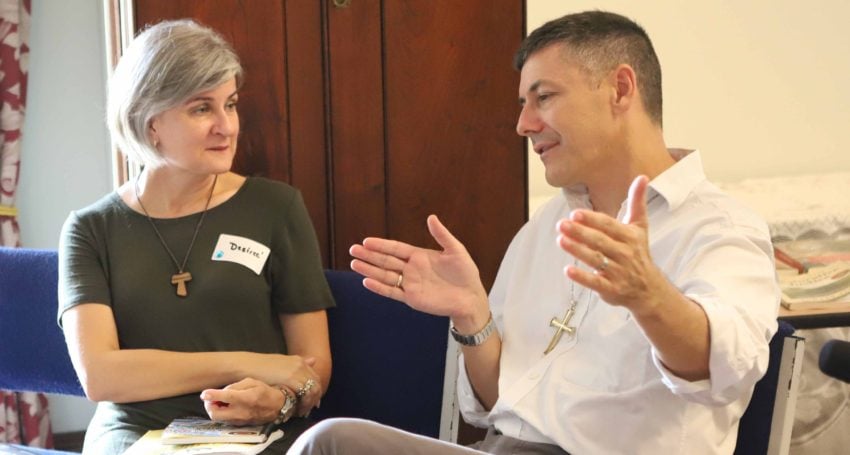 I so often hear people say that they have "no regrets in life". They say that the choices they have made helped to make them the person they are now. However, I have many regrets. There are so many things I wish I had handled differently.
I wonder if I could have managed conflict situations more effectively throughout my career if I had known and understood more about Jesus, peace and the principles and practice of nonviolence? I also wonder if the wellbeing and mental health of both staff and students in schools would improve if they understood alternative approaches to conflict and disagreement? I wonder if schools, including our own Anglican schools, could benefit from exploring and implementing principles and approaches to peace and nonviolence?
As we embark on our 2020 Diocesan theme of 'Being Together: Practising Peacemaking', maybe we could all take time to reflect on how we handled conflict in the past and consider how we could be more effective in our peacemaking now and in the future.
So, in the spirit of practising peacemaking, I have been rereading Ken Sande's book, The Peace Maker, to consider how I might rate as a peacemaker in God's eyes. Well, without a doubt, I could be doing things better. One area of regret and weakness that still keeps me awake at night is how I have dealt with conflict in the past. It is a tricky subject and not one that we always like to discuss. I particularly like Ken Sande's constructive approach to conflict that he calls the '4G's' of conflict resolution. These are to:
Glorify God
Get the log out of your own eye
Gently restore
Go and be reconciled.
The Anglican Schools Commission (ASC) is committed to embracing this year's annual theme of practicing peacemaking and recently held a day of professional learning that was facilitated by nonviolence practitioners and workshop facilitators, The Rev'd Michael Wood and Brendan McKeague. This day of learning was designed to introduce religious educators to the concepts of peace and nonviolence from a Christian perspective, and to also equip teachers to teach this subject in schools. With a commitment to seeing staff and students flourish, we explored what peace and violence mean and how we can reflect the love and peace that is Jesus Christ even more in our Anglican schools. It was so exciting to see so many staff from Anglican schools willingly embrace the principles we explored.
Of course, we are people – and we will never be perfect – but could we be more open and responsive to peace? Could we consider the 'third space'? As American theologian and activist Walter Wink writes, "Human evolution has provided the species with two deeply instinctual responses to violence: fight or flight. Jesus offers a third way: nonviolent direct action."
Wink asserts that we have not always fully understood Gospel references such as "Turn the other cheek" (Matthew 5.39). Many Bible verses that on first glance may be misconstrued as a direction to accept bullying or abuse have no such intention when understood in the cultural context of Biblical times. According to Wink, Jesus' Third Way is about:
seizing the moral initiative
finding a creative alternative to violence
asserting your own humanity and dignity as a person
breaking the cycle of humiliation
refusing to submit to or accept the inferior position
exposing the injustice of the system
taking control of the power dynamic
standing your ground
seeking the oppressor's transformation.
I am reminded of Stephen Covey's book, The 3rd Alternative: Solving Life's Most Difficult Problems, which also offers much insight, particularly in the context of education. Covey suggests that in conflict we tend to have a 'my way' or 'your way' mindset. However, Covey also encourages us to move from this narrow thinking and instead consider what he calls 'the 3rd alternative'.
Society has for so long taught us that violence saves, that war brings peace and that 'might makes right', according to Walter Wink. I hope that in the past I have done as much as I can to teach my students about the myth of 'might makes right' and other similar illusions underpinned by the idea of redemptive violence. As Walter Wink explains, "Once children have been indoctrinated into the expectations of a dominator society, they may never outgrow the need to locate all evil outside themselves. Even as adults they tend to scapegoat others…for all that is wrong in the world." The pattern of scapegoating is often seen in schools and remains common in many other kinds of societal institutions. I have seen people become scapegoats all too often. In order to 'restore order', everything that is wrong is heaped upon a given teacher or student – and then that teacher or student is cast out. This may restore order temporarily but remains a superficial approach unless conditions and structures contributing to the problem are appropriately reviewed and effectively changed.
So, my prayer for this year, as I practise peacemaking, is that I will be more effective at calling out scapegoating, better at challenging notions of redemptive violence and actively seek Jesus' Third Way – I no longer want to regret not handling conflict situations as well as I could.
For the sake of children in all schools, let us have the courage to embrace peace and nonviolence, so that all students and staff may flourish. May that peace radiate across all schools and shine God's light and love into the hearts and minds of every person in the school, and the broader community.
Pace e bene ('Peace and all good').
If you want to explore these ideas further, why not contact to The Rev'd Michael Wood and Brendan McKeague yourself? I think you will be glad you did!
Vanessa Gamack is the Mission and Education Advisor for the Anglican Schools Commission. She attended a three-day seminar on Peace and Nonviolence in Melbourne in 2019 with The Rev'd Michael Wood and Brendan McKeague. She then arranged for Michael and Brendan to offer a one-day workshop, sponsored by the ASC, for Anglican religious educators, which was held on 10 February 2020. In addition to teachers, Heads of Faculty and Senior Chaplains, a number of other interested members of the Anglican community attended, including Bishop Jeremy Greaves; ASC Director of Mission Fr Richard Browning; Executive Director of Anglican Schools of Aotearoa, New Zealand and Polynesia The Rev'd Dr Anne van Gend; and, representatives of St Francis College.
For more information on implementing peace and nonviolence principles in schools, please contact Vanessa via email.
Jump to next article