Practising peacemaking through story telling
Last month, members of our Diocesan community gathered with Archbishop Phillip Aspinall to launch the 2020 Diocesan theme, 'Being Together: Practising Peacemaking' – find out what three of our community members shared in the service's listening group activity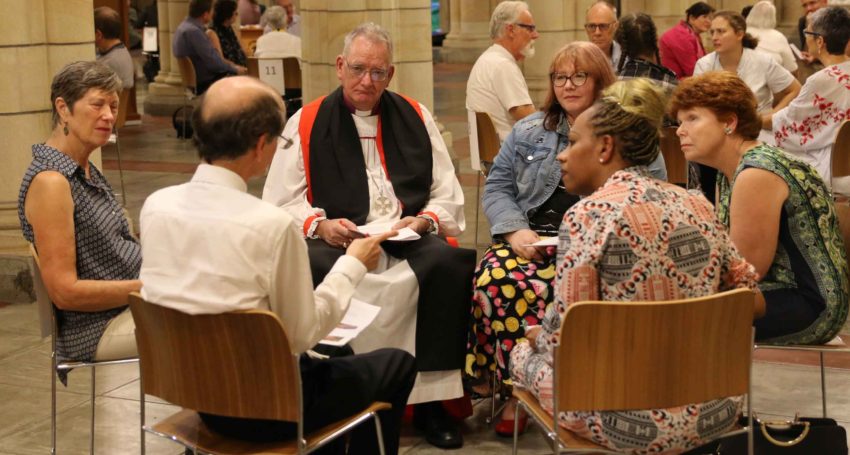 Last month, members of our Diocesan community gathered with Archbishop Phillip Aspinall to launch the 2020 Diocesan theme, 'Being Together: Practising Peacemaking'. The service included an opportunity to connect with others and tell stories through a listening group activity, which involved individuals drawing a symbol or writing a word in circles on a card representing personal experiences that were key to shaping their character, world view or faith. The listening group activity was so well received that anglican focus asked three participants to write about what they shared.
If you would like to replicate this simple and engaging activity in your parishes or ministries, the instructions may be downloaded.
Gwen Amankwah-Toa – Churchwarden, Nominator, Member of Parish Council, Anglican Parish of Stafford
In this listening group activity, I chose 'relationships' as the word for the current period of my life.
I have been thinking a lot about relationships lately and what they actually mean, including relationship with God; relationship with our Anglican family, our wider Christian family, and with our fellow brothers and sisters of other faiths; and, relationship with our own families, our friends, our colleagues at work and with anyone else who comes across our path in life.
Through my involvement in the Anglican Parish of Stafford, I have been blessed to have had the full support of members of the Parish behind me through prayer and support. Without a doubt, I would not be where I am today without the love, support and spiritual nurturing and growth I have received from St Clement's, Stafford clergy and parishioners.
If I could recall a particular moment when someone touched my life and transformed my faith, it was when I was asked about a year or two into my attendance at St Clement's to be a server and acolyte by the late Cec Rule, a St Clement's Liturgical Assistant. That one single act of invitation changed the course of my faith in a way words cannot explain because it opened my eyes wider to what we do in a church service and to the symbols behind what we do. For example, I am more mindful during certain parts of the service and Cec's invitation led me to become more involved in my church, including as a Synod Representative, a Parish Councillor, a Churchwarden and a Committee Chair.
Cec also became a mentor for both my daughter and I, and he has left a big hole in each of our hearts with his passing last year.
As I become more aware of what it really means to be a disciple, and that the load was never meant to be light, I think of our lost beloved ones like Cec. And, I pray for God to give us all the courage to act and to speak up about the things that matter when we are called to minister, including inviting people to participate and share in the work of discipleship, as Cec did for me.
Crisia Constantine – Steward and Server, St John's Cathedral
For the first period of my life, I drew the symbol of a tear. The tear represented my childhood in Communist Romania, during a time of terrible food shortages; religious persecution; and, cuts to electricity, gas, heating and hot water. There were also shortages of all kinds, from clothing to hair dryers, vacuum cleaners to radios and TV sets.
I was an unplanned child, growing in my mother's womb without her knowledge until month five when it was 'too late'. That I was an unwanted child stayed with me. I was constantly reminded of this by grandparents who raised me, always trying to replace my mother's absence. However, I was far from being the spoiled granddaughter either. My maternal grandmother was abusive, emotionally, verbally, physically and sexually.
In a twist of fate, it was my grandparents who gave me my very first religious education. They taught me the power of faith, its significance in building resistance against an unfair political order and in giving courage to people in their quest for freedom. Religion was political.
My mother and my birth father divorced soon after my birth. My mother remarried a couple of times. Unsurprisingly, her second husband was a man who did not like children, and so he rejected me openly. But, I found parental love later on, as a teenager, from my dad, Constantin, the man who adopted me and unconditionally supported me.
Ultimately, I (re)found faith. So, for the fourth period of my life, I drew a cross, as this is the period in which I found faith. Looking deeper into my past, I saw how God always gave me strength and 'homeness', and how he guided me and upheld me in times of great sorrows. At St John's Cathedral, through the work of Dean Peter, The Rev'd Kate, Canon Julia and the others, I have discovered a compelling sense of God's grace and presence in my own personal life, and, ultimately, a beautiful sense of God's unconditional love.
Anonymous – St John's Cathedral parishioner
My circles represented distinct periods in life when events challenged who I was and my faith. As a cradle Anglican in the first circle, I accepted the faith as taught by my mother. I will share an experience from the second circle symbolised by the word 'Duke', as drawing is not one of my strengths.
My husband came home from a conference and shared that he felt called to study under the guest speaker, an American from Duke University in North Carolina. We had some savings for a house deposit, but few reserves that would sustain a two-year commitment. How was this going to happen? In the months that led up to our departure, several things happened that confirmed this call for both of us and enabled the venture to go ahead.
On a Dean's scholarship, my husband studied full-time, but I was unable to secure a work permit. As I was looking after our preschool daughter at the time, I agreed to look after the son of another student. However, this did not last more than a couple of months before I was reported and threatened with deportation.
We learned simplicity of life through our relationship with the Cowley Fathers (also known as the Society of St John the Evangelist) and gained strength from participation in their spiritual support. As time wore on and our savings became depleted, money became very tight. On several occasions we had nothing for food. Frightening as this was, I had a sense that God was always there for us. Several times at the critical moment, some money would appear in our account or we had an unexpected opportunity, such as non-monetary assistance in return for cleaning the Episcopal Student Centre.
I recall walking through the snow one morning crying for my tired self and to God as I carried our asthmatic daughter to find medical help. Miraculously, we were able to be cared for by a nurse practitioner at a fraction of the cost of a doctor's visit. Times were tough, but I grew a lot in my faith being forced by circumstances to depend on God.
If you would like to replicate this simple and engaging activity in your parishes or ministries, the instructions may be downloaded.
Jump to next article