Sister Ella McLean: Queenslander, Anglican and WWI nurse
Archives Researcher Adrian Gibb honours devout Roma Anglican and former St Margaret's student Sister Ella Clow McLean, who served as a nurse in India and Egypt during World War I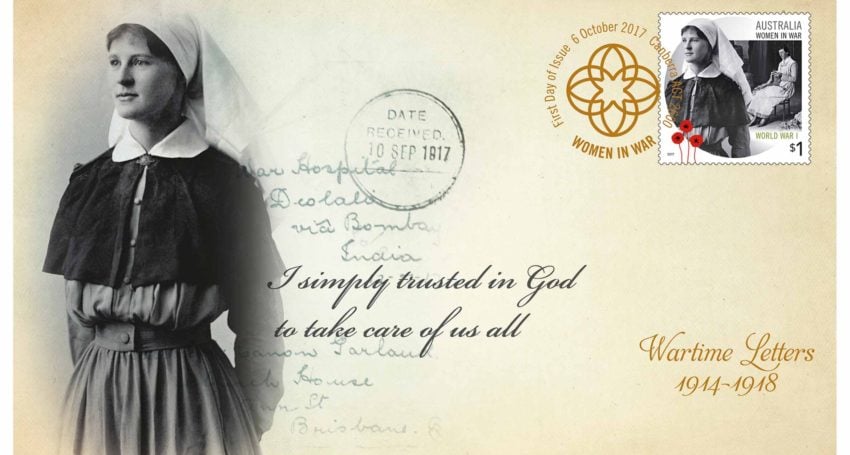 This Anzac Day, the Anglican Church Southern Queensland would especially like to honour the nurses who served in World War I. We do so by remembering one of our own. On the 29 December 1890, in the rural town of Roma, Ella Clow McLean was born into an established farming family at the homestead known as 'Bindango'. She was one of 10 children, the eldest in fact, and while she was initially taught by a governess, she was eventually educated at St Margaret's Anglican Girls School in Brisbane.
Having decided early in life that she would be a nurse, Ella trained at the Brisbane General and Brisbane Children's Hospital. By the time the First World War had begun the McLean family had moved to Southport on the Gold Coast, where they occupied a home called 'Duart', named after the ancestral castle of the McLean Clan in the Scottish Highlands. At the time Ella was working as a staff nurse at the Warwick Hospital, about two hours' south west of Brisbane. In May 1915, the 24-year-old Ella joined the Australian Army Nursing Service (AANS), initially a reservist branch of the armed services and now a part of the Australian Regular Army and known as the Royal Australian Army Nursing Corps (RAANC). AANS was established in 1902, predating the outbreak of the war, and was designed to utilise trained nurses who were willing to be sent into combat zones and assist with other war efforts in Australia. Ella was initially placed on home service, working at the Kangaroo Point Military Hospital.
It was two years before Sister Ella went abroad to the frontlines. In May of 1917 she embarked on the ship SS Khiva for overseas duty, her first post being India, initially at Bombay and then at the Welsh Hospital at Deolali in Maharashtra.
She arrived in India in July of 1917. We know this because there is a letter from Sister Ella to Canon David Garland, known as the 'Architect of Anzac Day', that she wrote not long after arriving, which can be found in the State Library of Queensland. Ella McLean, along with the whole McLean family, was a devoted member of the Diocese. She knew Canon Garland long before she set off for India. He sent her a prayer book, called Before the Throne, that reached her the day before she left Brisbane. In her letter to Canon Garland, Sister Ella speaks of the trip that she and other nurses endured:
"I certainly think that it was God's will for us to go through that large expanse of ocean safely. I often looked at the sea and wondered if we'd get to shore in safety, and then satisfied myself with the thought that God will take care of us, as we are going to do our duty."
Between 1916 and 1919 more than 500 AANS nurses served in British hospitals in India, where their patients included Turkish prisoners of war, as well as wounded British, and other Allied, troops. In addition to the harsh weather conditions, including monsoonal rains, Sister Ella and her colleagues battled disease, sometimes in make-shift 'tent hospitals'. In 1917 The Warwick Examiner published a letter that Sister Ella wrote to a friend while she was stationed in Bombay. In her letter Sister Ella marvels at the number of nurses serving on the frontlines and expressed her wish to be sent to Egypt:
"Amongst them was Nurse Stone and Nurse McLennan, of Warwick, and we expect another lot of nurses here on Saturday. Australia is turning nurses out as if by machinery. We are not overworked here at present. I am on night duty, and have been for over a week in a British officers' surgical ward. I wish I could get on to Egypt where our own boys are, for although I am very contented here I would like to get further afield."
She also speaks of the outbreak of cholera, an acute diarrhoeal infection caused by eating or drinking food or water that is contaminated with the bacterium Vibrio cholerae, in the area, and the necessity to be very careful about what they ate. Nonetheless, she delights in relating that she was able to eat part of an "imported preserved pear", in one of her letters, which she describes as "lovely".
Ella reveals in her letters that she prefers surgical work and prefers those times when her 'sleeves are rolled up' as she remarks to Canon Garland. By October of 1917 Ella was well-pleased then to have been transferred to the surgical ward, dealing with British troops, as they were short of nurses in that area. Her mind was never far from home it seems, remarking that she found the countryside around Deolali reminded her of the Toowoomba Ranges in that, "…the hills here are nearly all under cultivation, and the valleys too."
Sister Ella eventually made it to Egypt, where Cairo presented its own challenges, including a lack of equipment and exceedingly long work hours. Sister Ella had no qualms about the workload, however. As she said in her letter to Canon Garland, she believed that God was protecting her so she may do her duty.
In May 1919 her service overseas came to an end, and she arrived back in Australia on board the S.S. Nestor. Ella McLean soon became Ella McWilliam, getting married at St Peter's Anglican Church Southport on 30 December 1919 to Russell John McWilliam. 'Jack' McWilliam had commenced studying engineering at the University of Queensland, but on 30 April 1917, he decided to enlist in the First Australian Imperial Force. He served on the Western Front as a sapper (a soldier responsible for tasks such as building and repairing roads and bridges) in the 1st Field Company, Australian Engineers, returning to Australia in April 1919. Brisbane readers would recognise some of his later work, as he designed the towers that famously stand on the Walter Taylor Bridge in Indooroopilly and, in 1922, was a structural designer for Brisbane City Hall.
All Saint's, Mitchell's Christine McLean, wife of Ella's great-nephew Walter McLean, has compiled her own profile of Ella which she generously shared with anglican focus, and notes that Ella and Jack went on to have four children and 12 grandchildren together. Ella saw two of her sons educated in Anglican schools, one at Churchie and another at The Southport School, and watched as her oldest son served in the Second World War, with the Royal Australian Air Force. Ella passed away on 27 September 1968 at 77 years of age.
On 15 December 1922 the Governor of Queensland, Sir Matthew Nathan presented Ella with a medal for her services during the First World War. The presentation took place at the office of T. McWilliam, her father-in-law.
This was the first time that Sister Ella was officially recognised, but not the last. On 6 October 2017, Australia Post issued a series of stamps under the title 'A Century of Service: Women in War'. The 1918 image of Ella in her tippet was chosen to represent all nurses who served during the 1914-1918 conflict. A commemorative Prestige Cover was also produced as a part of this collection, and again Ella's image, as well as an excerpt from her letter to Canon Garland, was included.
As a proud Anglican and active member of our Diocese, and as a devoted nurse, Sister Ella McLean represents all those women who gave so much of themselves to serve during The Great War, and all conflicts since, whom we wish to honour this Anzac Day. Over 2100 women of the AANS served in the First World War, 25 of them making the ultimate sacrifice and not coming home. The fact that it is Sister Ella's image that was chosen by Australia Post to stand for all those nurses who played such an important and compassionate part during those dark years is something our Diocese should be proud and reflective of.
Editor's note: Thank you to Christine and Walter McLean from All Saints', Mitchell who assisted Archives Researcher Adrian Gibb with his research on this biographical account of Ella Clow McLean, who is Walter's great-aunt. Much of Ella's early life has been undocumented until now and so their insights are most valuable.
Jump to next article