Catching up with catch-up TV
FormedFaith's Jonathan Sargeant reviews two new television series – Netflix's Unorthodox and the ABC's Stateless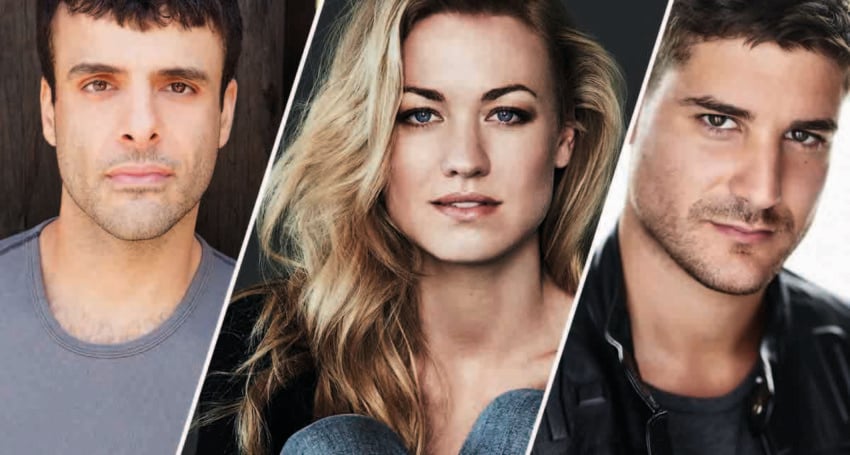 Some of us currently have more time on our hands and some of us have less. But a diversion once in a while is something we can all look forward to! Here are a few shows worthy of reflection you might not have caught up with yet…
Unorthodox, Netflix
Esty is a young woman in a tightknit community, looking to understand who she truly is. Whilst that could describe any of us in that young adult life stage, Esty is a newly married member of an ultraorthodox Jewish Satmar Hasidic community in New York. For her, self-discovery means fleeing to Berlin, where her estranged mother, an escapee years before, now lives. Her timid husband aided by a brutish cousin is sent to retrieve her.
We've all seen many dramas based on escapes from seemingly repressive communities before. Each of us values liberty and roots for an underdog who simply wants to make decisions about their lives for themselves. Unorthodox is particularly successful though for a number of reasons.
Shira Haas brings a wonderful blend of fragility and fortitude to the lead role of Etsy. She is tiny in stature but brings a natural strength to her role that has the audience on tenterhooks praying for her successful egress. Based on real events, the script for the show allows a depth of development with many magical instances. Esty's love of music leads her by chance into a diverse peer group of musicians whose kindness to her is inspirational. It's a delightful example of how a diverse community can include someone for whom exclusion has been the norm.
As Esty emerges from her cocoon, the script creates some significant, yet organic moments. Our jaded eyes see simple actions anew as she tries on new clothes or removes her wig. For a Hasidic Jew, the wig is an important religious signifier of customary head covering. As she removes it to swim in a local river with her new friends, the significance is not lost. She floats languidly in the river, and there's a sense in which we are witnessing a kind of reverse baptism, which is beautiful.
If there is a drawback, Unorthodox might have benefitted from a little more complexity in the depiction of the Satmar Hasidic community. For example, many fascinating Hasidic rituals are featured, but the lifegiving nature of them for those who remain seems less important, leaving them mysteries. Also, Esty's husband Yanky is played with nuance by Amit Rahav, but his cousin Moishe, accompanying him in pursuit of Esty can be a bit cartoonish at times. His villainy seems so less important than Esty's inspirational awakening. But these are lesser quibbles in the face of a successful story.
In the end the show might have us considering our stance on a continuum from individualism to group life. That's a reflection worth having in our Australian ultra-individualist societies.
Stateless, ABC iView
To tell a story you need a relatable protagonist. The first task of screenwriters is to make us care about the story they want to tell, and someone we can sympathise with is key to that process. In some ways this has been the challenge for dramas about refugees in Australia. Successive governments have successfully painted people seeking asylum as 'The Other', people so different to the rest of us that it's easy to justify dooming them to indefinite detention/imprisonment. But relatability is not just about the colour of our skin, is it? Stateless, the prestige miniseries on ABC iview, tries to address this question.
Following a number of story threads, Stateless is set in Barton Detention Centre in a remote Australian location. There we get to know Cam (Jai Courtney), a local enticed into employment as a guard by good money, Claire (Asher Keddie) the centre manager tasked with keeping the lid on a perpetual powderkeg, Ameer (Fayssal Bassi) an Afghan man desperate to protect his family amidst crooked people smugglers and self-harm, and Sofie (Yvonne Strahovski), a former flight attendant. Is she Australian? Is she European? Why is she imprisoned in this detention centre?
In a sense, each of these characters is cut adrift from what they know. Clever parallel editing means the stories of each are juxtaposed. We see the family lives of increasingly disillusioned guard Cam and desperate Ameer together, facing very differing pressures with possible pragmatic solutions. What would you do to keep your family safe?
I must admit that, at first, I was suspicious of Sofie's character. Was she inserted into this detention centre drama for the cynical reason I outlined above: simply because the producers felt audiences would not relate to the plight of refugees from other countries? The truth arrives (no spoilers) as the plot unfolds; her plight is based on true events.
Stateless is absolutely successful. Though Cate Blanchett's small role feels a little underdeveloped, the gripping and powerful tale will have you understanding the key theme from a number of perspectives, making it completely necessary and compelling viewing.
Jump to next article