Cathedral proudly welcomes the ABC and Jo Inkpin
St John's Cathedral welcomed the ABC's Compass team, as they filmed last Sunday's episode onsite featuring The Rev'd Dr Jo Inkpin who shared her story about becoming Australia's first openly transgender priest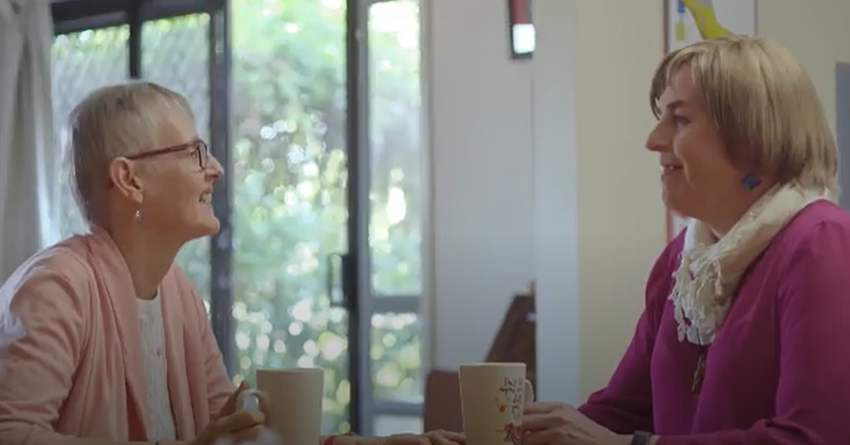 St John's Cathedral welcomed the ABC's Compass team, as they filmed much of last Sunday's episode onsite featuring The Rev'd Dr Jo Inkpin who shared her story about becoming Australia's first openly transgender priest.
Since 1988, Compass has been exploring the interface between religion and the broader lives of individuals and communities.
In Sunday's episode, 'Faithfully me', St Francis College lecturer Jo shares how she knew from a young age that she was transgender and about the difficulties growing up with this knowledge, but without the lexicon to express it, in rural England.
"Well, I have l known since I was really tiny. When I was four years old," Jo said.
"I grew up in a very conservative rural area decades ago. We just did not have the language for things and so…for a lot of my life I grew up in an environment which did not allow me to explore these things."
Jo also shares about the identity and inter-personal challenges she has experienced, including shame, the fear of losing the people she cared about, and why she finally decided to transition.
"Often transgender people, because we've got gender dysphoria [the distress a person feels due to a mismatch between their gender identity and their sex assigned at birth] of different kinds, and so you're not happy with that. You are ashamed about yourself. If that's then loaded on by others, it makes life really difficult," she said.
"I tried to deny it every so often – quite a lot. I mean I struggled with it, to bury it. For me one of the most difficult things about coming out was the fear I would just lose everything and everybody. But the older you go, the more and more difficult it is to be able to suppress gender dysphoria.
"My 40s were awful really. I had a wonderful job – a really fruitful ministry, but inside I was dying…Either I do it or that's it! Because as my life went on, I found it more and more difficult to try and be someone I was not."
Jo also speaks about the importance of her vocation as a priest, a role which she has dedicated herself to since 1987.
"Being a priest is a central feature of my life and has been for 30 odd years. I suppose a priest in a way is being a person who can contribute to enabling people to know the love of God better. And, so I try and do that wherever I can," she said.
As well as lecturing in Church History at St Francis College, Oxford-educated Jo's vocation is also fittingly expressed in her dedication to a range of social justice areas, including as Co-Chair of the ACSQ's Reconciliation Action Plan Working Group.
Jo's partner and fellow priest St Francis College Director of Formation The Rev'd Penny Jones has stood steadfastly by Jo's side throughout more than 30 years of marriage.
Penny joined Jo in the filming of the 'Faithfully Me' episode, sharing about her love and respect for Jo, as well as how they first met and fell in love.
"I have always loved Jo – almost from the word go. We met at theological college…Jo was always affirming of the women and quite a few of the men were not affirming of the women at that time," Penny said.
Jo's story is told alongside that of Sydney-based trans man Rhett Pearson, who has been supported in his journey by Surry Hills Baptist minister Mike Hercock and family.
Rhett speaks about the importance of churches being a safe and welcoming place for all people.
"When I was first starting to explore my gender identity, I was probably at the church every single day. It was just such a big part of my life. So, going every Sunday when Mike was pastoring – it just became that safe place for me," Rhett said.
"One Sunday Mike had asked if I would mind sharing what was going on for me, so I just told everyone. People were just like, 'What can we do that would help you right now?' And, it was even the little things like pronouns and name, and getting those things right, that were the big deal."
Saturday's The Australian described what Jo and Rhett shared, alongside Penny and Mike, as "stories of perseverance, tolerance and ultimate acceptance, which are timely and inspirational."
This is, arguably, the take-home message of the nationally-broadcast episode, as Jo and Rhett are given the space to tell their stories, doing so with sensitivity, strength, articulateness and openness.
They are to be commended for their courage, honesty and dedication to their faith, Christian communities and ministries.
Jump to next article