How the mission of Jesus intersects with the mission of hospitals
"I am often asked what made me choose to become a hospital chaplain and the short answer to that is I didn't choose. I believe I was chosen," says hospital chaplain and St Bart's, Toowoomba parishioner Jodie O'Shannassy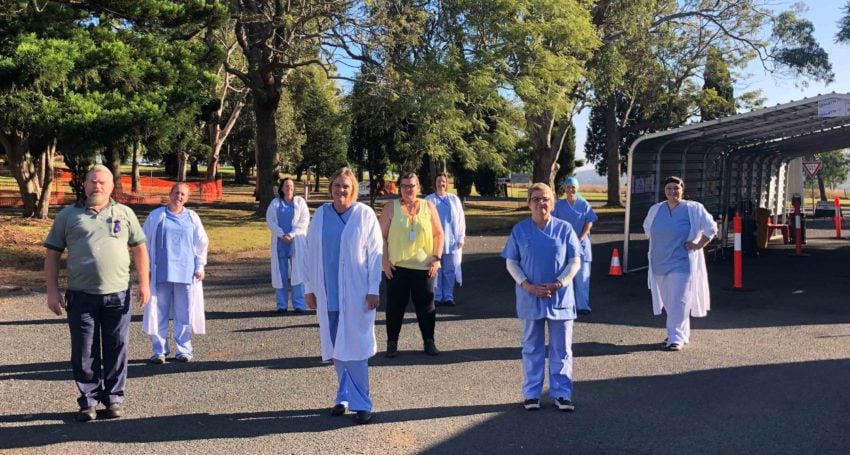 Sometimes when I place that little red phone beside my bed at night as I retire to the land of slumber, that slumber is postponed or interrupted as a family, yet unknown to me, has had their world turned upside down. This was one of those nights.
At 2 am on a Wednesday last year the phone rang and a nurse from the emergency department at the Toowoomba Base Hospital asked if I could please come and provide assistance to some teenagers and their families following an accident at a party. I crawled out of bed trying not to wake my husband and got ready to go. As I drove to the hospital, eyes watering from just plain tiredness, I had a very familiar conversation with God, "Are you sure you chose the right person for this job, Lord?"
This turned out to be a long night. The patient was young and her school friends who witnessed the accident were there with their parents waiting for news on her condition. As is often the case, these are the people hospital chaplains work with. While the patient is being attended to by medical staff there are those living in the terrifying space of helplessness, guilt, fear, and trauma.
These people are a big part of the reason why chaplaincy is so vital in hospitals. The role of the chaplain is to enter that terrifying space and come alongside people, helping to bring a measure of calm and hope to what seems to be a chaotic and bleak situation. Be it a parent who has lost a baby, a teenager whose friend just took their own life, a man whose wife is dying of cancer, or any other tragedy that collides with the frailty of our human existence, with chaplaincy no one need walk that journey alone.
Another side to hospital chaplaincy is the support we offer to the staff. Staff members not only deal with life's tragedies, but can also bear the brunt of frustration from frightened and anxious patients and family members. As chaplains we are committed to being a listening ear in and around the hospital campus.
Most of our visits are to the patients themselves, as they navigate their diagnosis, their complication, the long-term implications. I would never have thought that being a hospital chaplain could be so rewarding and so vital. I guess like many others, I pictured the life of a hospital chaplain to be sitting and chit-chatting with sick people all day. While I do sit with sick people it is so much more than that. As the mission of Jesus intersects with the mission of the hospital, I have the awesome privilege of being invited into their world, their family, their pack, so to speak, and to be a vital part of the multi-disciplinary team of professionals providing holistic personalised healthcare.
I am often asked what made me choose to become a hospital chaplain and the short answer to that is I didn't choose. I believe I was chosen. Two and a half years ago I was nearing the end of a gap year from work, after finishing up a six-year stint working in residential drug and alcohol rehabilitation. A friend, who is a school chaplain, mentioned that I should apply for the hospital chaplaincy role. I actually laughed her off, but a seed had been sown. I decided to apply and leave it up to God himself – nuff said.
It's now 2020 and I am in my third year at the hospital, enjoying 59/60 minutes of it. This year started out as any other year really, but has since been significantly impacted, and ultimately defined, by the arrival of COVID-19.
As with most unexpected changes, some of them will remain with us forever while others are just temporary. Therefore, much time has been spent adjusting to what is now our new normal and also preparing for what the future normal might look like. Planning for the future is not easy; there are legacies and loyalties, there is history and hope, there are protocols and personalities, and finances and faith to be considered. So many questions simply cannot be answered until such time as they are, but for now we simply continue to answer the call.
Some of the actions taken by our team in Toowoomba during this time have been:
24-hour staff chat line: While our service has always been on 24-hour call to assist patients and their families in crisis, we have now announced that staff can call any time, day or night, to debrief to a confidential listening ear.
Facebook and phone calls: Volunteers are currently not allowed to come to the hospital until further notice. This means getting creative at keeping in touch. Currently we have a Facebook group where those who want to can share and chat with each other.
Care packages: Spare time has been used to lovingly make little encouraging messages and taping them to Minties and Fantails as a treat for all those who are working hard in our hospital system to make sure that help still happens.
Video call capabilities: The hospital has set up computers so that we are able to video chat with patients who have tested positive to COVID-19 when the need arises.
Lawn lunches: I have been richly blessed to be able to sit on the front lawn with some of our volunteers to share cuppas, lunches, and chats while they are unable to be at the hospital.
The greatest need: Now more than ever hospital chaplains need to be well connected with the local church. This is indeed the best way the Church can support our work, as it is no longer possible for us to wander through the wards on the lookout for those in need. We now rely heavily on referrals from staff, family and church leaders to let us know when the people you love and care about are in hospital.
For more information on this special ministry, please email chaplaincy@anglicanchurchsq.org.au.
Jump to next article