Three artists and a Cathedral Shop
In this special joint reflection, three gifted local artists share about their art and their unique contributions to the Cathedral Shop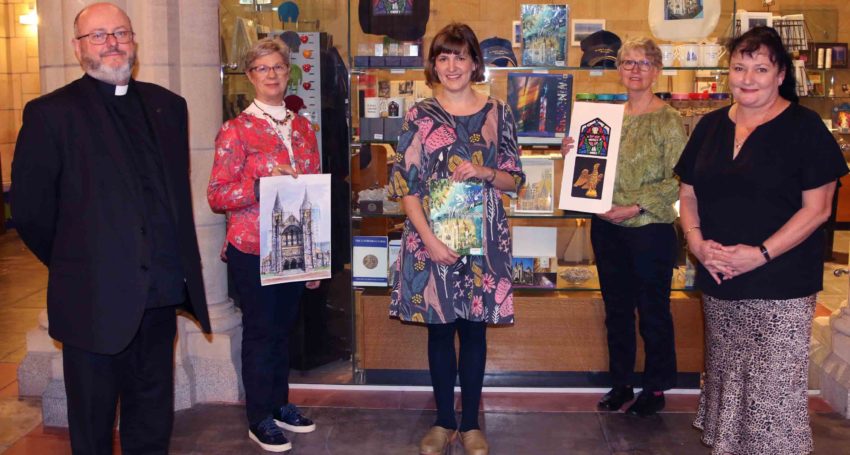 In this unique joint reflection, three gifted local artists share about their art and their recent contributions to the Cathedral Shop. The artists are introduced by Cathedral Shop Manager Ann-Marie Reynolds and Parish of Redcliffe Deacon The Rev'd Richard James.
Introduction to the artists – Ann-Marie Reynolds and The Rev'd Richard James
As part of a broader strategy to enhance the Cathedral Shop's offerings, members of the Cathedral team invited local artists connected to the Cathedral community to contribute artworks to the shop. Artists Jenny Long, Sue Poggioli and Rebecca Holland were selected for this project, with the assistance of renowned local artist Kerry Holland. The artists were chosen for their dedication to their unique artform, skill and interest in spirituality. Jenny contributed her intricate painted Cathedral designs to mugs, fridge magnets and magnetic bookmarks. Sue contributed her symbolic motifs to the black tote bags and mugs. And, Rebecca's painting was applied to calico tote bags, magnetic bookmarks, mugs and jigsaws. We are honoured to introduce these artists and their work to you.
Ink and watercolour artist – Jennifer Long, Christ Church, St Lucia parishioner
Currently I am working in three areas of art – printmaking, watercolour painting and 3D rice paper and wax bowls. I source ideas and images from family history, current events, the landscape and found objects. I use different elements, symbols and marks to depict layered narratives and incorporate personal emblems like the vessel, fragment, tangled figures, bird and cage and water, to create my own interior landscapes about identity, place and memory.
Recent works, particularly the etchings and bowls, have focused on the metaphor of 'flight' in a series of exhibitions that link the past and present. My father's wartime story as a Lancaster pilot and imprisonment during the Second World War and his family's migration story from Russia to Australia are links that I connect to the broader 'family' of suffering humanity. Many of my works depict the journeys of the displaced, flights to freedom and suggestions of an uncertain future.
My latest project has involved printing 12 prints of 'The Fire' for the Print Council of Australia Print Exchange. This is part of an ongoing series of works, including etchings, watercolours and solvent transfer images, that focus on the environment.
The arts are particularly important to the Church and its spirituality because often the visual or the tactile can express what cannot be said. The arts are like a vessel carrying the water of life to the thirsty.
When the Church supports its local artists, it helps create a community full of culture and empowers and encourages innovation, thereby playing a major part in sustaining local economy. From seniors to children, the arts inspire and stimulate.
Sketcher, printmaker and 3D artist – Sue Poggioli, long-time Cathedral community member
I have been connected to the Cathedral over a long period of time. During the 1980s in particular, there were great celebrations of the arts in our Cathedral. I became part of a Christian artists' group started by David Binns and Deborah Hay in 1981 at the Cathedral. I participated in a group exhibition during this time. This group continued for many years.
My two sons were Cathedral choristers over a period of eight years. This involved their singing regularly and our family's attendance. We spent a lot of time at the Cathedral and I would often draw whilst there. I come from a different Christian background and responded to the visual and musical elements of Cathedral life. Over time, I developed a deep appreciation and love for the richness and mystery of the worship practices and traditions of the Anglican Church.
I have been making art all my life and it has been my profession, taking different forms over time. Drawing is central to my practice, something I do daily. I make original prints. I enjoy the processes and outcomes. I like to say to myself, 'What if I…?" I make art because it makes me feel whole; it's just what I do. It is an act of engagement and of being attentive and giving attention.
My current practice involves printmaking and artist books. I am reworking old lino prints, putting them together in a new way to create something that become pages for books and a celebration in colour and line. I enjoy the sitting with a book, being totally engaged, turning the pages; it is a meditative act.
We are created in the image of God, and are each creative and unique. I believe we must use our gifts as we fulfil our potential and give glory to God and His creation. The arts speak to and spring from that deep place in us that is beyond words – images, music, space, texture, colour and scent all stir something that is not touched in any other way. It is a need we all have, something we yearn for. The arts need to be part of the worship life of the Church and should spring from that community, so they are a reflection and expression of that community's mind, spirit and needs.
Digital illustrator and graphic designer – Rebecca Holland, Parish of Grovely Warden and Liturgical Assistant
I am a digital illustrator. I started out in graphic design, so the computer side of creativity was something I was trained in. I became an illustrator as a creative outlet alongside graphic design, and I fell in love with the digital methods of illustration because the freedom, versatility with the end product/file, and the lack of mess were appealing, especially as I have three young children! Digital illustration has come a long way in the last couple of years.
My art concentrates on the natural world, which is important to me. This is shaped by my political beliefs, associated with wanting children to become protective of and curious about the world we live in. My art also plays into my faith which I express by spending time in nature and appreciating everything we've been given.
Art and spirituality have always been so interconnected, and I think it's important now to keep that connection going in a modern way. Art helps people connect the spiritual and material worlds, which plays an important role in creating a space to worship.
It feels to me like the Anglican Church has long held on to its European/English roots, but I think it's also so important for the community to see their own culture represented in the art that the Cathedral has on display, especially in places like Australia where our cultural backgrounds are so diverse. Not only is local art putting funds into the local community, it's giving members of the local church community pride in their space and a deeper connection.
My main ongoing project is illustrating educational posters for kids. I concentrate on natural science posters, and I'm passionate about providing visually appealing educational/natural imagery that Australian children can connect to. With 2020 being such a strange year, especially for those with young children at home, I have just finished turning all my illustrations from posters into digital learning packs, too, to assist parents needing activities at home.
Editor's note: To find out more about the Cathedral Shop's wonderful artistic offerings, please contact the Cathedral Shop Manager, Ann-Marie Reynolds, via shop@stjohnscathedral.com.au
Jump to next article