High Ground
anglican focus film reviewer Jonathan Sargeant gives a mixed review of High Ground, a confronting colonial tale filmed in Arnhem Land, which is currently showing in cinemas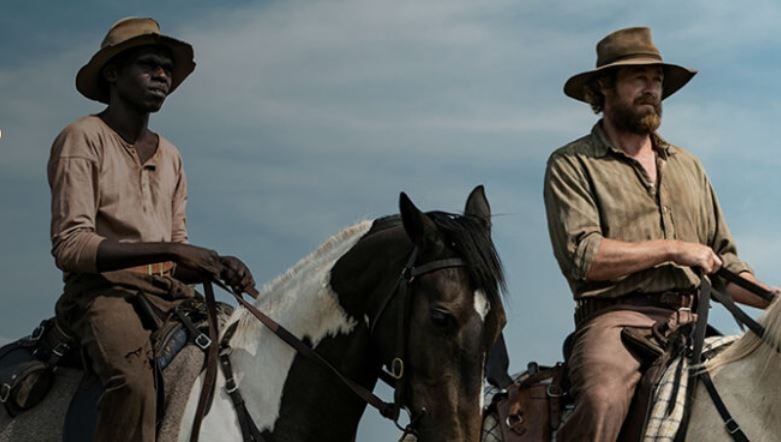 Just back from WWI, Simon Baker's ex-sniper Travis recruits teen Gutjuk (Jacob Junior Nayinggul) in the mission to track down Aboriginal leader Baywara (Sean Mununggurr) who has been attacking local settlers. But this mission is complicated: not only is Gutjuk Baywara's nephew, but 12 years ago Travis was part of a police troop that massacred Gutjuk's mob, including women and children. Travis took no part in that massacre; in fact, he killed some of the troopers responsible, but the young teenager doesn't know this. Tangled loyalties and the chaotic path of anger, revenge, and possibly forgiveness in the midst of systemic genocide will be inevitable as Gutjuk and Travis travel deep into the Outback in Stephen Johnson's new film.
That sounds like scriptwriter Chris Anastassiades has provided an effective setup for High Ground, doesn't it? Certainly, the first third of the film establishes potent undercurrents to every one of the film's relationships. Jack Thompson's Moran is a visiting official tasked with restoring justice to the district, but his racist attitudes are close to the surface. Claire (Caren Pistorius) toils in the local mission with the best of intentions but is hamstrung by the weak temperament of her brother, Pastor Braddock (Ryan Corr). Grandfather Dharrpa (Witiyana Marika) wants peace but competing motives poison that desire. There is much to mine here. It is disappointing then that the narrative thrusts of High Ground become muddled in the second half, losing focus.
Of course, that the Frontier Wars of Australia's past extended well into the 20th century, with the existence of massacres such as the one depicted in High Ground well documented, is not up for debate. Other recent treatments of similar events such as Warwick Thornton's magisterial Sweet Country inevitably come to mind when watching films like High Ground. This film cannot help but suffer a little in comparison, though these stories must be told. It's a pleasure to see the prominent use of local language in the film, which goes some way to mitigate the white director / white scriptwriter issues of a film about First Nations' history.
Labelled a "meat pie western", Johnson's film edges towards the gangster genre, with numerous bloody shootouts and ensuing recriminations. Most of these leave nuance behind to head down the revenge path. Possibly more emphasis on the internal journey of Gutjuk's character might have served the story better. Nayinggul does the best he can with what the script allows him but there is no doubt Simon Baker's Travis is the moral and narrative centre to the film. He has the most screen time and it is his actions that move the plot forward to a large extent. Unfortunately, this exposes High Ground to accusations of the "white saviour" trope, a narrative idea in storytelling where First Nations Peoples cannot liberate themselves but need white people to save them. There's an uncomfortable amount of evidence to argue that here, right down to the last screen moments.
Frustratingly, there are hints of what could have been a better film. The relationship between Gutjuk and Travis has sparks of realism and there are important themes at large. I was intrigued by the pastor and his sister and there is definitely a film to be made about the influence for good or ill of early mission work. But too often, the tension of revenge is undone because supporting characters are dispatched before we are given any reason to care about them.
In the end, if the aim of High Ground is to communicate that dispossession of land inevitably leads to violent action in which no-one wins, then it is successful. The reality of history, though, is that 'one side' did 'win' and will continue to do so until Reconciliation and First Nations Peoples' justice is achieved.
High Ground, rated MA15+ and directed by Stephen Johnson, is currently showing in cinemas.
Jump to next article