Sieving or straining?
"One recent challenging incident had a quick and positive outcome, as I employed nonviolent communication as a helpful tool to resolve a matter and build relationship with relatively new neighbours…I find that the nonviolent communication principles and process help me to put what I am thinking or about to say through a sieve," says St Andrew's, South Brisbane parishioner Liz Wellauer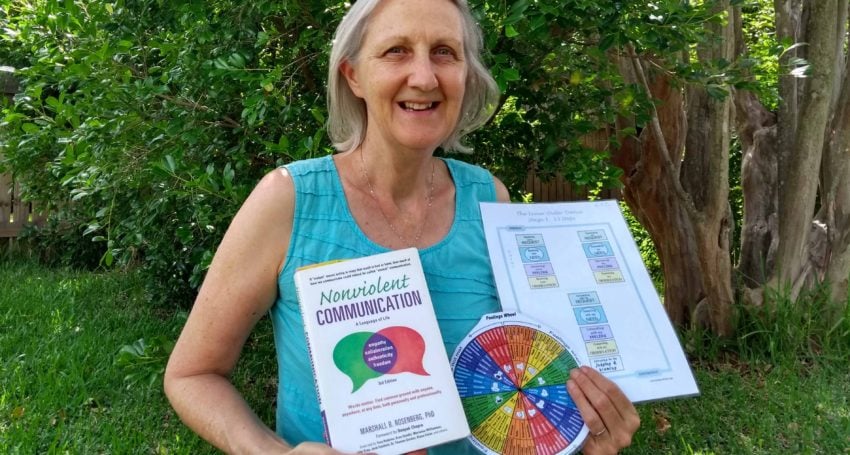 Story Timeline
Christian nonviolent engagement
"You always leave your clothes on the floor!"
"There's no need to feel sad/worried/angry. You should just…[do what I tell you]."
We sometimes use these, or similar, words when we relate to others, especially family members or others close to us, but do they help enrich communication and relationships? Or does the person spoken to withdraw, defend or attack so that we each become more alienated? The way we frame and choose our words can lead to hurt or pain for ourselves and others. The way we frame and choose our words can also encourage and upbuild others and deepen our relationships.
Nonviolent*, or compassionate, communication (often referred to as 'NVC' for short) is based on the belief that we can relate positively and compassionately to one another even in difficult circumstances. Relationships are enriched as people are heard and understood, even if their ideas differ from ours – which is very often the case in marriages, families, schools, work, governments, and yes, even in churches!
My journey with NVC began eight years ago after my family members and I were devastated upon finding out that a family member had been experiencing ongoing domestic and family violence. After threats to her life and several attempts to leave her partner, she left her family home with their children.
The ongoing domestic and family violence dynamic of exerting power and control has continued even though the couple are now divorced, influencing how the children, now several years older, deal with conflict. Domestic and family violence and its effects were completely unknown to our family before this, so we really wanted to find a way for us all to process unhealthy patterns of relating.
The St Andrew's, South Brisbane Youth Children's and Family Coordinator at the time, Penny Barringham, began a book group to support a number of young mums who were experiencing challenging situations in their homes. She chose the seminal book Nonviolent Communication: A Language of Life by psychologist Marshall Rosenberg.
Penny also organised a weekend of NVC training which I attended. I've now attended about six weekend workshops and facilitated six NVC book groups as I've sought to make changes to my habitual communication patterns formed by six decades of social conditioning. Five other family members have also attended some workshops, so we can work together on our communication as a team. I also grandparent using NVC framework principles so that my five grandchildren, all under 12, endeavour to use NVC to relate to each other as respectfully and compassionately as possible.
Marshall Rosenberg developed the NVC process during the 1960s and founded The Center for Nonviolent Communication, which works in 65 countries today.
Nonviolent communication provides a framework to process what is going on for us in a situation, including:
Listening to our blaming and judging (e.g. "You always leave your clothes on the floor")
Connecting with our observation (e.g. "There are a shirt, shorts and two socks that belong to…on the bedroom floor")
Connecting with our feelings, (e.g. "I feel annoyed, resentful, disappointed when I see…")
Connecting with our needs and values (e.g. "I need/value space, aesthetics, cooperation…")
Connecting with our requests (e.g. "I would like to ask…to have a conversation with me about this")
Once we've done our inner work, we have more clarity ourselves to listen to the other's feelings, needs and requests. Importantly, we'll often discover that the other person has similar needs to ours and we will consequently be reminded of our common humanity. Then we can talk about the many strategies that help meet both people's needs (e.g. moving the washing basket closer to the drawers, etc).
One recent challenging incident had a quick and positive outcome, as I employed nonviolent communication as a helpful tool to resolve a matter and build relationship with our relatively new neighbours. We have a beach cottage where friends and family take holidays, and over the Christmas break, neighbours complained about noise, texting:
"Hi Liz, We would really like all people who stay in your place to be considerate of noise as this wasn't always the case this year. The yelling screaming children in the garage before 9 am is hard for us…I had to take time off work due to shortened sleep and my housemate got a migraine."
After working through my own judging and blaming ("Why didn't they say something earlier?" and "People aren't there all that much", etc), clarifying their observations and my feelings and needs, I texted back, listening for their feelings (e.g. consideration) and needs (for sleep, as they worked late):
"Hi [name]
So sorry that you've felt annoyed at times by noise from our place over this year. You're probably hoping for cooperation so it might not continue! [Reflecting their observation, feelings and needs]
I felt surprised and sad when I read your text as I value respectful relationships with neighbours [My feelings and needs).
I'd really appreciate chatting more with you about this so I can understand what would help you guys. I'm coming up to the beach on Fri next week so can I meet you and catch up then? (My request)
As different people stay at our place, it would help if you can be as clear as possible about what might help you so we can pass that on e.g. Would you like children to not play in the garage at all before 9am? Or is it just if they're being noisy in the garage before 9am? [Suggesting a strategy that might meet their need]
Thanks for communicating and I look forward to some ongoing conversations around this."
I was excited to receive this text back:
"Thank you for reaching out! This was a hard conversation to have so we didn't mention it until now. I bet everyone who stays there is a lovely person and we'll be able to figure this little pickle out!"
It was then easy for us to discuss strategies that might work for each of us. Before this, we were wary of each other, we didn't feel comfortable to use our shed, and weren't sure what might upset them.
In the Bible, we read that our God is a compassionate God. Jesus had compassion for so many people:
"When he saw the crowds, he had compassion for them, because they were harassed and helpless, like sheep without a shepherd" (Matthew 9.35-36)
"When he went ashore, he saw a great crowd; and he had compassion for them and cured their sick" (Matthew 14.13-14)
"Moved with compassion, Jesus touched their eyes. Immediately they regained their sight and followed him" (Matthew 20.34)
"As he came near and saw the city [Jerusalem], he wept over it" (Luke 19.41-42)
We are told to have the mind of Christ (Philippians 2.1-2), but sometimes we struggle or don't have the tools to apply this in the nitty-gritty of our often busy, messy lives.
Paul writes:
"Be kind and compassionate to one another…" (Ephesians 4.32)
"The fruit of the Spirit is love, joy, peace, patience, kindness, generosity, faithfulness (Galatians 5.22)" (which tells us that compassion is embodied in the fruit of the spirit)
"If it is possible, so far as it depends on you, live peaceably with all." (Romans 12.18)
So, I see nonviolent communication as a very useful tool to help enact core Biblical values.
I find that the nonviolent communication principles and process help me to put what I am thinking or about to say through a sieve, and slow down my tendency to respond with old patterns that don't serve me well. By training my attention on what need of mine hasn't been met, I can choose to use helpful and life-enriching words. Rosenberg also wrote a book titled Speak Peace in a World of Conflict: What you say next will change your world. Do I want to add to conflict or to focus on connection?
Sadly, Penny Barringham, who began me on my NVC journey, died after a car hit her while walking her dog in July 2018. She had just begun two NVC book groups for 14 women (half being from St Andrew's Anglican Church and others being family, friends and acquaintances), which were to meet fortnightly for 16 weeks in group members' homes. She had also brought NVC into some aspects of the St Andrew's Youth Group and Sunday School. I was subsequently asked to take over the facilitation of the two book groups and so we were able to continue her legacy of nonviolence.
In 2019, we ran two NVC book groups, with about eight people in each group. Last year, three book groups were run, with a young dad leading one of these with six male participants. This year, we have just started our three new groups, one for women only and the others mixed groups.
The group participants have been so positive and committed to learning new ways, and have commented that the groups have given them a safe space to be vulnerable and explore and practise NVC. The book groups and workshops have helped people unwrap past hurt, bringing some healing; gain insight into how other people hear things they say, why they might feel pain, and how they could respond compassionately; and, to have new hope where relationships were very stressed.
A number of couples, siblings, young people and their parents have attended these book groups and workshops and said that they have helped family and marriage relationships. They have also shared the NVC approach with other family members. Some have said, "Please keep offering the book groups, and advertising the NVC Weekend Workshops!"
I guess, for myself, I'd like to be able to echo Rosenberg's words:
"What I want in my life is compassion, a flow between myself and others based on a mutual giving from the heart" (Nonviolent Communication: A Language of Life, p.4)
As The Center for Nonviolent Communication explains:
"NVC is about connecting with ourselves and others from the heart. It's about seeing the humanity in all of us. It's about recognising our commonalities and our differences and finding ways to make life wonderful for all of us."
The Centre for Nonviolent Communication website and NVC in Australia website provide useful resources, including articles; books, CDs and DVDs; and, podcasts.
 Five top tips for effective nonviolent communication:
Listen to others with curiosity! People's words and actions are a reflection of their needs that haven't been met. Most people just want to be heard and understood.
Reflect back what the person is saying, or guess their feelings and needs. Once they are heard, they may be able to listen to your feelings and needs.
Relationships are more important than the task/issue. Try to get out of your head and into your heart. Think of the process rather than the solution, and trust the NVC process.
Take responsibility for your own feelings and needs. Use 'I' statements followed by an articulation of your feelings and your unmet needs.
Each person is an expert on themselves, so there is no need to give advice (unless the person asks you for a strategy). As we sit with another while they identify their needs, they will come up with their strategies to meet their own needs.
* 'Nonviolence' is used to refer to our natural state of being when violence has subsided from the heart – The Center for Nonviolent Communication in reference to Gandhi.
Jump to next article