WestMAC's Caring for Country, Connecting to Country and Wisdom of Country
WestMAC's bespoke Indigenous Education Program draws on three key principles: Caring for Country, Connecting to Country and Wisdom of Country, as explained by Learning Innovator – Indigenous Perspectives and MaMu woman Phyllis Marsh and Acting Principal Janelle Lecinski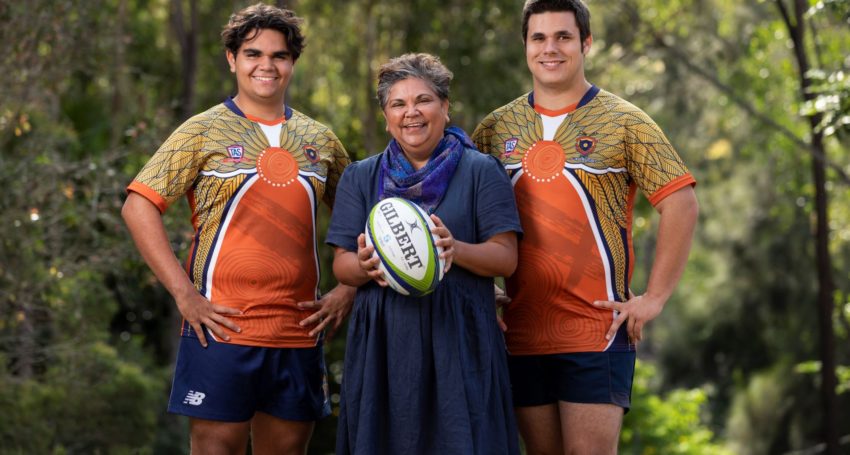 Janelle Lecinski (Acting Principal) and Phyllis Marsh (Learning Innovator – Indigenous Perspectives) share their thoughts on WestMAC's innovative program that embeds First Nation perspectives into the College's whole Prep to Year 12 curriculum.
Janelle Lecinski – Acting Principal, West Moreton Anglican College
"Before any great things are accomplished, a memorable change must be made in the system of education [John Adams, 1786]…" to raise our knowledge on the Ancient Wisdom that exists in this country: Yalbilinya ('Learn').
Through this vison, we are successfully leading change through the implementation of an innovative program that embeds First Nations perspectives into curriculum at West Moreton Anglican College, or 'WestMAC' as it is affectionately known.
Everything we do to commemorate, honour, learn, listen and celebrate our ancient past is known here as Dandirri ("coming together") and our reinvigorated journey along this path commenced with the appointment of Phyllis to a newly conceptualised role.
A MaMu woman from the Mundubarra people of the Innisfail region, Phyllis grew up in her mother's country where she had the opportunity to learn stories about a way of life that continues today. Having built a career in the corporate world, Phyllis made a career change when she accepted the role at WestMAC, a Prep to Year 12 school located at Karrabin on Yugara Country.
Through inspired and intentional strategy crafted together, Phyllis quickly established herself as a confident educational partner who promotes authentic learning through the wisdom of her First Nation's voice. Our College community is enriched by her gift of ancient wisdom and her advocacy and commitment which inspire deep engagement with the world's oldest continuously living culture.
Phyllis has designed and collaboratively embedded authentic First Nation perspectives into the College's curriculum, supported Staff Professional Development through cultural competence and storytelling, developed RISE (an in-house Women's Business Program), established the NGARI Paiabun Kurumba (Indigenous Student Leadership Program), lead Reconciliation and connected community.
WestMAC's bespoke Indigenous Education program draws on three key principles: Caring for Country (recognising ancient and sustainable ways and learning best practice for our environment); Connecting to Country (through engagement with stories and movement that reveal how ancient culture survived); and, Wisdom of Country (knowledge acquisition and inquiry through learning about different levels of practice and process to engage with First Nation cultures and communities).
Phyllis is widely acknowledged for a professional skillset that enriches learning and optimises student outcomes.
The College campus has been enhanced by visual representations of First Nation cultures, including a WestMAC Acknowledgement Pole, student-painted murals of the Rainbow Serpent, and an Indigenous Garden and Yarning circle incorporating Totems reflecting our connection to Yugara country.
The Executive Leadership team is exceptionally proud and humbled that the vision to expand the College's Indigenous Education program through embedding behavioural change in everyday practice has delivered a genuine shift in the collective mindset of staff towards a culturally safe and inclusive professional environment. This is the strategic intent behind the work that is being achieved at WestMAC.
Phyllis Marsh – Learning Innovator – Indigenous Perspectives, West Moreton Anglican College
Learning about the ancient history of Australia, which we collectively call home, is the educational right for each of our students.
However, there is a deeper connection occurring – one which takes students on a spiritual journey, simply based in love and humanity. In hearing and learning through stories, we are connected and invited to share the ancient story of our own country supporting students of WestMAC to transcend in their learning and connect with an ancient, deeply spiritual wisdom.
This philosophy is captured through the three intentional themes that are at the heart of the learning experiences, as they encourage our students to learn in wonder and expand with intention.
Leading the innovative program and working beside the teaching staff, I work across the entire Prep to Year 12 College, visiting classrooms to teach connection, caring and the wisdom of my people and culture.
I have been in the role for three years, and I am simply amazed at what we as a community have achieved. It has always been the intention of Janelle and myself to enable the program to move organically through the school.
Building trust and relationships is a priority. Our approach has always been to build on the strong faith base we have in this community, connecting to our values and College motto, 'Faith, Knowledge and Service'. This intentional approach was an easy decision as we built upon the truth that we are each connected to a greater story which is told through many chapters.
My passion and commitment are expressed through my excitement at seeing my role develop to include teaching in classrooms and delivering a bespoke professional development program to the WestMAC community. Students and staff are nurtured through the journey as they learn together and work towards becoming allies on the Reconciliation path strengthening mutual relationships.
WestMAC's program is also attracting interest from the broader educational community through seminar presentations at Independent Schools Queensland's Principals' Indigenous Education forum and Women in Leadership Conferences.
We are also both proud ambassadors for the Know Your Country campaign, convened by World Vision Australia and led by First Nations organisations.
Through this exciting work, West Moreton Anglican College is ensuring that the importance and understanding of Aboriginal and Torres Strait Islander histories, languages and cultures are firmly embedded in curriculum. Through the principles of Dandirri and intentional leadership, the College community is achieving a strengthening of authentic cultural connectedness.
Find out more about West Moreton Anglican College's Innovative Indigenous Perspectives programs by visiting our College's website.
Jump to next article