AYCF interns share about faith and ministry
Anglican Youth, Children and Families interns and Community of The Way members, Aaron Vidya Sagar and Emma Williams, share about the work they are doing to support parishes with youth, young adult, children and families ministries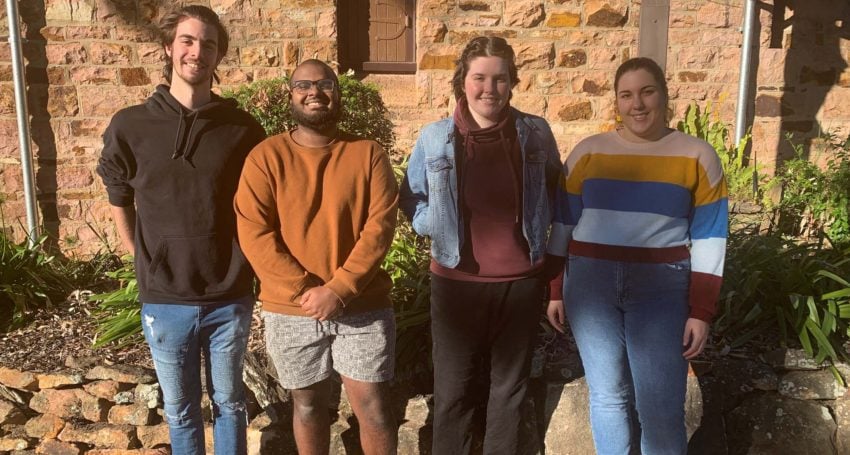 AYCF interns and residential Community of The Way members, Aaron Vidya Sagar and Emma Williams, tell anglican focus readers about their faith and how they are currently working with AYCF Director Erica Skerman to support parishes in youth, young adult, children and families ministries, as well as about exciting forthcoming initiatives.
Aaron Vidya Sagar – residential Community of The Way member and AYCF intern
I joined the Community of the Way on Valentine's Day last year. Before moving to Brisbane, my home church was St Bart's, Toowoomba. I currently go to the Parish of North Lakes.
I joined the community because I wanted to be around and live with people who are Christian to help grow my faith. I needed a new church family when I moved from Toowoomba to Brisbane to study at university. I first heard about the Community while attending AYCF camps in Year 12.
I took on the role of being an AYCF intern early this year through contacts formed via Community of The Way. In this role I help connect AYCF with parishes and am currently calling parish priests and lay ministers to offer support with youth, young adult, children and families ministry.
I also regularly volunteer with AYCF Ichthus camps as a leader as part of my Community of the Way service. I have long felt called to be involved in youth ministry. Many of my family members have been lay or ordained ministers, including in underground churches overseas.
At the Parish of North Lakes, I help Youth Minister Isaiah Berris with the leading of Youth Group on Friday nights during term time. Along with fellow Community of The Way member Jack and another volunteer, I run a small group for boys weekly. Twice per term, we develop a scripture-based devotion and associated talk for all the kids in the Youth Group.
Community of The Way intern Eleanor is currently liaising with community organisations as part of her intern role, including with Alzheimer's Queensland Rosalie Nursing Care Centre. I am hoping to volunteer with fellow community member Elissa at the centre later in the year.
Emma Williams, residential Community of The Way member and AYCF intern
I joined the Community of the Way at the end of 2020 as a non-residential member while living at home with my family in Springfield, and moved in as a residential member at the start of this year. I joined the community as it's a great environment to grow and be encouraged in my faith and for walking alongside other young adult Christians. I live in four-person household, with three households in total forming the community.
This support in my faith helps me as I serve as the Children's and Youth Ministry Coordinator at St Andrew's, Springfield and as an intern for Anglican Youth, Children and Families (AYCF), which is also based onsite at St Francis College.
I like that we are encouraged to stay actively involved with our home parishes and to worship in our own ways as we worship together.
In my AYCF role, my key focus at present is planning young adult worship nights, which we plan to kick off on 16 October and which will be held at different parishes across our Diocese. These evenings will involve praise and worship, a sermon on a specific theme and fellowship time to give participants a chance to meet other young adults. The worship nights are run by young adults but all young people are welcome.
As Community of the Way members are passionate about encouraging young people in their journeys with Jesus, we are very involved in AYCF Ichthus camps which are run during the school holidays throughout the year, and are coordinated by the Director of AYCF Erica Skerman.
To find out more about the AYCF worship nights to be held in parishes, please email anglican.youngadults@anglicanchurchsq.org.au or visit the AYCF website.
Jump to next article