Hundreds gather at St Francis College to explore the arts, faith and justice
Over 400 people gathered at the inaugural On Earth Fest at St Francis College on Saturday to celebrate the arts and faith, exploring how these intersect with justice, while raising over $2,100 for Anglican Board of Mission programs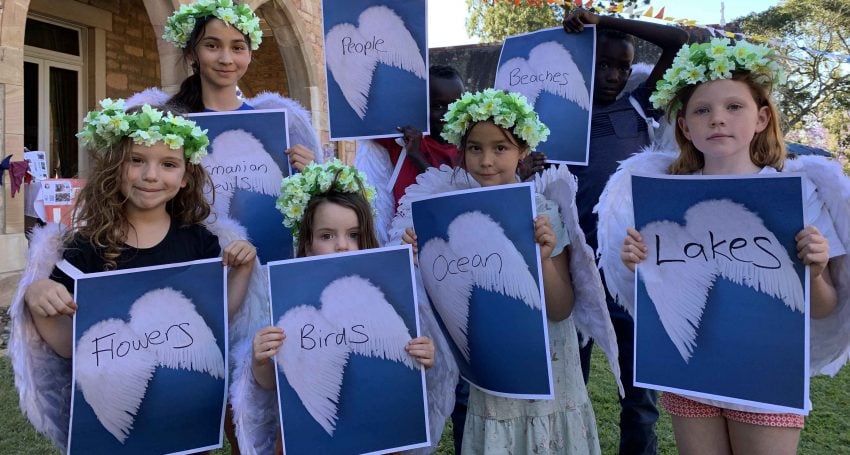 Over 400 people gathered at the inaugural On Earth Fest at St Francis College on Saturday to celebrate the arts and faith, exploring how these intersect with justice, while raising over $2,000 for Anglican Board of Mission programs.
The packed festival program included creative and interactive workshops, an eclectic line-up of performers, a Spirituality and Sustainability Forum, a stunning art exhibition, Tesla test drives and special kids' activities.
Workshop were held throughout the day, teaching festival goers practical skills, creative techniques and ancient knowledge.
These included Taizé contemplative singing, a sustainability-themed poetry workshop, vision boarding, First Nations dot painting, self-watering wicking bed demonstrations and a worm farming seminar.
Around half of festival participants, volunteers and attendees were children, youth and young adults, showing just how engaged our young people are in the Church.
Parish of Goodna community member Mamuor Kunpeter said that seeing his sons and other children so engaged made the day special for him.
"I was so pleased to see my kids interacting with other children," Mr Kunpeter said.
"My sons said they enjoyed painting, dressing as angels, meeting other kids and enjoying the music and food and drinks.
"I was also pleased to see South Sudanese Sunday School children from Yeronga Parish performing."
Baroona Farm volunteer and Christ Church, St Lucia parishioner Susan Carley dropped jaws with her extensive knowledge of 'worm tea' at the worm farm and composting workshop.
"Worm tea contains the enzyme chitinase, which, when applied as a foliage treatment, effectively repels soft-bodied insects," Ms Carley said.
"This is because the exoskeleton of these pests, such as lady bugs and grasshoppers, also contain chitinase and they instinctively know that worm tea will be harmful to their survival.
"It can dissolve an insect's exoskeleton, so once they detect it on a plant they move away.
"This offers gardeners a wonderful organic pesticide."
Seven children donned wings to form a host of Earth Guardians, each representing one of the world's seven continents.
They shared about what part of God's good creation they want to see most protected and why.
Lirio, 7, said, "I love the Great Barrier Reef because it has coral and sea animals, but not everyone is looking after the ocean. Plastic is making the animals in the ocean that I care for sick."
Emily, 9, said, "It is important to look after our lakes because fish live in them and because water birds live near lakes."
Amelie, 5, said, "We need to look after flowers for our bees."
Young Community of The Way member Stacey McCowan, who volunteered all day at the festival, said that she was impressed by the turnout.
"I was stationed at a check-in counter and so I saw how many people came along to enjoy the festivities and learn," Ms McCowan said.
"The highlight of the day for me was listening to the music from the check-in counter, and I especially enjoyed Franz James' music, which created a relaxing vibe during the evening, and Dolby System, who have a cool sound."
Over $2100 in ticket proceeds have been donated to the Anglican Board of Mission's adult literacy and sustainability programs.
Chair of the Diocesan Anglican Board of Mission (ABM) Committee The Rev'd Eron Perry expressed gratitude to both festival organisers and participants.
"A huge thankyou to all those who came along to the festival or were involved in some capacity," The Rev'd Perry said.
"Besides being part of a brilliant event, your contribution towards the people we support in Melanesia will have significant impacts on their quality of life for years to come."
Stall holders, representing ministries of our Diocese and wider faith community groups, spoke to festival participants about their justice work, gaining the support of people willing to assist with financial aid or time.
Stall holders included ABM, the BRASS Network, the contemplative Pace community, Angligreen, the Roscoe Library, the Franciscans, Common Grace and Tearfund, among many others.
Principal of St Francis College Bishop Jonathan Holland said he was impressed by the program's comprehensiveness and praised the dedicated festival organisers.
"There were a number of festival highlights for me," Bishop Holland said.
"Being taken for a Tesla test drive was super fun – I have now decided to buy a Tesla for my next car.
"I was very moved hearing the stories of the former refugees who spoke about their stories seeking safety.
"I congratulate Peter Branjerdporn from the Justice Unit and the volunteers who assisted him for the terrific event, which was good for energising us about sustainability, good for the Romero Centre's Refugee Art Group members who raised money for the centre by selling their work, good for St Francis College and good for the Anglican Church Southern Queensland."
Jump to next article