Anglican Board of Mission nurturing babies and mothers in Gaza hospital
An inspiring example is the partnership between Anglicans in Development and Ahli Arab Hospital in Gaza, particularly their child nutrition program. If you were at the hospital today, you might see a nurse in the paediatric unit named Hanan. She's weighing a baby girl named Manna, the pride and joy of her mum, Heba. In Gaza many babies are born underweight, which is why Heba has brought Manna to Ahli Arab Hospital," says ABM's Robert McLean, while inviting readers to ABM's national Lent appeal launch when Archbishop Hosam Naoum from Jerusalem will speak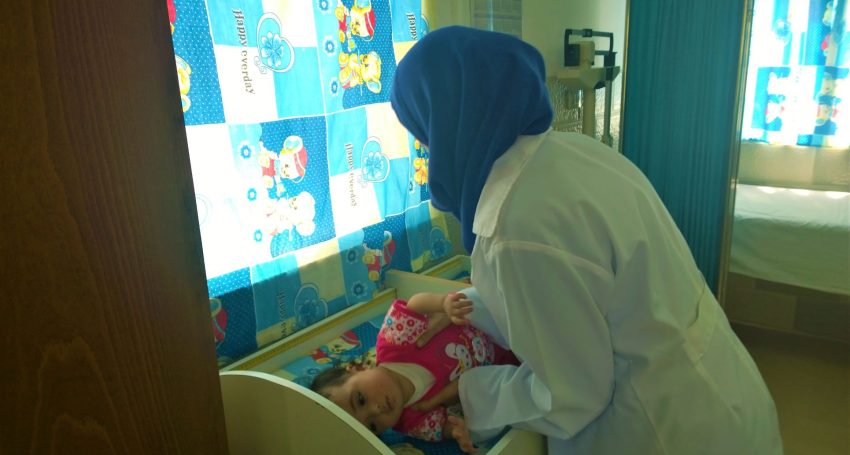 This Lent, Anglican Board of Mission's (ABM) appeal supports projects in our Sustainable Communities program.
ABM's Anglicans in Development (AID) Sustainable Communities program works with partners around the world to see communities transformed.
An inspiring example is the partnership between Anglicans in Development and Ahli Arab Hospital in Gaza, particularly their child nutrition program. If you were at the hospital today, you might see a nurse in the paediatric unit named Hanan. She's weighing a baby girl named Manna, the pride and joy of her mum, Heba. In Gaza many babies are born underweight, which is why Heba has brought Manna to Ahli Arab Hospital.
Despite being seen by other doctors and nurses before, Heba says that Manna "didn't improve". When she was six months old, Manna was enrolled in the hospital's child nutrition program and now, only a month later, she has already made progress. After four visits to the paediatric unit, Heba says that Manna is now doing well.
"Here at the Ahli, the nurse measured my child and gave me some advice, and now she has benefitted. I'm very happy," Heba said.
Heba says her daughter has now shifted from "severely" to "moderately" underweight. Little Manna's future now looks much brighter.
Nurse Hanan says that there are two key factors that help the babies to reach their goal weight – the mother's cooperation and being able to afford and access more nutritious food. It is tough buying nourishing food in Gaza, which is blighted by an illegal blockade. Many families have had refugee status since 1948 and rations provided to them are often high in calories, but low in nutrition.
The hospital teaches nutrition, encourages breastfeeding and keeps a close eye on the babies' progress. The mothers receive fortified biscuits and multivitamins to supplement the babies' regular diet. Eighty per cent of children who participate in the program improve. And, when they need more time, they can participate for a further three months, although vital funding is needed.
If you'd like to find out more about ABM's Lent and Good Friday Appeal and the Easter Gift Appeal, please join us for the national appeal launch via Zoom on Tuesday 1 March at 2.00pm Queensland time (3.00pm EST). Hosted by the Dean of Brisbane, The Very Rev'd Dr Peter Catt, we will hear from Archbishop Hosam Naoum from Jerusalem, Prime Bishop Brent Alawas from the Philippines, Bishop Keith Joseph from North Queensland and Torres Strait Islander Elder Aunty Dr Rose Elu.
To join the launch, please RSVP by Friday 25 February by emailing info@abmission.org.au or phoning 1300 302 663.
We look forward to seeing you online as we discover what God is doing in our world and how we can join in.
Jump to next article