"I want Australian Anglicans to know about West Papua"
"Human rights abuses of West Papuans by the Indonesian Government have gone on for so long that many people who were born since the Indonesian takeover are now grandparents. That's why West Papuan Australians like me need to speak up in support of the Pacific Elders and others who stand up for the rights of my people to live in peace, freedom and safety," says a former West Papuan refugee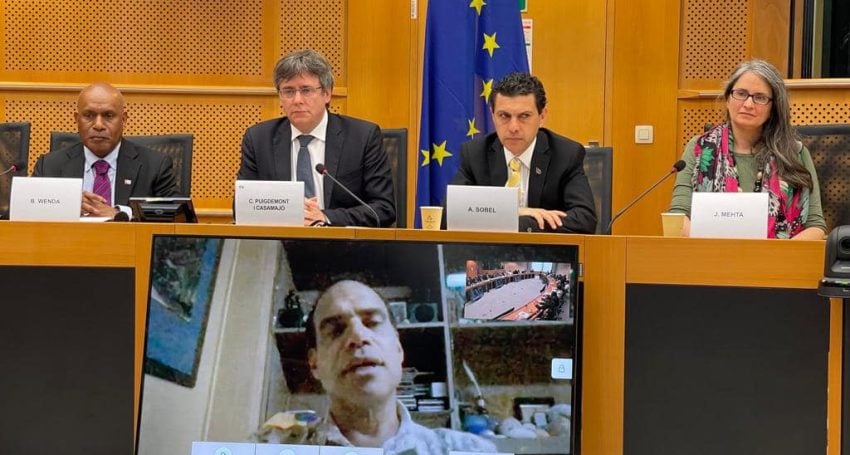 In February I shared with anglican focus readers about how I fled my homeland of West Papua for Australia many years ago. West Papua had become dangerous for me, so I spent many months building a canoe, praying and fasting, and planning my escape.
It is estimated that up to 500,000 Indigenous West Papuan men, women and children have died since the Indonesian takeover.
I know men and women West Papuans who have been abducted and tortured by the Indonesian authorities. Some of these people have been imprisoned, others were released without being charged and others managed to escape.
Independence leader, Christian and father Theys Eluay was abducted and killed by the Indonesian special forces in 2001 at the age of 64. He was a gifted community leader – able to bring West Papuans together – and therefore seen as a threat. People who knew him tell me that he was a humble visionary, hardworking and well respected, including in the international community.
I have also heard about women being raped by Indonesian soldiers because they bravely refused to divulge the whereabouts of their husbands, sons, brothers, fathers and grandfathers who are fighting for freedom and independence.
On 1 March 2022, three independent United Nations experts reported that:
"Between April and November 2021, we have received allegations indicating several instances of extrajudicial killings, including of young children, enforced disappearance, torture and inhuman treatment and the forced displacement of at least 5,000 indigenous Papuans by security forces."
I want Australian Anglicans to know about West Papua, to learn about what is happening to my people there and to talk about it. To keep my family in West Papua safe, I need to advocate for West Papuans anonymously. As part of my advocacy, I volunteer alongside other West Papuan supporters, and this involves keeping up to date with what Pacific leader allies do and say.
The Pacific Elders' Voice, which is a group comprising former heads of state, a former US congressperson and other well-known regional figures, recently issued an urgent call via an open letter for Indonesia to allow the United Nations into West Papua.
In their 21 April 2022 open letter to regional Pacific bodies the Elders expressed concern that "the human rights situation" in West Papua has "significantly deteriorated" in recent years.
This is a not a new call. In August 2019, Pacific leaders urged the United Nations to visit the region's "festering human rights sore".
The Indonesia Government agreed to allow the United Nations High Commissioner for Human Rights to visit West Papua in 2018. However, this visit has never materialised, prompting complaints from the United Nations.
More than 80 international states and the European Union Commission (which represents 27 countries) have since publicly called for the United Nations High Commissioner to be allowed into West Papua. However, Indonesia continues to block this visit.
One has to ask why the Indonesian government is blocking this request given their insistence that West Papuans are safe and that no human rights abuses are taking place. One also has to ask why Indonesia is blocking journalists from entering West Papua.
The Pacific Elders are calling on the international community to support their call for the United Nations High Commissioner to visit West Papua before the Group of 20 (G20) international economic leaders meet in November in Bali, so that a report may be prepared for consideration by the G20.
The human rights abuses in West Papua have been going on for decades. As a key Pacific leader, the Australian Government needs to do more to support West Papua, especially ahead of November's G20 gathering.
Human rights abuses of West Papuans by the Indonesian Government have gone on for so long that many people who were born since the Indonesian takeover are now grandparents. That's why West Papuan Australians like me need to speak up in support of the Pacific Elders and others who stand up for the rights of my people to live in peace, freedom and safety.
You can read the full Pacific Elders' letter online.
There are three things you can do to help West Papuans:
Pray for strength for West Papuan people – they are tired and scared and morale is low after being intimidated for so long.
As appropriate for your audience, show a TV report, a TEDx talk or a feature film / documentary to your congregation, students or ministry members, and discuss what you learn.
Contact the new Minister for Foreign Affairs, Senator the Hon Penny Wong via email or phone and/or email or phone your Federal Member of Parliament and ask them to support the Pacific Elders' call for the Indonesian Government to allow the United Nations High Commissioner for Human Rights to visit West Papua ahead of the November G20 meeting in Bali.
ACSQ Justice Unit note: The Justice Unit has asked anglican focus to cover the plight of West Papuans.
Jump to next article