From reluctant convert to active lay leader
"Regarding my various lay parish activities – it is vital to me that I feel as though I am contributing. I recall once hearing a cricket commentator say that 90 per cent of people can find the problems, but only about 10 per cent can come up with solutions and act on them. So I strive to be a part of the 10 per cent. Helping to provide alternatives for those seeking a spiritual home is highly rewarding and very enjoyable," says Adrian Gibb from St Thomas', Toowong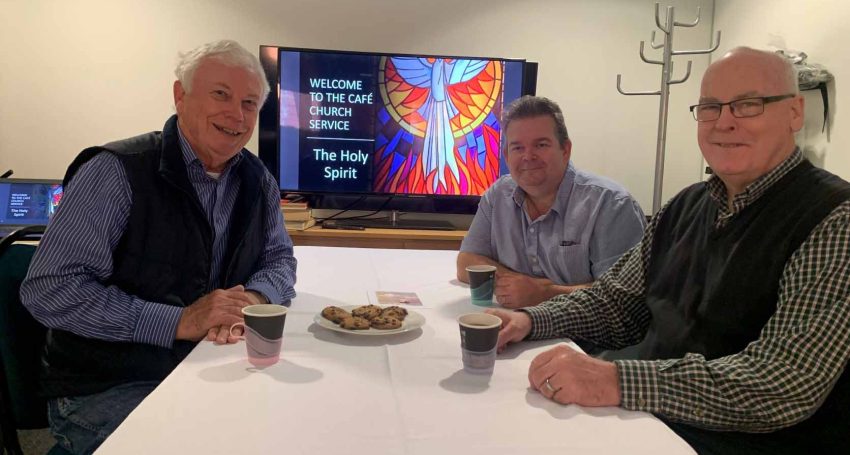 Story Timeline
Creating communities of care
My wife, Mary-Jane, and I had our son, Hamish, baptised at St Mark's Anglican Church, The Gap in 2005. This was chiefly because Hamish's godmother Elizabeth Hobman worshipped there. At the same time, Liz recommended that I attend an Alpha course that was being directed by the then rector, Canon Ron Bundy.
While I was baptised an Anglican and attended Sunday School as a child, I did not have any religion in my life at the time. It was Father Ron who really brought me to my faith. He did so through actions more than words. I had broken my ankle and he called me each day to ask if I needed anything and offered to pick me up and drive me to the Alpha sessions. When I struggled with parts of the New Testament, like the passages in Acts 5.1-11 about Ananias and his wife Sapphira, rather than wax lyrical with a theological monologue, Father Ron would helpfully say, "Adrian, Jesus wants a relationship with you. For now, don't sweat the small stuff!"
Then I was introduced to the mid-19th century allegorical painting The Light of the World by English artist William Holman Hunt. The painting depicts Jesus carrying a lamp outside as he is just about to knock on a long-unopened door overgrown with vegetation. I read an article in which the artist was asked why there was no handle on the door that Jesus was preparing to knock on. He replied that the door can only be opened from the other side. Opening the door to Jesus was the final step I needed to take – a kind of reasoned surrender. I took this step and have been a committed Anglican ever since.
Some years later I began worshipping at St Thomas', Toowong. In 2010 The Rev'd Tom Sullivan held a course on progressive Christianity in the parish centre. We got along immediately and I suggested that we create the group PAX (Progressive Anglican Christians), which could have a monthly guest speaker and discussion.
PAX is one of many lay ministries I am a part of at Toowong. As an outreach, the group is faith in action. Outreach is important to me because I want to do more than attend Sunday morning services.
While I am more than capable, as many at Toowong could attest to, of sitting and talking at length on things doctrinal or theological, my faith is very much a reflection of the three-legged stool of the Anglican via media (or middle way) – with scripture, tradition and reason all important.
CS Lewis, another reluctant Christian convert, is oft quoted as saying, "Regarding the debate about faith and works: It's like asking which blade in a pair of scissors is most important."
So I also feel compelled to contribute in practical ways – giving some of my time and energy to small groups and special services that bring people together in fellowship and worship.
This is why the small groups I lead and help coordinate are so special to me. As well as offering an opportunity for a different type of worship, and indeed, a different theological take on many matters, they enable The Parish of Toowong to be discovered. I can immediately bring to mind many current parishioners who found their way to the parish through PAX or our Café Church services, which we began in 2012. I can also think of others who were drawn by the special Taizé–style services that we regularly hold.
I feel my role within the parish is to try (in my own small way) to provide alternative pathways into the Church and to help give those already in the parish additional rich ways to worship.
PAX (Progressive Anglican Christians) was the first group I commenced with The Rev'd Tom Sullivan back in 2010. On the last Wednesday of each month we have a 5.30pm Eucharist service in the church, following which we move into the parish centre where we enjoy a shared meal. At around 7pm, a guest speaker presents and then we hold a Q&A time.
Over the years we have heard from incredible speakers. These include Muslim, Jewish (both Orthodox and Reform), Buddhist, Bahá'í, Sufi and Zoroastrian followers. We have also been blessed to hear from those of different denominations, including Roman Catholic, Orthodox, Baptist, Lutheran, Quaker and Liberal Catholic Church of Australia speakers, among others.
From within our own Diocese we have been privileged to welcome as guest speakers the late Canon Dr Nigel Leaves; The Very Rev'd Dr Peter Catt; former principal of St Francis College, The Rev'd Dr Steven Ogden; The Rev'd Dr Greg Jenks; Bishop Alison Taylor; Bishop Godfrey Fryar; Archbishop Philip Aspinall; and, members of the Society of the Sacred Advent, the Anglican Society of St Francis, and the Oratory of the Good Shepherd.
In 2014 Archbishop Phillip gave a comprehensive talk on Anglican Identity. His talk was used to develop a series of videos on the topic for the wider Diocese.
PAX is also a wonderful avenue for dispelling misconceptions, especially when we have inter-faith speakers. We do not try and convert them and they do not try and convert us. We gather together in fellowship, learning about peacemaking.
As part of a PAX outreach in 2019, a large day-long workshop titled 'Faith in Action' was held at St Thomas'. Bishop Jeremy Greaves spoke at this event, as did Roman Catholic Bishop Bill Morris. We also had a panel discussion and Q&A with The Rev'd Dr Ray Barraclough, The Rev'd Dr Cerri Wynne, The Ven. Tiffany Sparks, Denis Freeman (coordinator of the Centenary Suburbs PAX group) and a representative of the Uniting Church. This was a well-attended event and an effective parish outreach.
We also have an online presence as a Facebook Group, which I co-administer with Liturgical Assistant Joe Samson – the group has have over 100 members throughout the world.
Out of all the St Thomas', Toowong ministries I am involved in, I am especially proud of PAX.
Café Church began in 2012. On the second Saturday of each month we gather at the parish centre around a table and have an informal service, which includes songs, recitation of the Beatitudes, readings, the passing of the peace and a blessing from The Rev'd Tom to finish. Each service covers a key topic. The theme of our most recent Café Church service was the Holy Spirit because the Saturday service followed Pentecost Sunday.
Café Church was created to foster fellowship and informal worship. We hold the service on a Saturday, allowing an alternative for those who can't make Sunday mornings. We have people coming to Café Church who feel a part of the parish as much as those who attend Sunday morning services. Although some Café Church regulars also join in the Sunday service, which is another way that Café Church serves the parish.
Taizé–style services have been a feature of our parish since 2013. Parishioner Margaret Walker and I coordinate these special services, which are inspired by the famous French Taizé community chants. Margaret always plays the piano, and she is sometimes accompanied by a flute or a recorder. This year we made Taizé–style services a regular event, offering these every second month. During these services the church is candle-lit and the congregation joins in the melodic chanting. The feedback from these services is always positive, with many speaking of feeling a unique connection with God.
The Percy Collins Blanket Drive, named after a beloved late parishioner, was initially started by PAX in 2012. However, within a couple of years, it became a popular parish-wide event. Each May when the weather begins to cool, we collect as many blankets and warm clothing as we can and distribute these to various organisations that care for those suffering during the winter months. We also usually keep some blankets aside for the RSPCA.
I love being an Anglican, sincerely. I am very "high church" and I love the concept of the via media – the middle way, between Roman Catholicism and Protestantism. I am also proud to belong to a Diocese that embraces comprehensive Anglican identity and purpose.
Regarding my various lay parish activities – it is vital to me that I feel as though I am contributing. I recall once hearing a cricket commentator say that 90 per cent of people can find the problems, but only about 10 per cent can come up with solutions and act on them. So I strive to be a part of the 10 per cent.
Helping to provide alternatives for those seeking a spiritual home is highly rewarding and very enjoyable. And, my own spiritual foundations and knowledge have also deepened. I would like to thank The Rev'd Tom, fellow parishioners Margaret Walker and Joe Sampson, and all Parish of Toowong community members who have supported my faith and initiatives over the years.
10 outreach tips for lay leaders towards building flourishing faith communities
Talk with your parish priest and other lay leaders about your ideas to seek suggestions and insights and consider how your idea can be aligned with the parish's Mission Plan.
Start small and build organically – as more people get involved, then think about widening the initiative's scope/activities.
Offer an online option (such as a Facebook Group and Zoom alternative) so people unable to attend in person can still join in.
Keep the small group to regular days/times so it becomes part of the rhythm of people's lives and is easier for people to remember (e.g. last Saturday of the month at 10am).
Actively encourage parishioners to invite a person who isn't a parishioner to your small group/s and ask parishioners to bring them along to the first gathering.
Promote your group via your own channels with essential details and a clear call to action (e.g. social media, website and pew bulletin) as well as on other channels for wider reach (e.g. anglican focus, 'Wednesday Weekly', online and shop-front community noticeboards, local suburban magazines/newspapers, flyers).
Take quality photos of gatherings for posting on social media channels and future promotions (ensuring you have sensitively sought consent from those present).
Make involvement in small group initiatives free or 'via gold coin donation' – this is easier if the format is kept simple.
Welcome suggestions and increased involvement (e.g. assistance) from group participants so they feel both invested and included.
Ensure that people living with disability or impairments have easy access to parking, the building/space and the content (e.g. by reserving car parks, using microphones, enabling sound connection with hearing aids, using PowerPoint slides, and tactfully discussing people's individual needs with them, etc).
Jump to next article