Flinders students host first environment summit for Sunshine Coast Schools
Students with a passion for a greener, cleaner planet gathered for the inaugural Sunshine Coast Schools Environment Summit, which was recently hosted by Matthew Flinders Anglican College. The student-led summit was a great success, bringing together more than 40 like-minded, eco-conscious students from schools across the region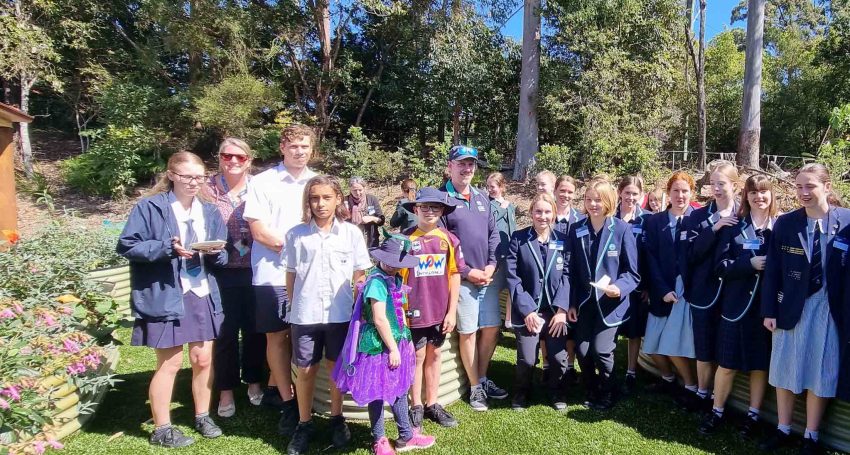 Students with a passion for a greener, cleaner planet gathered for the inaugural Sunshine Coast Schools Environment Summit, which was recently hosted by Matthew Flinders Anglican College.
The student-led summit was a great success, bringing together more than 40 like-minded, eco-conscious students from schools across the region to share ideas for more sustainable schools and communities to help protect the natural environment.
The summit was held on Tuesday, 23 August and involved students from Flinders, as well as visiting students and staff from Sunshine Coast Grammar School, Burnside State High School, St Andrew's Anglican College and Coolum Beach Christian College.
The event was held on campus at Flinders and hosted by the Flinders Environment Authority (FEA), a student-led co-curricular club with a mission to achieve net-zero emissions for the College.
The FEA also strives to help Flinders achieve long-term sustainability goals on campus, such as introducing charge points for electric vehicles and a whole-College recycling program, the removal of single-use plastics in lunch boxes and the tuckshops, and to promote educational awareness on major environmental concerns.
Summit attendees heard from guest speakers from Sea Shepherd Australia and the Sunshine Coast Council, as well as Old Flinderian James Linfoot (Class of 2015), who is an environmental engineer student at RMIT University in Melbourne.
Mr Linfoot shared his work researching mining impacts on the seafloor.
The program also involved activities, workshops and tours that highlighted exciting environmental projects the students, staff and community have been working on at Flinders over the years.
FEA Ambassadors Charlie McMahon and Abi Foster said it was great to see the next generation of environmentalists connecting with one another, actively contributing to the climate conversation.
"It was really good to meet students from different schools who are also passionate about the environment, and finding out what they are implementing, environment-wise in their own schools," Charlie said.
"A great idea we learnt from one school was to provide more opportunities for environmental elements in the curriculum.
"The presentations were super interesting and taught us about what our Sunshine Coast region is doing to make itself more environmentally sustainable, and how the effects of climate change will impact us on the coast in the future.
"On a personal level, the Summit has inspired me to aim to use less single-use plastics, and more reusable and sustainable materials when possible."
Summit sessions included a tour of the half-hectare Flinders Farm with Farmer Jeff to learn about the importance of growing food, composting and irrigation, and how future generations can mitigate damage to the climate using regenerative farming methods.
There was also a visit to the Flinders Primary School's Edible Garden Project to meet with the Senior Primary students and teacher Paul Anderson.
A showcase of the Flinders eBeast highlighted the student-led journey to upcycle an old diesel into an electric car of the future.
And, attendees went on the Flinders Eco Experience, a one-kilometre self-guided walk through the Flinders campus using "tree caching" technology to identify the amazing plant life and trees on the College property.
The Flinders Eco Experience was created in 2019 by FEA students, as well as staff and experts in the wider community.
FEA Ambassadors thanked all students, staff, guests and volunteers who contributed their time and expertise, and the attendees for a wonderful first summit event.
Flinders Secondary teacher Sheree Bell, who runs the FEA co-curricular club, said the event was an empowering opportunity for students who want to make a positive impact.
"Students who care about the environment are becoming increasingly aware that our world is under stress, and this awareness can often make them feel powerless," Mrs Bell said.
"The Sunshine Coast Schools Environment Summit provided our students with an opportunity to develop their ideas and learn new ideas from peers from other schools.
"It was also a chance to share the wonderful projects our club has been working on at Flinders over the past few years.
"The keynote speakers and guests shared their environmental passion projects and challenged our students to move past their comfort zones and get involved.
"The visiting schools were rightly inspired to return home and make a difference in their communities.
"They left with glowing praise for our students and the wonderful team at Flinders who made the summit possible."
Editor's note: For Season of Creation events between 1 September and 4 October, please keep an eye on the anglican focus Events page.
Jump to next article