To Moldova with love
"The local Moldovans were Christians from different denominations. Their willingness to risk their lives for fellow Moldovans and Ukrainian refugees set a new bar for servant leadership. I was also inspired by how they banded together despite their theological or liturgical differences to focus on what was important – caring for others," says Gold Coast nurse-paramedic and Christian Helen Zahos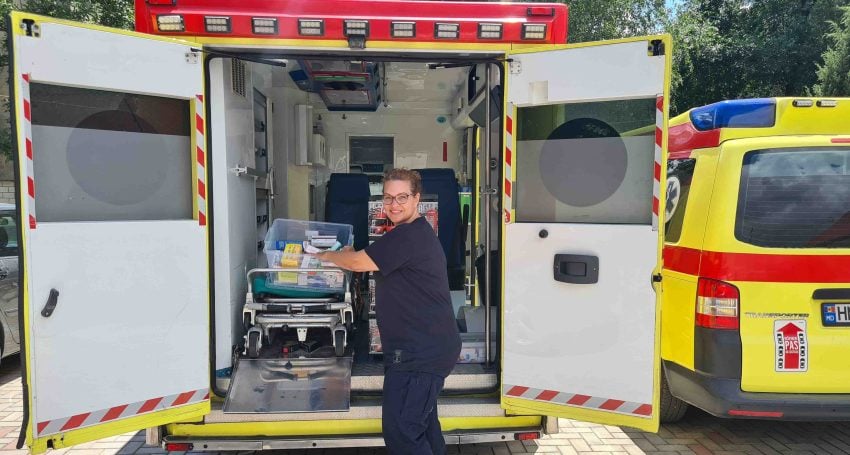 Early last month, I shared with anglican focus readers about my recent humanitarian trip to Ukraine. I have been a nurse-paramedic since the late 1990s. For the last 20 years I have volunteered internationally and locally during disasters and in conflict zones with hands-on clinical work and on-the-ground logistics and advice.
On my way to Ukraine, I was on a flight with the Prime Minister of Moldova, Natalia Gavrilița. We chatted for a few minutes on the airport tarmac. She asked me why I was travelling to Moldova. I explained that I was on my way to Ukraine to assist with a medical team and that I would be returning via Moldova to volunteer in a mobile medical clinic as a nurse. I showed her my empty hands saying that I did not have money to offer, but I had my hands and my skills. As she looked at me in response, she encouraged me by thanking me for being brave.
We hugged. I gave her a small koala toy as a gift, later getting word that she showed it to her parents that night. I was impressed to learn that Moldova has both a woman prime minister and a woman president.
After four weeks in Ukraine, where I volunteered near the frontlines, I returned to Moldova, staying for one week.
I was met at the border by a Moldovan medical team coordinator from the local Adventist church. She accompanied me to Cahul, a city in the country's south. The Republic of Moldova is the poorest country in Europe with its GDP per capita of just $3,300, compared to Australia's GDP per capita of $58,000.
I have seen poverty in different parts of the world, particularly in Majority World (developing) countries like Nepal, the Philippines and in Kenya. Because Moldova is on the path to being a European Union member, the level of hardship there shocked me.
The Moldovan roads are nearly undriveable for the potholes. There were widespread uncontrolled chronic health problems, especially diabetes and heart disease. There were also lot of long-term incomplete construction projects, which meant a housing crisis. You know you are in a poor country when the ATMs routinely run out of money.
Given the hardship there, it was incredibly heartwarming seeing Moldovans welcome Ukrainian refugees when they were struggling to provide for their own communities.
A local Christian woman spent hours daily cooking for our medical team. There is something special about breaking bread with people who have come from all over the world to help others. While Moldova may be a relatively poor country, it is very rich with the warmth and hospitality of its people.
Soon after my arrival, I was introduced to the rest of my team, including a doctor and a nurse – both volunteers from Australia who were doing incredible work.
We cared for both local and refugee patients at a mobile clinic, getting medical histories and observations, such as temperature, blood pressure and blood sugar. Patients then had a consultation with the doctor and given medication. We set up clinics in various locations daily.
On our day off when the clinic was closed, the Australian doctor, nurse and I visited 15 refugee families who were being housed in dormitory-style accommodation. The Australian volunteers had fundraised ahead of the trip and took the families to the shops where they could buy what they needed.
The families fled Ukraine without their fathers and adult brothers because men were unable to leave the country – they were expected to fight on the frontlines. The children were clearly traumatised. Their mums were trying to live as normal a life as possible – keeping a routine of daily chores and duties.
Initially it was expected that I would be solely assisting at the clinics; however, the medical team coordinator kept seeking me out to take me to city hall, so I could meet with the mayor and the deputy mayor.
During these meetings, we chatted about what I had witnessed in Ukraine, including what worked and did not work in the bomb shelters. One of the major medical problems experienced in Ukrainian bomb shelters were outbreaks of hepatitis and cholera due to a lack of clean drinking water, as people sheltered there for months.
I prepared lists for the Cahul authorities, so they knew what to stock their planned city-wide bomb shelters with. This list included water, warm bedding, hygiene packs, nappies, dry food, powdered milk, generators, satellite phones, and so on.
Once compiled, I emailed the list to the deputy mayor. I knew that many of the items on the list would be unaffordable for Moldova – so I pray that a benefactor is able to offer help with funding and purchasing the items needed.
We also discussed disaster planning. At the time, a Russian invasion of Moldova was considered imminent. We looked at the town plans, so make-shift hospitals could be set up in case the main hospital was bombed.
There were some incredibly frank conversations with the city authorities about their safety. They had the option of leaving and seeking safety, but they chose to stay to care for the local people and the refugees even though they knew that a hostile takeover could happen at any time. The situation has remained the same, with invasion still a strong possibility.
I was having dinner at the home of a Moldovan family one night. Over a glass of homemade wine, the husband showed me his ID, which indicated that he had fought in a conflict against Russia. He said to me, "If Russia comes, they will come for me. They will also come for my wife because she is helping Ukrainian refugees. But we won't leave. We will stay."
Being Greek Orthodox, I joined Orthodox locals in their Sunday services. It was comforting being able to follow what was said, even though the services were given in Romanian. There was something really special about their hymns – the choir was flawless and the congregation's singing was next level. Their unity came through in their singing.
The local Moldovans were Christians from different denominations. Their willingness to risk their lives for fellow Moldovans and Ukrainian refugees set a new bar for servant leadership. I was also inspired by how they banded together despite their theological or liturgical differences to focus on what was important – caring for others.
I remain in contact with my new Moldovan friends. I worry about what the future holds for them with the conflict so close. I ask you to join me in prayer for them and for the Russian invasion of Ukraine to be over soon.
Jump to next article