St Hilda's Day centenary celebrated with unveiling of innovative precinct
St Hilda's School unveiled its new state-of-the-art environmentally sustainable Junior School building recently while celebrating St Hilda's Day and the 100th anniversary of the school's Old Girls' Association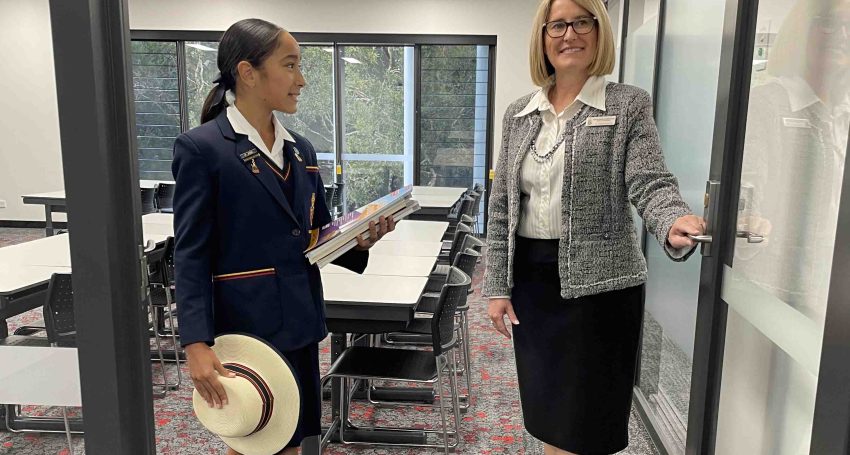 St Hilda's School unveiled its new state-of-the-art environmentally sustainable Junior School building recently while celebrating St Hilda's Day and the 100th anniversary of the school's Old Girls' Association.
The new $8 million building breathes new life into the Junior School, offering a vibrant, modern learning centre for 217 students in Years 4 to 6 before they progress into senior school.
As part of annual St Hilda's Day celebrations, members of the Old Girls' Association were invited back to the school to meet students, other alumni and faculty, and to see how the facilities have transformed.
St Hilda's School Head of Junior School Amanda Shuttlewood said she was excited to showcase the new Junior School building on what was a momentous occasion for the school and community.
"Our new Junior School building will offer an elevated, state-of-the-art learning centre that students will be able to enjoy for decades to come," Mrs Shuttlewood said.
"St Hilda's is continually seeking ways to innovate with the evolving needs of our students. We recognised the need for classrooms that catered to our modern learning environment, and the previous buildings that this project replaced were at the end of their lifespan.
"Giving old and new girls a first-look of the new Junior School building on St Hilda's Day, the same day that we're celebrating a century of our Old Girls' Association, was very fitting."
The architecturally designed Junior School building, built by Gold Coast-based construction company Altran, offers natural light-filled spaces with glass walls, providing an optimal learning environment for students.
The building has been designed with environmental sustainability at the forefront, featuring solar panels, recycled materials for carpet and flooring, and pre-conditioning and heat exchange for optimal air-conditioning efficiency.
Junior School Student Representative Council Captain Hannah Baird said that she is thrilled by the building's environmental benefits.
"Caring for the environment is important because we need to conserve our ecosystem for future generations," Hannah said.
"The Earth is warming and becoming more polluted.
"Earth is unique – there is no other planet like it and it is our home.
"If we care for nature then nature will care for us.
"If we pollute our water sources, we will be the ones who lack clean water.
"If we cut down too many trees for short-term goals, we will endure global warming.
"So I was excited to hear about the eco-friendly aspects of the new building; for example, the classrooms have sensor lights, which conserves energy because the lights are not turned on when people are not in the room.
The Junior School building has recently opened to students, with an official opening in the first half of 2023.
Hannah said that she especially enjoys using the flexible learning areas and connecting with other Year 6 classes.
"Every level of the new building has a large flexible learning area in the centre, so the three classrooms can collaborate more often because of the spacious area that accommodates the whole grade," she said.
"Once a week our cohort has enrichment time when we work with the other classes on a project.
"We recently finished in Enrichment our Wakakirri festival production.
"We created a story dance that complied with the theme "Rise".
Many lessons were spent creating sets and learning our dance leading up to the Wakakirri Showcase.
Jump to next article