What is your favourite Gospel of Matthew passage and why?
Four priests from across our Diocese tell us about their favourite passage from the Gospel of Matthew, including Bishop Jeremy Greaves, The Rev'd Ms Melissa Conway, The Rev'd Canon Bruce Boase and The Rev'd Canon Dr Jim McPherson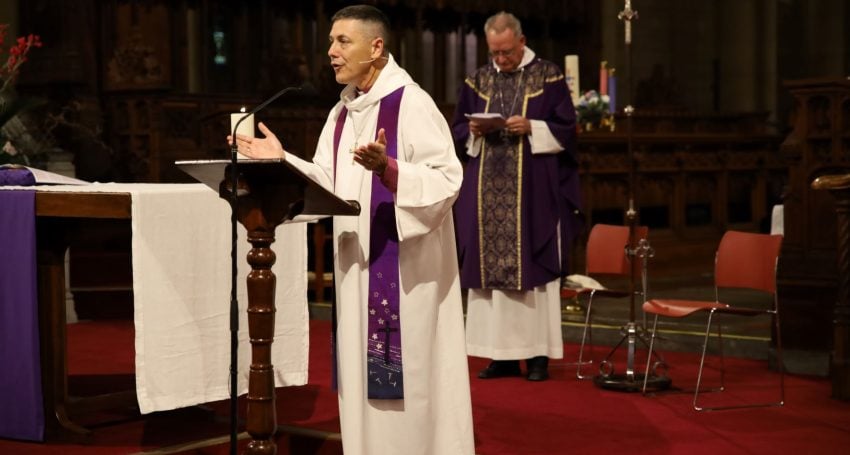 Four priests from across our Diocese tell us about their favourite passage from the Gospel of Matthew, which is the primary Gospel read on Sundays during Year A of the Lectionary cycle.
Bishop Jeremy Greaves – Bishop for the Northern Region
There are plenty of riches to be found in the Gospel according to Matthew and I am tempted to include one of the parables in my list of "favourites". However, my favourite passage from Matthew comes right at the beginning and it is those 17 verses that make up Matthew's genealogy of Jesus. In the King James Version of the Bible it is all those "begats": "Abraham begat Isaac; and Isaac begat Jacob; and Jacob begat Judas and his brethren"… and so on.
It is my favourite passage because it contains some wonderful surprises. It is a passage that gets left out of the Lectionary readings for Christmas, but rewards us if we take a bit of time to notice just who is included. Especially, we might notice the "four shady ladies" (as some have called them) listed amongst all of the men in Jesus' family tree: Tamar, Rahab, Ruth and Bathsheba.
Now my family tree has some interesting branches, but Matthew wants us to know that Jesus' family tree includes an incestuous relationship between Judah and Tamar, a sex worker named Rahab, an act of seduction on the part of an outsider named Ruth and an act of adultery that culminated in an act of murder in the life of Bathsheba, the wife of Uriah the Hittite. No wonder we do not read this passage to all the visitors in church for Christmas services. Otherwise we would have to give the Christmas services an MA15+ rating.
The 17 verses that include incest and prostitution, and seduction and adultery, and murder as part of the story of Jesus says to me that even these things cannot get in the way of God's love for the world. Matthew seems to be suggesting that no matter what you have done or what has been done to you, and no matter what you have been, the love of God can bring transformation and holiness and wholeness out of whatever mess we might find ourselves in. The love of God in Christ Jesus takes all of the stuff of our lives – the good, the messy, the ugly – and can transform it for good. And that is a pretty good starting point from which to hear the good news according to Matthew.
The Rev'd Ms Melissa Conway – Assistant Priest, St Anne's, Highfields
"And he said to them, 'Therefore every scribe who has been trained for the kingdom of heaven is like the master of a household who brings out of his treasure what is new and what is old.'" (Matthew 13.52)
Matthew chapter 13 is full of parables – stories that Jesus uses to illustrate the nature of God's kingdom, or sometimes to contrast God's kingdom with the way our world often works. After two short parables about finding treasures (44-46), Jesus turns his attention to what gets kept and what gets thrown away. Verse 52 reminds us that we have treasures already stored up. And that more importantly, we have both old and new treasures.
These are my favourite verses from Matthew because they remind me of two important things.
Often the treasure that we seek is already in our possession. Conversely, seeking externally to meet an inner yearning is often unsatisfying or of fleeting value. The advertising industry manipulates our inner yearnings to an extreme, so that it seems that what we deeply desire, such as love, belonging and acceptance, can be obtained through possessions and experiences that do not directly address that inner longing.
Secondly, the treasures are both new and old. From the moment we are conceived it is inevitable that we will be subjected to or faced with change. There is a balance to be struck between retaining that which continues to serve us – our values and God's kingdom – and adopting new things that will enhance our lives, faith and worship. Tradition needs to be balanced with growth and change.
These verses remind me that Jesus of Nazareth sees and understands our intrinsic worth as treasured children of God. At the same time, Jesus urges us towards continued growth, change and renewal so that we can be more fully who we are called to be.
The Rev'd Canon Bruce Boase – Priest-in-Charge, The Parish of Green Hills
There are so many passages in the Gospel of Matthew that I could have chosen. This particular passage from Matthew 18.1-5 takes me back to my childhood:
"At that time the disciples came to Jesus and asked, 'Who is the greatest in the Kingdom of Heaven?' He called a child, whom he put among them, and said, 'Truly I tell you, unless you change and become like children, you will never enter the Kingdom of Heaven. Whoever becomes humble like this child is the greatest in the Kingdom of Heaven. Whoever welcomes one such child in my name welcomes me.'"
On the wall of the old church, where I attended Sunday School as a child, was a picture of a small child. The child is the baby Jesus. He is sitting with a lion and a lamb, which is another story. It is the child that stirs my memory because of what Jesus says to his disciples in this passage. To get to heaven you must become like a child.
The child whom Jesus chose at random may or may not have been known to the disciples, but was and is known to Jesus – and chosen by him. All those listening to Jesus would have had a certain vision of greatness. In Biblical times, children would not have been part of that vision. But Jesus made it so. Suddenly the world was turned upside down and now the last shall be first and the first shall be last.
The Rev'd Canon Dr Jim McPherson – PTO, The Parish of Coolum
Matthew's Gospel opens the Christian Canon because it wonderfully bridges Jesus' own religious heritage to which he was controversially and unswervingly, if unconventionally, faithful.
I really connect with the Sermon on the Mount. It is steeped in history and the eloquent, though often unheeded, ministries of God's faithful prophets. Jesus shows in his sermon how penetrating some of the Jewish laws really are, and then tightens the screws. I am in awe of his penetrating insights. It is not enough to avoid physically committing adultery because nurturing the desire in your heart is just as sinful. Loving your neighbour is good sense and prudent insurance, but loving your enemy? Praying for those who persecute you? This is what love and grace require.
Jesus' sermon adds even further depth and complexity to the extraordinary character of his humanity. In it Jesus is in sage mode: that is, one whose religious wisdom sees deeply into the ways of everyday life, into our human foibles and conceits. We also see Jesus' own personal joy in God's creation: "Consider the lilies of the field…" (6.28).
In popular thinking, I suspect many people think of the Sermon as a guide to good living in a nominally Christian society, a sort of Jesus moral update of the "Moses Big 10". I find it tougher than that. The Beatitudes thoroughly subvert our everyday of transactions, fulfilment and self-promotion. The rest of the sermon fleshes out the detail, so that the everyday may be deeply graced.
Every day.
Editor's note: If you are a member of the ACSQ community and you would like to share about your favourite scripture in anglican focus, please contact the Editor, Michelle McDonald, via focus@anglicanchurchsq.org.au for more information. 
Jump to next article