Archbishop Phillip Aspinall: Cathedral farewell address
"It has been a unique privilege to have been called to serve in this office, but I am very conscious of the enormous number of people alongside whom I have served and whom I count as valued colleagues, friends and co-workers," said Archbishop Phillip Aspinall before laying up his pastoral staff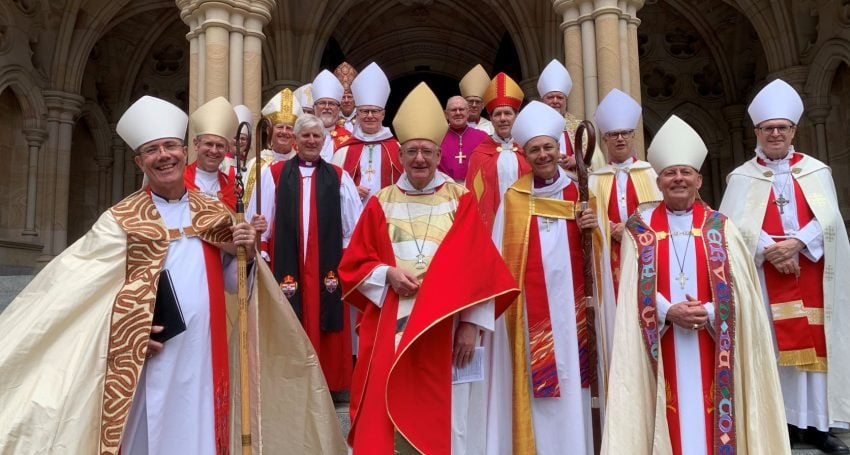 Justice Mullins and Archbishop Mark, thank you for the kindness and generosity in what you have said. I deeply appreciate your remarks.
No doubt you are well aware of the aphorism "All's well that ends well". You might not be as familiar with the way in which Anglican dioceses have adapted it to mark the departure of a diocesan bishop: "All's well that ends!"
Having reached my end, the one thing I want to say this afternoon as I effectively conclude my time as Archbishop of Brisbane is "Thank you".
It has been a unique privilege to have been called to serve in this office, but I am very conscious of the enormous number of people alongside whom I have served and whom I count as valued colleagues, friends and co-workers.
It is indeed a great cloud of witnesses and impossible to mention each by name.
I am indebted to the hundreds of clergy who have served during my time here, and among them the many I have had the privilege to ordain. Deacons and priests and bishops, active and retired, honorary and stipendiary. Alongside clergy, thousands of faithful lay people have given generously of themselves to forward Christ's mission in this diocese, province and beyond. And, I have greatly appreciated the religious communities that enrich the life of the diocese, particularly the Society of the Sacred Advent and the Society of St Francis. This vast team of clergy, lay people and religious have been very ably supported by the Parishes and other Mission Agencies Commission, not least in dealing with more and more complex compliance obligations. Thank you.
Clergy and laity alike have served faithfully and sacrificially on Synod, on the Diocesan Council and on the Commissions, all of which have exercised prudent governance of a diverse and complex array of organisations. Thank you.
We can be justly proud of the services provided to those in need in our communities through Anglicare Southern Queensland. I acknowledge the dedication and commitment of the thousands of staff and volunteers. Thank you.
Equally we can be proud of our schools and the heads, chaplains, staff, councils and boards who make them such effective agents for good in our society. Thank you.
Over the years we have been blessed with more and more expert teams supporting the wider mission of the Church: teams in finance, IT, organisational development, property, professional standards, abuse response and redress, media, and more. These people have enhanced all our efforts to set forward Christ's kingdom in what have been increasingly demanding and challenging circumstances. Thank you.
Preparing, forming and supporting people to lead through these changing times is a particularly demanding area of ministry. I acknowledge with great gratitude the efforts of those who have worked at St Francis' Theological College, the broader Ministry Education Commission teams, those who have carried the load of vocational discernment and formation, including examining chaplains. Thank you.
Over 21 years, I have rejoiced in friendships with ecumenical colleagues in Brisbane and throughout Queensland and beyond. We face similar issues and share many opportunities to further the work of the kingdom and I rejoice that we do that together with deepening understanding and trust, one of the other.
There is a smaller group upon whom I have relied personally from day to day. I have been wonderfully supported over 21 years by two Executive Assistants and five Chaplains, currently Ann Joseph and Howard Munro.
I have relied very heavily on the expertise and skill of successive General Managers, none more so than the current GM Mr Tim Read, whose legal and governance acuity has been so valuable together with his encyclopaedic knowledge of the diocese and its history. I acknowledge him and his team in the Registry and GM's office.
In some difficult times I have been tremendously supported by the Chancellor, Her Honour Justice Debra Mullins AO, President of the Queensland Court of Appeal, His Honour Justice David Thomas and prior to his appointment as Governor of Queensland, The Honourable Paul de Jersey AC CVO, Chancellor Emeritus and former Chief Justice of Queensland, and Mr Bill Anderssen.
I have been privileged to work with wonderful episcopal colleagues over the years, within Brisbane, more broadly in the province and in the national church. Without exception they have been prayerful, committed to the Church and Christ's mission and courageous. Through occasional visits of episcopal colleagues from other parts of Australia and the Anglican Communion, here in Brisbane we have been reminded that it is in fact quite a rare thing for bishops to work closely with each other, week by week, in an episcopal team. Having trusted colleagues who at once support you, challenge you and hold you accountable makes a world of difference to bishops themselves and, I think, benefits enormously those whom the bishops are called serve. I thank those bishops, one and all.
We gather in this Cathedral from far and wide, representatives of the vast diocesan family, we are here for this joyful ordination of deacons and priests. We are very mindful of the significant ministry of the Cathedral under the Dean's leadership and his team of musicians, organisers, pastoral staff, liturgists, guides, stewards and volunteers of all sorts. Thank you for your work today and always.
Last, but by no means least, I acknowledge and thank Christa. Christa has exercised a wonderful ministry in her own right, especially among clergy spouses, families and children, for which I am also grateful. Christa has also wonderfully supported me, especially through some difficult and dark days. She has also generously, and usually gently and kindly, pointed out a significant number of my blind spots, imminent mistakes and past errors, which has benefited us all. I publicly record my deep appreciation for Christa's unshakeable support and steadfast love over all our time here.
I am as conscious as you are of my shortcomings. It is self-evident, I suppose, that no bishop can satisfy all the expectations, hopes and aspirations of others. Inevitably there are misunderstandings, errors of judgement and human failings of all sorts that cause disappointments and hurts. I pray that we all might know the grace of overflowing forgiveness as this chapter closes and the power of the new life and renewal that God gives as another begins.
I am grateful that this farewell takes place in the context of the diocesan ordination service. A bishop has no greater or more profound responsibility than to send our workers into the Lord's vineyard. That I have the privilege to do so again today puts our focus firmly where it should be; not on me, but on the Missio Dei. Each of us is called to play a small part in the unfolding of God's purposes in the world God loves and saves. Be assured of my prayers for you all as together we take the next steps in that holy vocation we all share.
Jump to next article