Tile artisan honours family tradition of religious respect in Jerusalem
In 1919, three Armenian families – the Balian, Karakeshian, and Ohanessian families – were brought to Jerusalem by Sir Ronald Henry Amherst Storrs, then military governor of Jerusalem, to renovate the 16th century tiles at the Dome of the Rock in Al-Aqsa Mosque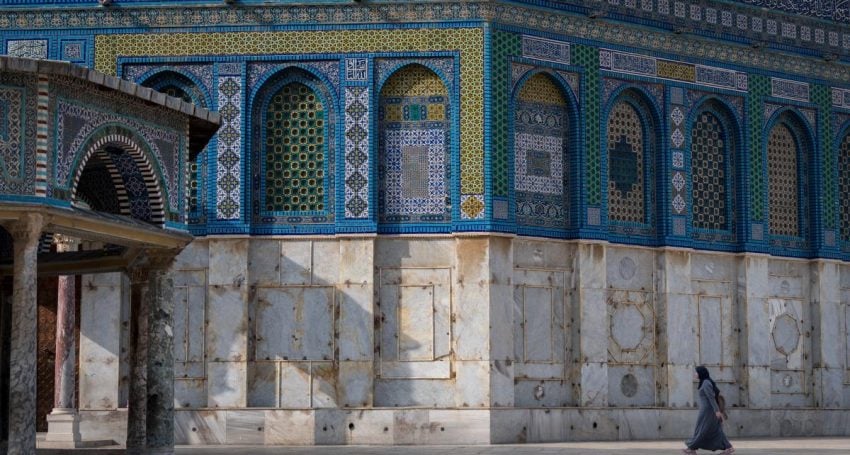 In 1919 three Armenian families – the Balian, Karakeshian, and Ohanessian families – were brought to Jerusalem by Sir Ronald Henry Amherst Storrs, then military governor of Jerusalem, to renovate the 16th century tiles at the Dome of the Rock in Al-Aqsa Mosque.
In those days, the artisan families came from the city of Katahia, Turkey. Today, Nishan Balian, the third generation of his family, continues to craft ceramic tiles in Jerusalem, carrying the same name as his grandfather. He took time to reflect on how he sees his work as part of his family's tradition of building bridges between religions.
"I am proud that Armenian Christians renovated the beautiful tiles that we see even until this day," said Balian, the artisan behind beautiful ceramic tiles we see not only in Jerusalem, but in France and other locations.
He recalled the Balian family's context decades ago.
"People lived together in harmony across religions," he said.
"The story of my family gives a beautiful example that religions can live together and produce beautiful art."
The art, he believes, transcends the divide between people and between religions.
"My family's connection to the Dome of the Rock renovation is a great honor; we are famous in Jerusalem because of that," he said.
"Today I do ceramic tiles for synagogues; mosques in Qatar and Dubai; and churches through the world including in Jerusalem, France, and elsewhere."
Geometric decorations and tiles in mosques hold a special place in the hearts of many Muslim communities, because paintings of human beings are not accepted. As early as the ninth century, tiles were used to decorate mosques, holy shrines, palaces, graves, and religious colleges. Today, decorative tiles are a tradition, and the Dome of the Rock is especially important – it is revered by Muslims as the spot from which the prophet Muhammad ascended to heaven.
The tradition of religious respect – grounded with creativity – that began with Balian's grandfather lives on. But Balian is concerned about recent divisions and expressions of hatred.
"Unfortunately, things are not what they used to be, and today I see a divide in Jerusalem – but it is a political one," he said.
"I do not characterize the tension as a religious conflict."
Regardless, he said, the divide is growing, and Jerusalem is not what he used to know 40 years ago.
"There is no longer that pluralistic touch that characterized Jerusalem for centuries and made it unique around the world," he said.
First published on the World Council of Churches website on 11 January 2023. 
Jump to next article