Banyo's new red bench blessed
"It is important for St Oswald's Church to increase domestic and family violence awareness as part of our parish's Mission Action Plan. This plan helps Banyo parishioners implement our commitment to challenging violence, particularly violence within families," says The Parish of Banyo's Elizabeth Nunn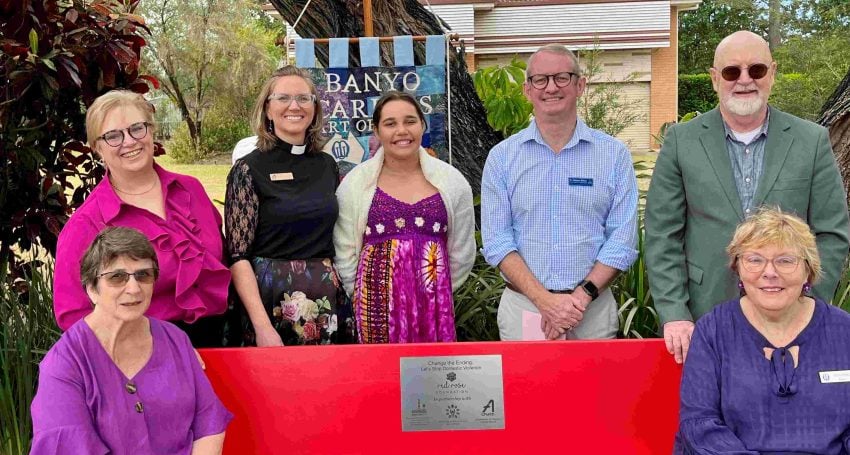 The idea for our parish to install a red bench came about a few years ago when Tania Felstead of the Red Rose Foundation spoke about the project at the Mothers Union annual general meeting.
Mothers Union supports families in all their forms to eliminate gender-based violence and abuse. This is aligned with our Diocese's Mark of Mission: "to seek to transform unjust structures of society, to challenge violence of every kind and pursue peace and reconciliation".
The bench was installed in May 2023 at St Oswald's Anglican Church in Banyo. Those involved with its installation include Mothers Union Banyo members, Northgate Ward Councillor Adam Allan, Anglican parishioners and The Rev'd Elizabeth Donald-McConnell who blessed the bench.
Its purchase was enabled through a Lord Mayor's Community Fund contribution, as well as fundraising by St Oswald's parishioners and Mothers Union members. The Community Fund supports projects that build stronger communities in Brisbane. St Oswald's quarterly fundraising Twilight Market draws crowds from across Brisbane. As well as an increasing number of local stall holders, St Oswald's and Mothers Union Banyo sell a huge range of home-baked goods and an enormous variety of craft items. Parishioners also run our popular barbeque at the markets.
After the Annual General Meeting for Mothers Union, Banyo members kept in touch with Tania Felstead. In recent years we discussed with her the possibility of installing a red bench. Tania organised Dr Brian Sullivan, who is a Red Rose Foundation director and a senior lecturer for the Central Queensland University's Domestic and Family Violence Practice Program, to speak about the Red Rose Foundation at the bench's installation commemoration.
It is important for St Oswald's Church to increase domestic and family violence awareness as part of our parish's Mission Action Plan. This plan helps Banyo parishioners implement our commitment to challenging violence, particularly violence within families.
As part of St Oswald's community outreach, we have a fortnightly craft group gathering. Community members are invited to drop in for a cuppa and conversation. This is one way in which we raise awareness of domestic and family violence and assist those at risk.
And, in November/December, the parish will again support the United Nations' 16 Days of Activism Against Gender-Based Violence —  #Nomore1in3 —  by displaying our church banner in the local park. The craft group will also "yarn bomb" a tree with brightly coloured knitted and crocheted hearts.
Many community members attended our red bench installation commemoration, which began with a lovely Acknowledgement of Country by young parishioner Jaara Wright. Jaara told us that she and her mother, Larissa, wrote the words especially for our event. Jaara is a secondary student at a local school and has been a St Oswald's parishioner since she was a pre-schooler, first attending services with her grandmother, Frances. Jaara's family are part of the Mununjali people of the Yugambeh language group from the Beaudesert area.
The launch created interest from the business people who lease our parish hall, as well as from others on Facebook. It has also sparked conversation and a wonderfully positive response from the wider community.
We are now developing domestic and family violence information resources for people at risk needing assistance. This information will be displayed on the bench and on the church's veranda.
Note from Jenny Clark, ACSQ Domestic and Family Violence Project Officer: The Anglican Church Southern Queensland (ACSQ) is committed to the rollout of the Ten Commitments as our Church's response to domestic and family violence. This includes encouraging links with local support services.
The following 24/7 telephone services have a long track record responding to people experiencing domestic and family violence:
DV Connect 1800 811 811 helps Queenslanders wanting leave an abusive relationship.
1800RESPECT is a national service providing information, referrals, and counselling.
If you, or the person you are assisting, are in immediate danger please call the Police on 000.
Jump to next article