LUMINOUS Lantern Parade fun and festivities
Our Diocesan community recently joined in the LUMINOUS Lantern Parade fun. Find out the lantern parade highlights of three participants, including The Rev'd Samuel Dow from Baroona Farm, Walters Nkemfack from the Queensland Community Alliance and Khai Balabbo from Anglicare Southern Queensland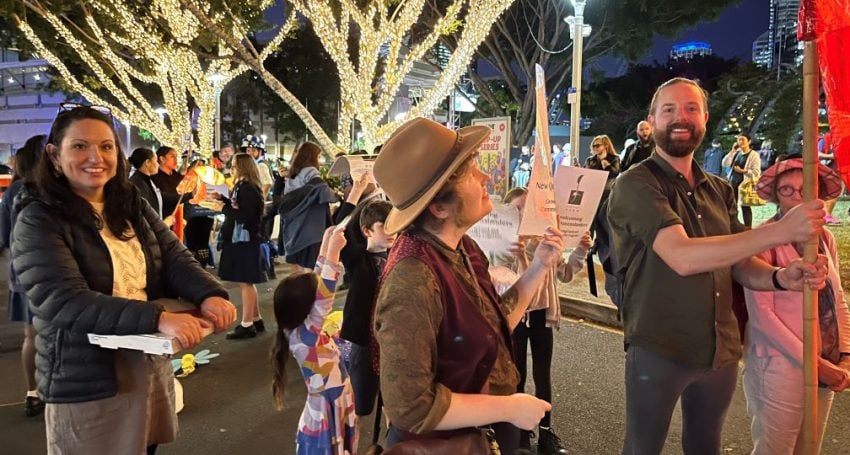 Our Diocesan community recently joined in the LUMINOUS Lantern Parade fun. Now in its 16th year, the iconic LUMINOUS is one of Queensland's largest welcome events, capturing the imagination of Queenslanders with its spectacular use of light to symbolise hope and create welcome for new Queenslanders. Find out the lantern parade highlights of three participants, including The Rev'd Samuel Dow from Baroona Farm, Walters Nkemfack from the Queensland Community Alliance and Khai Balabbo from Anglicare Southern Queensland.
The Rev'd Samuel Dow — Manager, Baroona Farm
This year was the first time Baroona Farm took part in the LUMINOUS Lantern Parade. There were many highlights for us, including the process of creating our giant chili lantern in the week prior. Our chili lantern's size and colour caused many people to stop and look, particularly as we walked it from St Francis College, down Park Road in Milton and then on the ferry to South Bank! In the parade while marching through the crowds you could hear an echo of young and old alike excitedly calling out, "Chili!"
It is important for us to be a part of the Lantern parade so we visibly show that our community is a safe place of welcome and hospitality and where other cultures are affirmed and celebrated. Baroona Farm stands in solidarity with refugees and people seeking asylum who are among our most nutritionally vulnerable. From this culturally diverse people, our community is enriched by a shared learning of cultures and the food that they eat, including what fruits, vegetables and herbs are important to them. These conversations then inform what we grow at the farm, especially because such produce is either unavailable in most shops or is cost prohibitive for those on little to no income.
For this reason, Baroona Farm is continuing to build multicultural relationships and partnerships in Brisbane and its surrounds. Currently we have working relationships with Multicultural Australia, the Romero Centre and Communify. We are always looking to expand these partnerships so that more new Queenslanders will know of us and find, a place of welcome and hospitality where "the hungry are fed".
Baroona Farm is currently building 42 new garden beds to add to the 77 already constructed. As our scale grows we will be requiring more volunteers to help run the farm.
If you are able to help at our working bees, they are held twice a month on the first Friday and the third Saturday, starting at 8.30am. The pattern and dates of working bees occasionally change, so please check our Facebook or Instagram pages for updates.
Walters Nkemfack — Multicultural Organiser, Queensland Community Alliance
The highlight of the parade for me was seeing the faces of the kids light up as we walked by carrying our platypus lantern. It was also great seeing two young girls and their mother join our contingent in an unplanned way — their mum, who was from the Gold Coast, asked us to explain what the referendum is about to her daughters. Her girls then decided to join in, donning black t-shirts with "yes" written in Aboriginal flag colours and carrying signs. While I was handing out a flyer to two parents, their young-looking child, whom I didn't know was 18, asked for a flyer, saying that this is the first time she is voting and that she is writing "yes".
I am a Queensland Community Alliance Organiser working predominantly in the multicultural space. I am connected to the Anglican Church Southern Queensland (ACSQ) because the ACSQ's Social Responsibilities Committee is a member of the Alliance. It's important for my organisation to join in events like the LUMINOUS Parade because it expresses and celebrates the richness of our multiculturalism.
I am currently organising Yes23 Cups — football (soccer) tournaments — to engage and educate people across Southern Queensland about the referendum. This is the fifth social tournament I have organised. I held the last one during this year's Harmony Week — 100 players and 400 other community members turned up. People from all different backgrounds join in or form a team. The Sunshine Coast Yes23 Cup will be held on Sunday 2 July at Kawana Football Club — we are expecting 120 players and more than 1,000 locals to join in the free family-friendly day, including kids' activities, dancing, live music, painting and a barbeque. There will also be a similar Yes23 Cup event (likely in late September) in Toowoomba. The ACSQ is assisting with volunteering and planning, and I am very grateful for their support.
anglican focus readers are warmly invited to come along with their family and friends and join in the fun.
Khai Balabbo — Multicultural Facilitator and HR Advisor, Anglicare Southern Queensland
The highlight of the LUMINOUS event for me was seeing all the kids getting excited and pointing at all the lanterns. It's nice to see how their parents are supportive of multiculturalism and show their kids the importance of diversity.
Diversity, Equity, Inclusion and Belonging are core themes embedded in Anglicare Southern Queensland's organisational culture and values. In our organisation, we're touching the lives of thousands of Queenslanders every year whose cultures and heritages are marked by diversity and richness, but also often with hardship and difficulty. Participating in the LUMINOUS Lantern Parade is an opportunity to show our commitment to a more inclusive and loving community for all.
The Multicultural Program has been part of Anglicare Southern Queensland for over 14 years. Through the Sector Support and Development funding by the Department of Health and Aged Care, we provide diversity and inclusion activities to help support and develop Commonwealth-subsidised Queensland aged care services to deliver culturally responsive and inclusive service delivery for consumers and staff from culturally and linguistically diverse (CALD) backgrounds.
This year, we have launched various free resources and training for aged care providers to help them develop their inclusive leadership skills and promote inclusive services for clients.
Jump to next article