Q&A with ACSQ Wellbeing and Development Officer, mum, former Sunday School teacher and Swizzle Stick sherbet fan, Rebecca McLean
Meet Rebecca McLean and find out about her current projects and activities, personal faith journey, secret skill, favourite hymn and what scent makes her nostalgic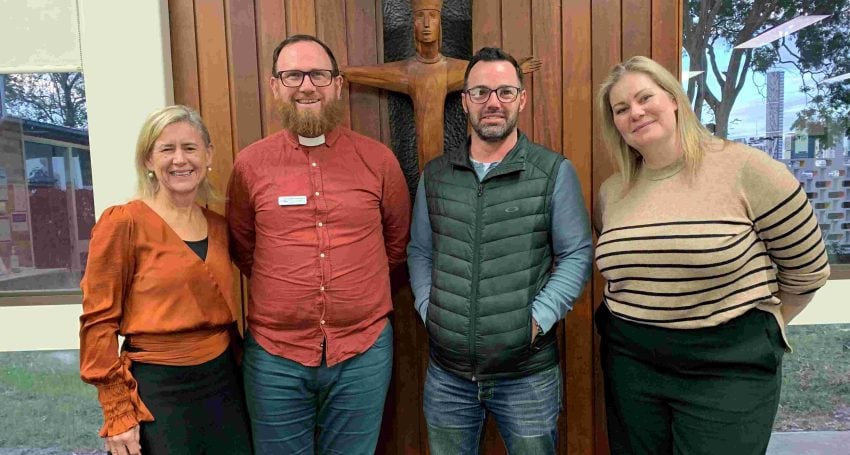 How long have you been involved in the Anglican Church and in what roles?
In mid-2021 I re-joined the Anglican Church Southern Queensland to serve as the Wellbeing and Development Officer in the Parishes and other Mission Agencies Commission. I previously worked for a year as the Human Resources Client Relationship Manager for the Anglican Church Southern Queensland.
What is your current ACSQ role and how does this role contribute to the Church's mission?
My role was created by the Parishes and other Mission Agencies Commission in response to Royal Commission recommendations in the areas of professional supervision, ministry reviews and clergy professional development. My focus is on ensuring that clergy feel more supported, connected and resourced. I am currently based in the Regional Bishops' office organisationally.
What has been one of the highlights of your time as Wellbeing and Development Officer so far?
I get really excited about making things easier for clergy and forming connections with them. I really enjoy the small wins as much as the big ones. Both small and big wins are built on conversations with clergy. I get a kick out of helping priests and deacons – it's what I turn up to work for. For example, I recently assisted a priest over the phone who needed help identifying a professional supervisor. We talked through criteria, including what he wanted and what he didn't want, and I offered suggestions for him based on his responses. He said he was glad that he called me and is keen to debrief with me once he starts contacting potential supervisors.
What projects and activities are you currently working on?
I am currently developing our annual clergy wellbeing survey for 2023; organising Mental Health First Aid training across all three Regions; assisting individual clergy with identifying a professional supervisor that is the best fit for them; and, consulting with clergy about ministry review program next steps. I have also begun discussions with St Francis College clergy, Regional Bishops and other clergy on a professional development framework with a plan to develop and curate a variety of resources and clergy development opportunities to offer students, deacons and clergy, from the formation stage to retirement.
Can you tell us a little about your personal faith journey?
My faith has always been an important part of my life. I enjoyed being a Sunday School teacher. I fondly remember my confirmation day when I was 17 years old. As a mother, I now have conversations with my girls about God. At the moment, I am helping my six-year-old grapple with her God questions, including why bad things happen to good people and why God lets big animals eat little animals.
What is your hymn and why?
'Amazing Grace' is a special song in my family. It's played at nearly every wedding and funeral. My mum recently said to me, "Make sure 'Amazing Grace' is played at my funeral." My uncle and my dad, who are of Irish heritage, both play the bagpipes. A pivotal moment for me was hearing 'Amazing Grace' being played by a piper at a family funeral when I was 10.
What person of faith inspires you the most and why?
My previous minister, The Rev'd John Gilmore, was a minister in my teen years and the one who confirmed me. He also presided over my wedding. In our marriage prep, he was really down to earth and practical and cared about us as a couple. More than a decade after I was married, and having since moved interstate, he still checks in with me and asks how I am going.
What are the primary strengths of the Anglican Church and what is the best way to make the most of these for the benefit of our communities?
One of the many things I really appreciate about the Anglican Church is the openness and the acceptance of different people from different walks of life. The best way to make the most of this strength is continuing to open doors for people to participate in formal and informal structures, from Diocesan Synod and committees to unsolicited feedback.
Why is the Uluru Statement From the Heart, including the Voice to Parliament, so important?
The Uluru Statement From the Heart is an important step forward for Australia. It is an opportunity to create a more just and equitable society for all Australians.
Why is it important for Christians to celebrate NAIDOC Week?
I think it's important for all to look beyond their beliefs to learn about and celebrate Aboriginal and Torres Strait Islander cultures.
What makes you nostalgic and why?
Lots of things make me nostalgic, including going through photos of my girls when they were babies and reading old letters. Scented felt pens remind me of all those colouring in comps I won – I was a pro colourer-inerer!
What is the kindest gesture you have ever received or witnessed?
When I was 16 my 24-year-old brother invited me on his annual K'gari (Fraser Island) trip with his friends. It was storming one night and I remember him getting up in the middle of the night to place an extra tarp over my tent so I would stay dry and comfortable. I think small thoughtful gestures speak volumes.
If you are having a bad day, what do you do to cheer yourself up?
At the moment, eating Double Dip Swizzle Sticks, which is a kind of sherbet, takes me back to my childhood and puts the spring back in my step.
What is your secret skill?
Balancing teaspoons on my eyes.
What is the best piece of advice you have ever received and who gave you this advice?
My husband, Brad, gently and helpfully reminds me not to sweat the small stuff when I worry too much about what others think. His advice has sunk in so well over the years that I don't worry so much anymore.
What do you do in your free time to recharge and relax?
As a busy mum of young kids I don't get much free time these days and so I find driving to and from work listening to my favourite album of the moment really enjoyable.
If you found yourself on a deserted island, what three things would you choose to have with you?
My family, a shower and hot chips.
Where do you do your best thinking?
In the shower – it's my singing and thinking time. I write anything critical that has to be done throughout the day on the back of my hand and while I'm taking my nightly shower, I check to see what tasks have been completed and scrub those off my hand, leaving the items that need to be completed.
What's your best childhood memory?
Anytime I swam. I always ensured there were togs in the car so that I was Girl-Scout-ready if a chance to swim came up.
What's your unanswerable question – the question you are always asking yourself?
When can I find more time to read?
Editor's note: The next Mental Health First Aid courses will be held at:
St James', Toowoomba on Wednesday 12 to Thursday 13 July (Western Region).
St Francis College, Milton on 26 to 27 September, and pending interest a further date to be added.  
Register your interest online now. 
Jump to next article