St Hilda's Visual Art students showcase work at QAGOMA for Creative Generation Excellence Awards
St Hilda's School 2022 graduates Issy Hacon and Saskia Billson were recently selected for the Creative Generation Excellence Awards in Visual Art, with their work exhibited at the prestigious Queensland Art Gallery | Gallery of Modern Art (QAGOMA). Find out more about visual art education at St Hilda's and the experience of having work exhibited at QAGOMA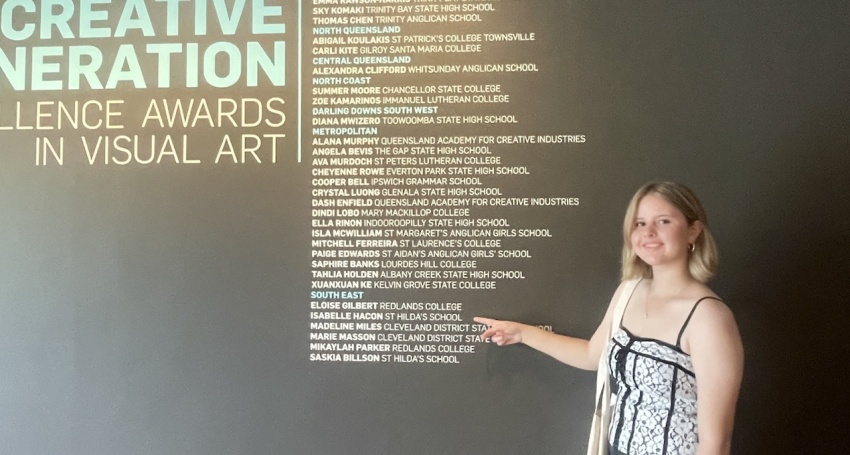 Ebony Horn — Head of Faculty, Visual Arts, St Hilda's School
At St Hilda's we aim to support the girls by developing units of work that are broad, both conceptually and in media use. By the time the students get to their Year 11 subject selection, they have engaged with a wide range of media types (printmaking, oil painting, assemblage sculpture) and covered a range of conceptual pathways within their practice. 
We are very fortunate at St Hilda's to have access to resources that we do, which is certainly a factor in the quality of work that gets produced here. In addition to this, the staff that work within the department are highly skilled and generally have been practising artists themselves and with their expertise and guidance, the students are well supported to hone their skills and create work of a high standard. 
My advice for younger students keen to pursue the visual arts is to follow your passions and practise them often. So often students think that they are not good at art when it is a skill like anything else; the more you practise, the better you will be. The wonderful thing about visual art is that you develop so many other important skills that are transferable across any subject and if you enjoy it, you will succeed at it. 
Creative Generation Excellence Awards in Visual Art is such an important program for the arts because it gives students an opportunity to exhibit their artworks and gain real-world experience that they wouldn't otherwise get. It also gives the younger students something to look forward to and strive for when creating their final bodies of work in senior schooling. The prestige around the Awards is great for attracting interest and pushing students to want to create innovative and engaging artwork. 
Issy Hacon — 2022 Graduate, St Hilda's School
I think the St Hilda's art program is of really high quality and has helped me adjust to the academic and industry standards I'm navigating right now in the beginning of my contemporary art studies. This and the opportunities to be a part of exhibitions such as Home of the Arts (HOTA) Energies and Creative Generation at QAGOMA have been significant highlights of my time at St Hilda's. 
Exhibiting at GOMA has been a pretty surreal experience. Just having the opportunity to showcase my work in a space that sees so much traffic at such a young age makes me want to work harder and continue to develop my ideas and practices. So far, the feedback towards my work has been really positive and reassured me that visual arts is something I need to pursue, but I know that I definitely have to continue to explore and mature going forward in my career. 
The advice I would give to art students is to not treat it like a class — treat it as an opportunity to create what you want or to work through complex ideas or feelings using a creative outlet. Most classes you take in school have subject matter that is not often up for interpretation; it's either right or wrong, but art is the opposite of that and allows for a freedom not often found during the school day. 
In terms of my future plans, I haven't got a plan for my artistic practice so far. I think it's something that you have to let play out and go with the flow. I just know that whatever I do, it will be creative in nature and even if I don't become a practicing artist in the future I have already proved to myself that I'm capable of creating interesting and unique work that can engage an audience. 
Saskia Billson — 2022 Graduate, St Hilda's School
Taking visual art at St Hilda's has given me the opportunity to focus on ideas and issues that are significant to me, allowing me to explore and develop my passions. My visual art teachers have encouraged me, extended me and supported me in exploring new techniques, mediums and concepts with a highlight being the many artists workshops that we participated in, in our art space. 
It has been an absolute honour to be exhibited at QAGOMA this year. I am delighted with the positive feedback from viewers who were intrigued by the printing processes that I used to achieve the intricate details in my work. I enjoyed listening and watching as viewers of my work extract their own meanings from the forms they see in these prints. 
The greatest advice I could give to other art students is to not be afraid to branch out and explore different mediums. Allow yourself time to experiment with all sorts of techniques because you will be surprised what you discover. Look open mindedly at other artists and learn from them. I have found that artists can be very generous with their knowledge, so make contact where you can. Finally, dedicate time to the subject; the more you immerse yourself, the more you will gain. 
In terms of my future plans, there will always be time for art both recreationally and as part of my career as it is very important to me. I am choosing to study a Bachelor of Landscape Architecture, which ties together my creativity, artistic skills, love of the natural world and science. 
Jump to next article