Clear message as WCC celebrates 75 years: "Trust your young people"
As the World Council of Churches (WCC) celebrated its 75 anniversary, the voices of young people rang out with hope, joy—and some pointed messages for their ecumenical family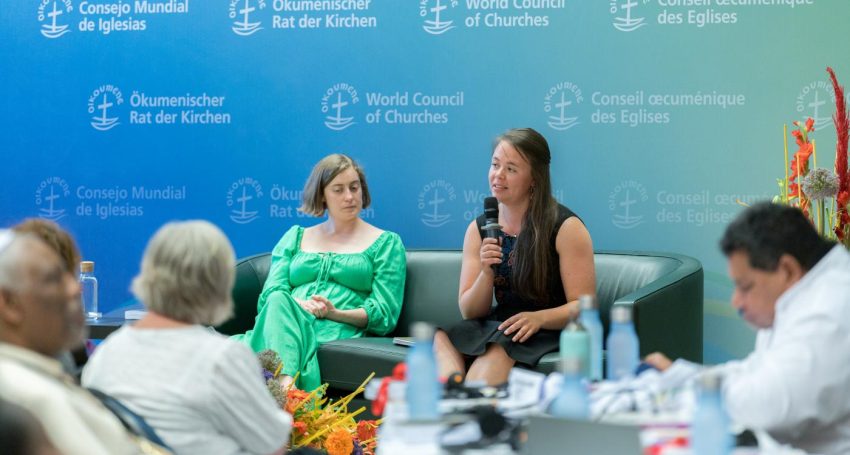 As the World Council of Churches (WCC) celebrated its 75 anniversary, the voices of young people rang out with hope, joy—and some pointed messages for their ecumenical family.
Miriam Weibye, from Church of Scotland and a member of the WCC central committee, related her history with the WCC, which dates back to the WCC 10th Assembly in Busan, South Korea in 2013.
Weibye asked everyone present who had either been a youth delegate or a steward at a WCC assembly to please stand for recognition, acknowledging that each of them have their own stories.
When asked what message she wanted to share with the 75-year-old WCC, she said: "Trust your young people. We have skills—and if you nurture those skills we will still be here when we're not young people anymore."
She added: "I often say I have one foot in the Church of Scotland. My head and heart are in the ecumenical movement."
Julia Rensberg, who served as a delegate of the Church of Sweden at the WCC 11th Assembly in 2022, and is also a representative of the Sami Council within the Swedish Church, spoke as both a young and Indigenous person. "We need to unite as a church globally to help us survive this climate crisis," she said. "The planet is hotter than ever."
She added that the best way for her to celebrate anything is to be at one with nature. "We need to help God protect nature and all that's living to keep the biodiversity," she said.
Brian Muyunga, from the Anglican Church in Kenya, co-hosted the celebration discussion, saying: "I'd like to just express a wish."
His wish is to be present when the WCC turns 100 years old, and even longer into the future, he said, adding that addressing the climate emergency is essential to realising his wish.
First published on the World Council of Churches website on 27 June 2023.
Jump to next article