Pass it on before you pass on
"The motto of the Allora Men's Shed is 'Pass it on before you pass on'. I appreciate their characteristic rural matter-of-factness and generosity. Their motto recognises the value of what people bring to the group and that everyone has something to share with others — some expertise or genius to offer," says The Rev'd Matthew Skelton from The Parish of Allora-Clifton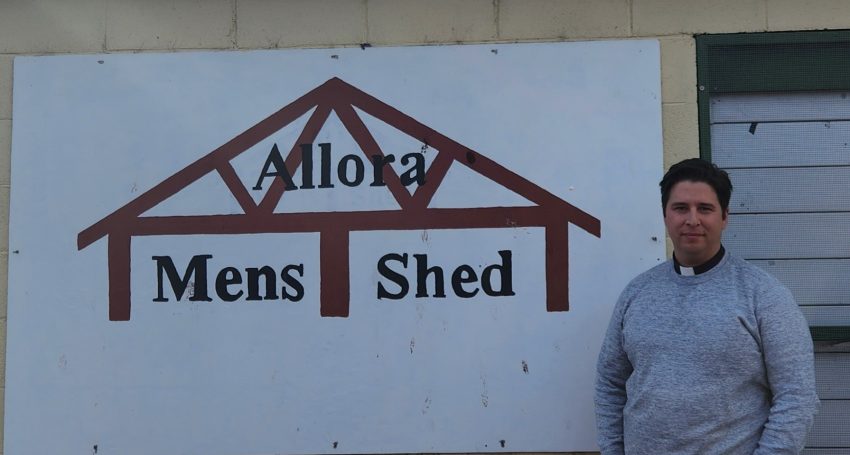 The Allora Men's Shed is based in a former cattle auction office. It would be considered a medium-sized shed in most parts of our state. But, it's small for out here.
You can see the Dalrymple Creek from the shed. Dalrymple Creek is one of the headwaters of the Condamine River, which flows into the Darling and then Murray Rivers.
On one side of the shed is the town. On the other side is farming land. The shed is only a few hundred metres from the church. Allora is very small, so everything in town is close. Although, for a little country town of only 1,200 people, it bustles during the week. It's sometimes hard to find a park.
The shed has 20-25 regular members. They are mostly retired locals. Some are former farmers, while others are former tradespeople or bank managers. They hail from Allora, Warwick and Goomburra.
My first interaction with the Men's Shed was when the steel frame of my BBQ broke and a parishioner shed member organised for it to be welded back together. A few members of the church go along.
I've been gathering with the men's shed members weekly since the start of the year. They meet three times a week — on Tuesdays, Thursday and Saturdays between 8.30am and 12.30pm. I join them for their Thursday morning tea at 10 o'clock.
Knowing I am the local priest, during one of my first gatherings, one of the guys asked sort of jokingly in front of other shed members, "Have you come to convert us all?"
"I have just come for a coffee and a chat," I replied quite amused.
This part of my ministry is about listening and learning. Some of the guys are lonely, while some are connected in with family and the community. The Men's Shed has been a great way for me to get to know both parishioners who are also shed members and the wider community better.
Some of the guys talk about their concerns for the future — for the world and for the local community. They often chat about the removal of services and the associated impacts — like banks leaving, the dentist shutting up shop, the lack of doctors, and the shortage of essential medical equipment.
They also talk about the rising cost of living, including the cost of medical care and the price of food staples like bread, milk and eggs. The cheapest home brand two-litre bottle of milk costs $5. They say that they miss bulk billing in the local medical centre.
Some share that they feel that small towns like Allora are being sidelined, compared to bigger towns like Warwick and Stanthorpe, following local Council amalgamations.
They are trying to rope me into projects and are close to winning me over. I have no tradie skills, but they are very happy to teach me.
The motto of the Allora Men's Shed is "Pass it on before you pass on". I appreciate their characteristic rural matter-of-factness and generosity. Their motto recognises the value of what people bring to the group and that everyone has something to share with others — some expertise or genius to offer.
Many of them participate because they have some sort of woodwork, welding or gardening skill. They come along and teach these skills to others. Others go along just to share their time.
Wooden pallets are chopped into kindling or turned into chicken coops, which help fund the shed. Furniture is restored. And, raised garden beds are tended to. The shed's website says that:
"Allora Men's Shed is a friendly place for men to gather for mateship and support in our community…All men are welcome to come along and have a chat, a cuppa and a look at what we get up to. The main aim is to improve the general health and wellbeing of members by having an input in the community and each other, and a bit of fun."
The men form deep attachments to each other. When a men's shed patron, also a parishioner, had to move into a Toowoomba aged care home due to his physical needs, the group really grieved his moving on.
The shed is registered with the Australian Men's Shed Association, which was established in 2007 by a collection of Australian independent community-based Men's Sheds to represent, support and promote the Men's Shed movement.
I look forward to keeping anglican focus readers posted about the skills I learn.
Editor's note: The Bush Ministry Fund solely funds rural ministry in our Diocese, and it is the only fund that financially supports rural ministry in our Diocese. The Bush Ministry Fund money boxes are a fun and easy way for individuals, families, parishes and schools to donate to bush ministry in our Diocese. Order your BMF money box today by emailing Helen Briffa in the Western Region office via helen.briffa@anglicanchurchsq.org.au or by calling 07 4639 1875.
Jump to next article