Fair for people, fair for planet: resources for Fairtrade Fortnight 2023
"Fairtrade makes sense. If you're struggling to feed your family, then planting trees and farming sustainably won't be your top priorities. By supporting farmers and their communities by buying Fairtrade, your purchasing choices help to fix the problem of poverty so that everything else, including a more sustainable environment, follows," says John Martin from Resource Church The Parish of Robina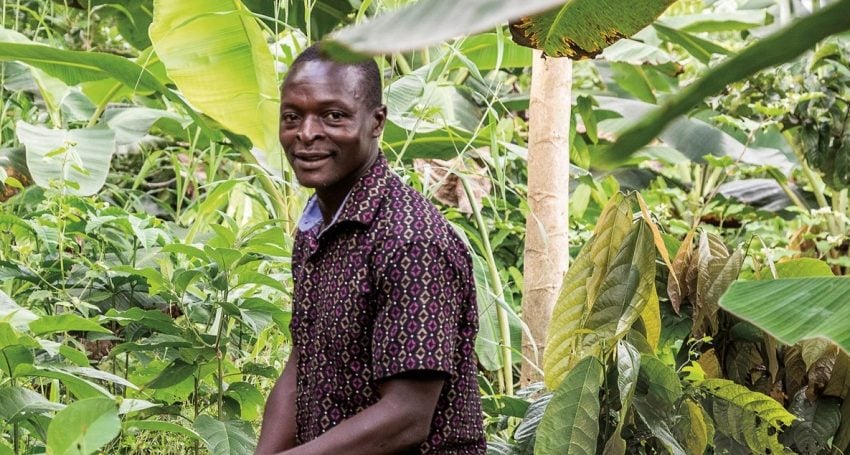 Sadick Abanga is a 39-year-old Fairtrade cocoa farmer from Ghana. Sadick farms nine acres of land for cocoa. He's been doing this for 18 years and it's getting increasingly difficult due to the damaged climate. Part of his farm lies high on a steep, rocky hillside, which is unfriendly terrain for cocoa plants. Sadick is surrounding his farm with shade trees. This is a technique he learned through an agro-forestry project training farmers how to adapt to a damaged climate by improving soil, planting for shade and attracting biodiversity.
Sadick was able to join the project because he is part of a Fairtrade co-operative. As well as ensuring that farmers and their workers are paid a living wage, Fairtrade certification enables farmers to afford participating in projects like this, implement measures to adapt to the changing climate and improve soil health and biodiversity.
Fairtrade Fortnight is an annual celebration of all things Fairtrade, led by Fairtrade Australia and New Zealand. Fairtrade Fortnight will be held on Wednesday 2 August to Tuesday 15 August this year. The 2023 theme is "Fair for people, fair for planet". It's the biggest event in the Australian Fairtrade calendar when people talk about how Fairtrade is a gamechanger for both people and the planet.
Fairtrade makes sense. If you're struggling to feed your family, then planting trees and farming sustainably won't be your top priorities. By supporting farmers and their communities by buying Fairtrade, your purchasing choices help to fix the problem of poverty so that everything else, including a more sustainable environment, follows.
In the slums of Bangladesh, the Fairtrade-certified company Prokritee supports thousands of families by turning waste saris, paper and discarded cotton from clothing factories into bags, baskets and ornaments. When Prokritee staff saw their water-ways blocked up by water hyacinth, they turned the problem into an income-generating solution by collecting the water hyacinth, using the pulp to make paper and the dry stems to weave baskets. The Leprosy Mission and Australia-based Fair Go Trading stock Pokritee's products.
Fairtrade also views slavery and associated human rights abuses, such as trafficking, as totally unacceptable, and thus Fairtrade tends to engage in sectors where these abuses are prevalent. Poverty is a key cause of these kinds of exploitation. By choosing Fairtrade, slavery and trafficking are also reduced.
Check out the below ideas and resources for this year's Fairtrade Fortnight 2-15 August celebration:
1. Share on social media this brief 2.5 minute Fairtrade Australia and New Zealand introductory video explaining Fairtrade, including its benefits.
2. Check out these Fairtrade Fortnight toolkits, including stories, social media tiles and text, and farmers' stories.
3. Show an episode from the Farmers video series, featuring Roberto, an organic banana farmer from Peru; Caroline, a coffee farmer from Kenya; and, Ponisih, a coconut sugar farmer from Indonesia.
4. Hold a Fairtrade Fortnight morning/afternoon tea, using this Fairtrade Australia and New Zealand product finder so you know where to shop for your morning/afternoon tea supplies.
5. Write your own intercessory prayers or adapt the following prayers for your services.
Fairtrade Fortnight 2023 Prayers
We pray for the people of Fairtrade:
For farmers, garment workers and artisans.
For people who process, package and transport.
And for people who sell and buy Fairtrade products.
Fair for people, fair for planet
We thank you for the world-wide Fairtrade movement.
It is putting your good creation, including farmers and producers, first.
We thank you for the surge in upcycling waste and organic farming.
Fair for people, fair for planet
Lord, we acknowledge that all communities depend on clean rivers, healthy soil and sustainable use of natural resources.
We thank you that these things keep people alive, making their economies and societies thrive.
Fair for people, fair for planet
Lord, you commanded us to love you and to love our neighbour.
Help us to see how Fairtrade enables us to love our neighbours in distant places,
To love those whose efforts deliver products to our homes, workplaces and meal tables.
Help us to see that we can change this world one purchase at a time.
Fair for people, fair for planet
Amen
Editor's notes: The Anglican Church Southern Queensland (ASCQ) recently submitted a modern slavery statement to the Australian Government. The ACSQ has adopted a modern slavery policy committing all parts of the ACSQ to identify and reduce modern slavery risks across its operations and supply chains.
The ACSQ's first Sustainability Roadmap was launched early this year. The Sustainability Roadmap lays out a framework for the different parts of our Diocesan community to formalise Sustainability Action Plans in a staged rollout.
Jump to next article